Helden an geweihtem Ort - Luther Einhard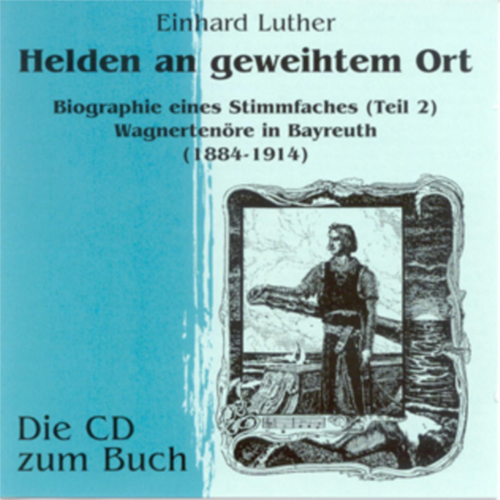 | | |
| --- | --- |
| Artist | Various |
| Title | Helden an geweihtem Ort - Luther Einhard |
| | |
| Release Date | Tuesday, September 19, 2006 |
| Genre | Classical > Choro |
| | |
| Composer | Richard Wagner |
| Songwriters | Leo Slezak, Carl Burrian, Erik Schmedes, Charles Dalmores, Desider Matray, Jacques Urlus, Hermann Winkelmann, Alois Hadwiger, Otto Briesemeister, Ernest Van Dyck, Emil Borgmann, Fritz Vogelstrom, Heinrich Hensel, Willi Birrenkoven, Wilhelm Grüning, Ernst Kraus, Alexander Kirchner, Walther Kirchhoff, Aloys Burgstaller, Andreas Dippel, Alfred von Bary, Georg Anthes, Carl Günther / Frida Leider, Peter Cornelius, Hans Breuer |
| | |
| Copyright | © Preiser Records |
| Country | AUSTRIA |
Update Required
To play the media you will need to either update your browser to a recent version or update your
Flash plugin
.
Promotion Text
Lebendige Vergangenheit
"Helden an geweihtem Ort" das waren die Wagnertenöre der Bayreuther Bühnenfestspiele zwischen 1884 und 1914. Die Tonaufnahmen des frühen 20. Jahrhunderts dokumentierten daß die sängerischen Fähigkeiten der Alt-Helden wesentlich höhen entwickelt waren als ihr böswillig beschädigter Ruf. Für den Sammler alter Aufnahmen ist das freilich keine neue Erkenntnis: repräsentative Sammelprogramme etwa der von Jacques Urlus, Fritz Vogelstrom oder Charles Dalmores erhaltenen Schallplatten - um nur einige prominente Namen zu nennen - demonstrieren eindrucksvoll, daß sängerische Kultur und musikalisches Stilempfinden in den ersten drei Jahrzehnten der Wagnerfestspiele ausgeprägter waren als im Bayreuth der Jahrtausendwende. Ob es Bayreuths Siegfried- oder Tristan-Sängern der letzten dreißig Jahren möglich wäre, im normalen Repertoire-Alltag Mozart-Partien wie Tamino oder Idomeneo zu bewältigen, wie es noch in den fünfziger Jahren Set Swanholm Wolfgang Windgassen oder Ludwig Suthaus zeigten, ist schon deshalb fraglich, weil sich die Helden unserer Zeit diesen Aufgaben gar nicht erst stellen. Tamino, Don Jose oder Cavaradossi gehörten zu Zeiten der Kirchhoff, Burrian, Ernst Kraus oder Alfred von Bary zum Fachbereich des Heldentenors. Ihre gerade durch die Vielseitigkeit ihres Repertoires gestärkte sängerische Virtuosität ist auch in ihren Wagner -aufnahmen erkennbar- selbst unter den oben erwähnten erschwerten Bedingungen technischer Art. "Heroes in a Sacred Place": this describes the Wagnerian tenors of the Bayreuth Festivals staged between 1884 and 1914. Recordings from the early 20th century prove that the vocal abilities of the old heroes were considerably more advanced than their maliciously maligned reputations would suggest. This, of course, is not new to collectors of old recordings. representative collections by Jacques Urlus, Fritz Vogelstrom or Charles Dalmores, for example to mention only a few prominent names -demonstrated impressively that vocal culture and musical style were more pronounced during the first three decades of the Wagner festival than at the Bayreuth of the millennium. Whether Bayreuth's Siegfrieds or Tristans of the past 30 years would have been capable of singing the normal repertoire of everyday Mozart roles such as Tamino or Idomeneo, as was done in the 1950s by Set Svanholm, Wolfgang Windgassen or Ludwig Suthaus, is difficult to answer because the heroes of our day never even attempt it. But in the days of Kirchhoff, Burrian, Ernst Kraus and Alfred von Bary, a Heldentenor's standard repertoire included Tamino, Don Jose and Cavaradossi. The vocal virtuosity, which was strengthened by their varied repertoire, can also be heard in their Wagner recordings -even given the kinds of technical difficulties mentioned above.
Amazon, iTunes, Spotify & Co.