Four Famous Mezzos of the Past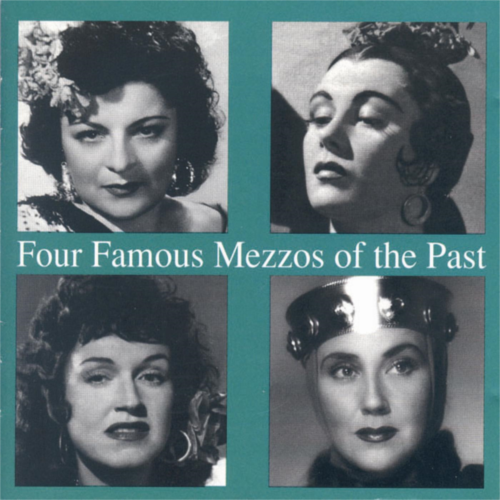 | | |
| --- | --- |
| Artist | Jennie Tourel |
| Title | Four Famous Mezzos of the Past |
| | |
| Release Date | Saturday, September 9, 2006 |
| Genre | Classical > Choro |
| | |
| Composers | Gioacchino Rossini, Richard Wagner, Charles Gounod, Ambroise Thomas, Wolfgang Amadeus Mozart, Peter Ilyich Tchaikovsky, Giacomo Meyerbeer, Gaetano Donizetti, Georges Bizet |
| Songwriters | Jennie Tourel, Blanche Thebom, Gladys Swarthout, Risë Stevens |
| | |
| Copyright | © Preiser Records |
| Country | AUSTRIA |
Update Required
To play the media you will need to either update your browser to a recent version or update your
Flash plugin
.
Promotion Text
Lebendige Vergangenheit
Jennie Tourel (recte Jennie Davidson) was most probably born in Montreal in 1899 (according to other sources on June 26th 1900 in Witebsk in White Russia) to Russian parents. In Paris she was trained by Anna EI-Tour, whose last name she changed into Tourel for her own professional use, and Reynaldo Hahn. She enjoyed her first remar­ kable successes on the stage of the Opera Russe in Paris in 1931 and was engaged at the Opera Comique in 1933 where she made her debut as Carmen. At both the Opera Comique and the Grand Opera the artist was celebrated as Charlotte in "Werther", Cherubino andin the title role of Bizet's "Djamileh". Being of Jewish origin she had to leave France in 1940 and continued her career in the United States where she had already appeared in 1930/31 at the Opera House of Chicago in smaller comprimario­ roles. As Mignon Tourel gave her first performance at New York's Metropolitan Opera in 1937. From 1944 to 1947 she was heard there regularly as Rosina in "II barbiere di Siviglia" (the first time that the original version for mezzo-soprano was staged at the MET), Carmen, Adalgisa and Mignon. The singer made guest appearances in Mexico City, Rio de Janeiro and Havanna, after the War she also performed in France, ltaly, Belgium, the Netherlands and England. In 1949/50 she undertook a tour through Israel. One of her great personal triumphs was her interpretation of Baba the Turk in the world premiere of Strawinsky's "The Rake's Progress" in 1951 at the Teatro La Fenice in Venice. But it was song in all its forms that she was devoted to most of all through­ out her entire career. Performances of Conchita Supervia, Feodor Chaliapin and Marian Anderson had left a deep impression and influenced her a lot. Tourel was among the first singers to regularly include works of Rachmaninov, Tschaikovsky, Chopin and Rossini in their concert programs. From the Mid-Fourties on the artist frequently worked together with Leonard Bernstein, such as in a concert with songs by Gustav Mahler in celebration of the composer's 100th birthday and in the world premieres of Bernstein' s 1st and 3rd Symphonies. "Words and drama and meaning and diction are all apart of difficult mental processes. Singing and performing is a psychological work." - Jennie Toure! would never let her public notice the hard work which she put into each of her interpretations. The singer always re-created her songs with simplicity and without any exaggerations, but her performances were full of dedication and burned with dramatic intensity. On November 23rd 1973 Jennie Tourel died in New York. Gladys Swarthout was born on December 25th 1904 in Deepwater (Missouri). She was trained at the Bush Conservatory in Chicago and later by the conductor, Leopoldo Mugnone.. In 1924 she made her official stage debut at the Chicago Opera House as the Shepard Boy in "Tosca" and continued to appear there in smaller parts. In the same year she sang Mercedes in St. Louis opposite Mary Garden's Carmen, who predicted on this occasion that Swarthout would be the next Carmen - and she was. In 1925 Swarthout presented herself as Carmen for the first time at the Summer Opera House.of Ravinia. Her debut at the Metropolitan Opera took place in 1929 as Cieca in "La .gioconda" at a time when two other Americans, Marion Telva and Carmela Ponselle, Bruna Castagna came along a little later, had already established themselves as leading mezzos. Being small and svelte she was assigned many trouser roles. Until 1945 the mezzo-soprano was celebrated in roles, such as Mignon (before she assumed the title role herself, Swarthout had sung Frederic with Lily Pons as Philine and Lucrezia Bori in the leading part), Pierotto in "Linda di Chamounix", Siebel in "Faust", Adalgisa, Niejata in "Sadko", Preziosilla, Stephano in "Romeo et Juliette" and last, but not least, Carmen which became Swarthout's most famous role. Virgil Thomson, the critic of the Herald Tribune, wrote about her Carmen that this gipsy "never left the country club". Over the years the singer gradually reduced her operatic performances and established herself from around 1940 on as one of America's leading concert singers and lied-interpreters. ("That is where the real money was", she once confessed openly, "a factor not to be ignored for a singer's career is terribly short.") The artist also dedicated herself to works of contemporary composers: in 1934 she created the role of Plentiful Tewke in the world premiere of Howard Hanson's "Merry Mount" and sang Mrs. Dean in Deerns Taylor's "Peter Ibbetson". Gladys Swarthout's name appeared for years on the list of America's Ten-Best-Dressed Women and soon after her career had taken off she accepted offers for movie-productions in Hollywood, where one of her most popular films became "Champagne Waltz". Serious heart problems which, until then, never had been noticed, forced the singer to end her career in 1954. After two heart surgeries Gladys Swarthout died on July 7th 1969 in Florence, where she had spent the last years of her life in her splendid villa, LaRagnaia. Rise Stevens was born in New York on June 11th 1913. For three years she studied at New York's Juilliard School of Music and then went to Vienna in 1935 where she was trained by Marie Gutheil-Schoder and Herbert Graf. At the Opera House of Prague Stevens made her debut as Mignon in 1936 and stayed there until 1938 appearing during this time also in guest performances at the Vienna State Opera where her Octavian in "Der Rosenkavalier" became quite a success. Again, as Octavian she was engaged at the Teatl'o Colon in 1938 and was invited to the Glyndebourne Festival in 1939 …
Amazon, iTunes, Spotify & Co.