Lebendige Vergangenheit - Iva Pacetti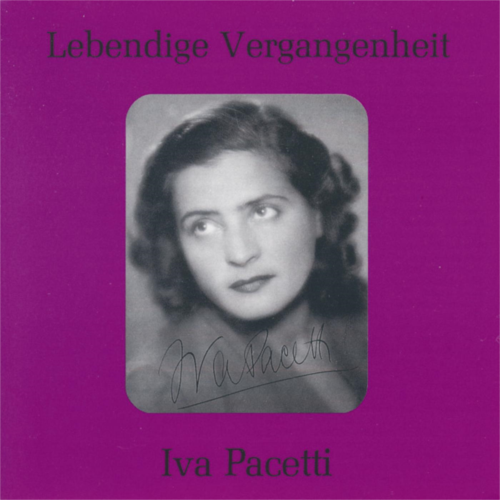 | | |
| --- | --- |
| Artist | Iva Pacetti |
| Title | Lebendige Vergangenheit - Iva Pacetti |
| | |
| Release Date | Saturday, September 2, 2006 |
| Genre | Classical > Choro |
| | |
| Composers | Amilcare Ponchielli, Ruggiero Leoncavallo, Pietro Mascagni, Vincenzo Bellini, Giuseppe Verdi, Alfredo Catalani, Richard Strauss, Umberto Giordano |
| Songwriters | Iva Pacetti, Iva Pacetti / Orchestra of La Scala / Mario Basiola, Beniamino Gigli / Orchestra of La Scala / Iva Pacetti, Iva Pacetti / Orchestra of La Scala, Benvenuto Franci / Iva Pacetti |
| | |
| Copyright | © Preiser Records |
| Country | AUSTRIA |
Update Required
To play the media you will need to either update your browser to a recent version or update your
Flash plugin
.
Promotion Text
Lebendige Vergangenheit
Iva Pacetti was born on December 13, 1898 in Parto and made her debut there as Aida on February 3, 1920. In 1921 she appeared at the Lexington Theatre in New York. In 1922 she sang Elena in "Mefistofele" at La Scala under Arturo Toscanini. Thus the initial stages of her career. That same year she again sang Elena, this time at the Teatro San Carlo in Naples. In 1924 she sang Minnie at the Teatro Regio in Turin as well as Malta in "Ruy Blas", Amelia in "Ballo" and Wally. In 1925 she sang the Marschallin in Naples, in 1926 she left for Brazil and Chile, where she appeared in "Parsifal" and "Walküre", ergo in operas which require an unequivocal lirico-spinto if not a dramatic soprano. Hence, it would seem that she was easily able to cope with the most demanding roles in the repertoire. In 1927 she sang Arianna in "Arianne et Barbe-Bleu" at La Scala opposite G. Cigna, U. Di Lelio and E. Casazza, conductor Toscanini. That same year she appeared in Santiago de Chile in "Gioconda" and "L'Africana". In 1928 she appeared in Egypt singing in "Aida", "Tristan and Isolde", "Nerone" and "Orfeo" (Monteverdi). She sang in Barcelona and again toured Chile and Peru. In 1929 she made her Rome debut as Leonore (Fidelio). In 1930 she appeared at Covent Garden, singing Tosca and Desdemona. In 1931 she sang again at La Scala, where she appeared as Donna Anna in a Don Giovanni production opposite Stabile, Baccaloni, Borgioli, Favero and Zamboni. That same year she sang in London and Chicago and the following year in Switzerland. In 1933 and 1934 she sang Tosca and Manon Lescaut at La Scala. In 1935, to commemorate the centenary of Bellini's death, she sang Norma at the Maggio Musicale Fiorentino and Imogen in "11 Pirata" in Rome and Catania. Her portrayals were highly lauded by Pastura, the profound Bellini expert. In 1938 she sang in London and appeared in Germany. In 1939 she sang Turandot, Fedra (Pizzetti), Fedora and Fidelio at La Scala. In 1940 she again appeared at La Scala, singing the Dyer's wife in "Frau ohne Schatten" (cond. Marinuzzi). Under his baton she sang Costanza in the revival of Cherubini's "Les deux joumees". Meanwhile she appeared ever more frequently at the Rome opera where she terminated her stage career on January 18, 1947 as Turandot, opposite Lauri Volpi. She died on January 19, 1981 in Rome. Iva Pacetti bad a repertoire of 62 operas including not only Monteverdi and Mozart roles but also those rarely performed at the time like "Ernani", "Simon Boccanegra", "Don Carlo" and "Germania". lt should also not be forgotten that her repertoire included operas like "lsabeau", "Iris", "Louise", "Thais", "Zaza", "Giuditta", "Dejanice" and "11 Tabarro", even if she never sang them on stage. In 1939 Bruno Walter and Vittorio Gui proposed her as Lady Macbeth for a Glyndebourne Festival revival. For health reasons she was unable to appear and Margarita Grandi sang instead. She also appeared in novelties like "Seveda" by P. Bisquerett, "Guido del Popolo" by 1. Robbiani, "Gli Orazi" by E. Porrino and "Don Giovanni di Mantura" by Alfano. As a concert singer she appeared in "La Resurrezione" by I. Perosi as well as singing the soprano part in Verdi's Requiem. Her versatility enabled her to sing both Verdi and Giovane Scuola roles, primarily the Puccini repertoire. Her achievements, especially in the Verismo repertoire, were notable because of the beauty of her darkly-timbred, versatile voice, especially suited for dramatic tension points. Yet her tonal palette also included pure, lyrical colours. Her buming intensity which alternated with tender lyricism, the pelucid diction, occasionally bitingly articulated or smoothly caressed are testimony of a strong musical and artistic personality. All these aspects are verifiable in her recordings, especially the complete performance of "Pagliacci" (cond. F. Ghione), which she made in 1934 for Voce del Padrone. Also her excursions into the romantic repertoire showed interesting characteristics, viz: her "Ernani involami". Although some critics abhor the veristic style when applied to early 19th century operas like "Norma" or early Verdi this interpretation nevertheless deserves special study, for despite its stylistic limits, which are very much time-bound, its many advantages such as good technique and vocal placement can be admired. In his book "Voci parallele", Lauri Volpi,penned a lucid portrait oflva Pacetti, mentioning her teacher, the important conductor Leopoldo Mugnone. Lauri-Volpi emphasized her graceful, unique appearance and her special charisma, which gave rise to an "impressive flood of sensations and images". He went on to praise her interpretation of veristic opera, especially her "Fedra". Later he compared her to Bianca Scacciati, with whom she mainly shared the Verdi and Puccini repertoire, but also pointed out the differences between Scacciati's "white and jubilant" voice and the "dark and tragic" voice of Pacetti, which enabled her to imbue the soul of her characters with an incomparable tragic veracity.
Amazon, iTunes, Spotify & Co.