Lebendige Vergangenheit - Aureliano Pertile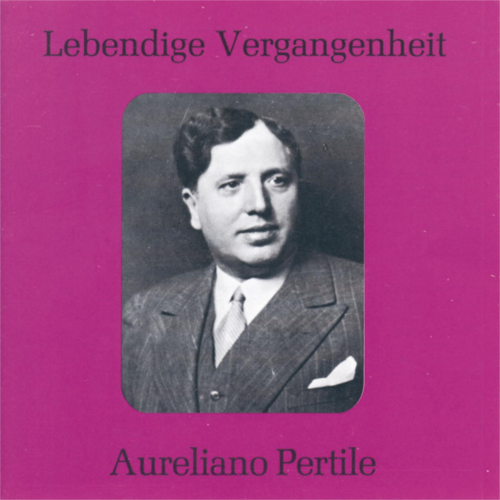 | | |
| --- | --- |
| Artist | Aureliano Pertile |
| Title | Lebendige Vergangenheit - Aureliano Pertile |
| | |
| Release Date | Wednesday, August 9, 2006 |
| Genre | Classical > Choro |
| | |
| Composers | Gaetano Donizetti, Giuseppe Verdi, Gioacchino Rossini |
| Songwriters | Aureliano Pertile / Members of La Scala Orchestra, Milan, Aureliano Pertile / Members of La Scala Orchestra, Milan / Anna Rosza, Aureliano Pertile / Members of La Scala Orchestra, Milan / Benvenuto Franci, Members of La Scala Orchestra, Milan / Aureliano Pertile, Aureliano Pertile / Members of La Scala Orchestra, Milan / Buades Aurora, Emma Lattuada / Giuseppe Nessi / Aureliano Pertile / Members of La Scala Orchestra, Milan |
| | |
| Copyright | © Preiser Records |
| Country | AUSTRIA |
Update Required
To play the media you will need to either update your browser to a recent version or update your
Flash plugin
.
Promotion Text
Lebendige Vergangenheit
Es mutet wie eine seltsame Schicksalsfügung an, dass zwei der größten Gesangskünstler der neueren Zeit, zwei Weltberühmtheiten des italienischen Tenorfaches, im selben Ort und im selben Jahr zur Welt kamen: Giovanni Martinelli und Aureliano Pertile. Beide Künstler wurden 1885 in Montagnana (in der Nähe von Padua) geboren, - der Altersunterschied beträgt nur wenige Tage. Trotz dieser auffälligen Kongruenz bezüglich Herkunft, Alter und künstlerischem Wirkungskreis verliefen die Karrieren der beiden Sänger in getrennten Wegen. Martinellis Domäne war vom Jahre 1913 an die Metropolitan Opera, Pertiles künstlerische Hauptstation war hingegen die Mailänder Scala. Auch in der Entwicklungsperiode finden sich erhebliche Unterschiede. So hatte Martinelli anfangs gar nicht die Absicht, den Sängerberuf zu ergreifen, seine Stimme wurde eigentlich durch Zufall, anlässlich der musikalischen Proben im Militärdienst entdeckt. Dagegen strebte Aureliano Pertile schon seit früher Jugend ein musikalisches Ziel an. Als Kind betätigte er sich als Kirchensänger, später unterzog er sich ernsthaften musikalischen und musiktheoretischen Studien. 1906 nahm er in Padua bei Maestro V. Orefice und später in Mailand bei Bavagnoli sein Gesangsstudium auf, und trat im Februar 1911 erstmals als Opernsänger an die Öffentlichkeit: in der Rolle des Lyonel in Flotows ,;Martha" erntete er in Vicenza seinen ersten großen Erfolg. In rascher Zeit erarbeitete er sich ei11 reichhaltiges Repertoire und zählte während der nächsten Jahre zu den begehrtesten Kräften der verschiedensten italienischen sowie mehrerer südamerikanischer Opernhäuser. 1916 erfüllte er einen Ruf an die Mailänder Scala, der er vorerst nicht lange Zeit angehören konnte, da-das Opernhaus infolge der Kriegswirren für mehrere Jahre zur Schließung gezwungen war. Während der Spielzeit 1921/22 war er an die Metropolitan Opera engagiert, doch als die Scala 1922 den Spielbetrieb wieder aufnahm, wurde der Künstler wieder an die Mailänder Kunststätte zurückberufen. Unter der Ägide Arturo Toscaninis, der für das darauffolgende Jahr­ zehnt der musikalische "Spiritus rector" der Scala war, entwickelte sich Pertile zu einem der wesentlichsten Protagonisten des inzwischen bereits legendär gewordenen italienischen Opernensembles dieser Jahre. Bis zu seinem offiziellen Abschied von der Bühne im Jahre 1937 gehörte Pertile als eines der gefeiertsten Mitglieder dem ruhmreichen Operninstitut an, doch finden noch bis zum Jahre 1940 … It seems a strange act of fate that two of the greatest singers of this century, two world­ famous proponents of the Italian tenor repertoire, were born in the same place and in the same year: Giovanni Martinelli and Aureliano Pertile. The place was Montagnana near Padua, the year was 1885, and the difference in their ages was just a few days. For all the simi­ laities as to origin, age and sphere of activity, the two singers careers followed different paths. Martinelli's domaine, beginning in 1913, was the Metropolian Opera, while Pertile's main artistic way station was La Scala in Milan. There were also notable differences in their development. Initially, Martinelli did not intend to become a singer; his voice was discovered by accident during musical tests while he was in the army. Aureliano Pertile, on 'the other band, was still quite young when he began aspiring towards a musical career. As a child he sang in church choirs; later he made a serious study of music and music theory. In 1906 he began taking singing lessons from Maestro V. Orefice in Padua, and he subsequently studied with Bavagnoli in Milan. He first appeared in public as an opera singer in February 1911, marking up his first big success as Lyonel in Flotow's "Martha" in Vicenza. He quickly built up a large repertoire and over the ensuing years he was greatly in demand in opera houses throughout Italy and in South America. In 1916 he was invited to join La Scala in Milan. For the time being this was not possible, for the opera house was forced to close for several years because of the war. During the 1921/22 season Pertile sang at the Metropolitan Opera, but when in 1922 La Scala again opened its doors, he returned to Milan. Under the aegis Arturo Toscanini, who for the next decade was the guiding spirit of La Scala, Pertile developed into one of the most outstanding protagonists of the now legendary ltalian opera ensemble of these years. Until his official farewell from the stage in 1937 Pertile was one of La Scala's most celebrated members. He continued giving occasional performance there until 1940. ...
Amazon, iTunes, Spotify & Co.