Carl Loewe zu Ehren - Aufnahmen von 1902 - 1970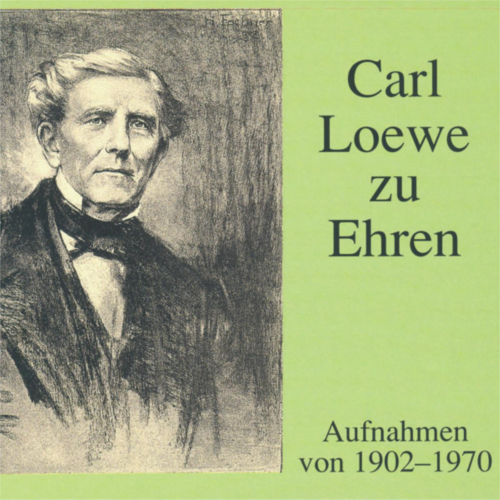 | | |
| --- | --- |
| Artist | Various |
| Title | Carl Loewe zu Ehren - Aufnahmen von 1902 - 1970 |
| | |
| Release Date | Monday, September 11, 2006 |
| Genre | Classical > Choro |
| | |
| Composers | Carl Loewe, Carl Loewe / Carl Bergner |
| Songwriters | Karl Siebel, Ferdinand Freiligrath, Joseph Christian Freiherr von Zedlitz, August Schnezler, Friedrich Rückert, August Kopisch, Wilibald Alexis, Johann N. Vogl, Aloys Schreiber, Maximilian Freiherr von Oer, Peter Heinrich von Wessenberg, Karl Bernhard Trinius, Johann Wolfgang von Goethe, Heinrich Fitzau, Josef Greindl / Michael Raucheisen / Friedrich von Schwarzenberg, Heinrich Heine, Theodor Fontane, Johann Gabriel Seidl, Ernst Scherenberg, Johann Gottfried Herder, Emilie von der Goltz |
| | |
| Copyright | © Preiser Records |
| Country | AUSTRIA |
Update Required
To play the media you will need to either update your browser to a recent version or update your
Flash plugin
.
Promotion Text
Lebendige Vergangenheit
In the summer of 1844 the German composer Carl Loewe was in Vienna for the first - and last - time in his life. The recognition he found here surpassed all is hopes and expectations. The great popularity of his songs in the imperial city surprised him in the most pleasant way. In a number of private concerts, usually in Vienna's "high society", he performed his compositions the way he had done right from the start, as a singer accompanying himself at the piano. "lt is as though the Viennese were spellbound in a magic circle by my things," he wrote to his wife from Vienna. "They listen in a quiet and intent manner such as I have never encountered before. I do not want to repeat the panegyrics I have heard here, nor do I wish to take them at face value, for example when they say that only now do they know what singing is. Oh yes, I thought to myself, fifteen years ago you would have borne me up to Olympus on your hands; what you marvellous Viennese are hearing is merely the echo of years past." Loewe was not only a brilliant pianist; he also possessed a fine, strong voice. In con­ temporary reports he is referred to as a tenor, but the range of his songs and ballads indicates that his voice must have had an unusually large compass which extended to the baritone and bass register. At the time of his trip to Vienna, however, the composer, who was born in 1796, was already past his vocal prime. Carl Loewe's works include five operas, sixteen oratorios, and a wealth of instrumental, chamber and church music. Of this gigantic oeuvre, only tiny section has remained: a few of his songs, legends and ballads. Actually, it is doubtful whether the pieces which are generally known today really give us a true and substantial picture of the composer. Songs such as "Die Uhr" are apt to make us see him as pseudoarchaic and cloyingly sentimental. In fact, Loewe's songs - certainly the most important part of his work - contain so much grandeur, significance and individuality that the enthusiastic opinions about them (from Richard Wagner, for example) can be understood. There is astonishing variety in Loewe's songs, reminiscences of the strict style of old masters as well as utterly free, almost experimental forms, strophic as well as through-composed songs. What probably distinguishes Loewe most from other ballad composers is the "rhapsodic" aspect of his songs, in which something of the old bardic spirit, the performing art of the "wandering singers", lives on. The use of simple, incisive themes, pointed rhythmic accentuation and frequent repetition of characteristic motives gives the songs an unmistakable identity which at times is almost hammered into the listener's ear. The piano part, too, is lively and forceful, and requires a virtuoso performer. At his time, Loewe himself was regarded as the best interpreter of his songs. In later epochs, Loewe's ballads were championed by many outstanding artists, among them Josef Staudig!, Lilli Lehmann, and above all the famous Wagner singer Eugen Gura, who in the late 19th century triggered a new wave of enthusiasm for Loewe. For a long time it was a matter of course that Loewe's songs, which offer singers so much scope, were performed on Lieder recitals. lt was not until after the Second World War, when a certain academicism and purism set in, that Loewe disappeared from the concert halls; he was not considered "intellectual" enough to be granted a place alongside Schubert, Schumann, Brahms and Wolf. Again and again, however, there were enough singers with the requisite vocal resources who eagerly programmed Loewe, and his effective songs have always been much in demand for recordings. This explains why there have been documents of Loewe singing since the earliest days of sound recording. Among the oldest are the recordings by Hermann Gura (1870-1944), the son of the aforementioned Eugen Gura, who carried on his father's tradition as a Loewe interpreter. Other early exponents of this type of art song included the Dresden heroic baritone Karl Scheidemantel (1859-1923), the Viennese lyric baritone Leopold Demuth (1861-1910) and the bass Richard Mayr (1877-1935), who likewise did most of his singing in Vienna. The baritone Julius Raatz-Brockmann (1870-1944), who was also a highly regarded voice teacher, gained fame as a ballad singer. Like the Dutch woman Julia Culp (1880-1970), he worked exclusively in Lied and oratorio. Another widely known concert artist was Lula Masz-Gmeiner (1876-1948) from Kronstadt in Siebenbürgen. In the era of electrical recording we meet as Loewe singers such great names of the German operatic stage as Elisabeth Rethberg, Rudolf Bockelmann, Heinrich Schlusnus, Leo Slezak, Franz Völker·and Gerhard Hüsch. The list extends to recent years and the Viennese opera singers Oskar Czerwenka and Eberhard Waechter. The "Loewe Edition" offers a spectrum of Lieder singing that reaches far back into the past, as well as the acquaintance' with many artists who are typical of an era marked by diversity and individuality.
Amazon, iTunes, Spotify & Co.