Imagine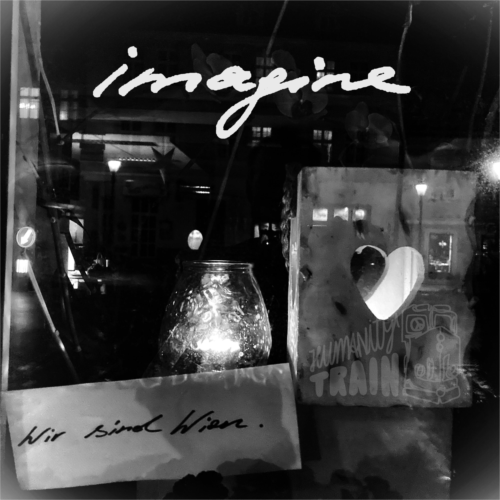 Update Required
To play the media you will need to either update your browser to a recent version or update your
Flash plugin
.
Promotion Text
Stream of Light
IM GEDENKEN AN DIE OPFER DES TERRORANSCHLAGES VOM 2. NOVEMBER 2020 IN WIEN UND MITGEFÜHL GEGENÜBER DEN ANGEHÖRIGEN.IN DANKBARKEIT UND RESPEKT GEGENÜBER ALLEN EINSATZKRÄFTEN UND HELFERN.Nach den traurigen, schockierenden Ereignissen am Abend des 02. November 2020 in Wien war es dem Initiator von Humanity Train Christian Becker und zahlreichen befreundeten Künstlerinnen und Künstlern ein Anliegen, umgehend ein Zeichen zu setzen: Den Stream Of Light.Miteinander, Empathie, gesellschaftlicher Zusammenhalt, Toleranz, Freiheit und ein friedvolles Leben sind Werte, die wir uns durch nichts und niemanden nehmen lassen dürfen. Im Glauben an diese Werte ist eine Sammlung von musikalischen Beiträgen zahlreicher Sängerinnen, Sänger und Musiker, die sich durch die schmerzhaften Ereignissen in Wien zum Erheben ihrer Stimme verpflichtet fühlen, entstanden.Einige Beteiligte haben im Gedenken an Opfer, Angehörige und als Dank an die Einsatzkräfte spontan und mit Hingabe den Song IMAGINE von JOHN LENNON als zentrales Werk zu diesem Projekt aufgenommen:MEENA CRYLE, TINI KAINRATH, VIKI MIEHL, ANDY BAUM, CHRISTIAN BECKER, BLUATSCHINK (MARGIT UND TONI KNITTEL), PETER DÜRR, CHRISTIAN LOEBENSTEIN und ANZO MORAWITZ werden begleitet von einer Allstar Band bestehend aus Thomas Eder (Gitarre), Rue Kostron (Bass), Mario Stübler (Drums) und Max Tschida (Klavier).Gegen Hass, Ausgrenzung und Diskriminierung bekennen sich im Rahmen des Projektes stellvertretend für zahlreiche Kolleginnen und Kollegen:Christian Becker & Band, Peter Dürr, Anzo Morawitz, Andy Baum, Shlomit Butbul, Viki Miehl, Christian Loebenstein, Aminata Seydi, Luke Andrews Band, Sarah Lee Guthrie, Johnny Irion, Bluatschink,Reinhold Bilgeri, K&K-Strings, Meena Cryle, Boris Bukowski, Paul Pfleger, Ewald Pfleger (Opus), Tini Kainrath, Matthias Kempf, Max Tschida, Rue Kostron, Jakob Tschulik, Wolfo Schmidt, Martin Mader, Mario Stübler, Wenzel Beck, Flo Fin, Thomas Eder, Jonny Pinter (Vokalsommerakademie), Christian Kolonovits u.a.Weil Liebe und Hoffnung Hass und Angst besiegen.Christian Becker (Idee und Organisation) im Namen aller Künstlerinnen und Künstler.
Management / Booking
Get in contact
Promotion plan
| | |
| --- | --- |
| 25.02.2021 | Humanity Train - Das Konzert 2021 (Globe Wien) |
Amazon, iTunes, Spotify & Co.