Le Salon Musical à Buenos Aires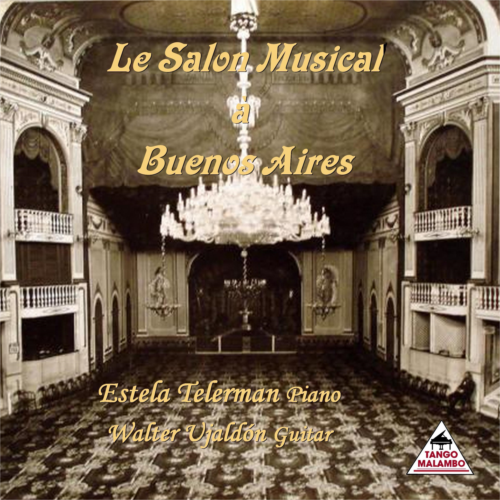 Update Required
To play the media you will need to either update your browser to a recent version or update your
Flash plugin
.
Promotion Text
The Enchantment of Buenos Aires Salon Music (Solo Piano/Solo Guitar)
This is a fine selection of "SALON MUSIC FROM BUENOS AIRES" composed by classical composers that dealt with the tango genre and is the result of a research made by Argentinian pianist Estela Telerman and guitarist Walter Ujaldón. Most of these scores are valuable manuscripts. The programme covers pieces from around the turn of the 19th to 20th century (N°1, 4), from the twenties (N°2, 3, 5) and from modern times (N°6). Some of these delightful miniatures - a blend of tango and habanera rhythms - take us back to the "belle époque" years in Buenos Aires. -----ESTELA TELERMAN------ studied with Dora Castro at the Municipal Conservatory of Music and completed her studies in Liberal Arts at the University of Buenos Aires. In New York, she specialized in Bach studies under Rosalyn Tureck. She was awarded the "Juan Carlos Paz-Prize" for her performance of contemporary piano music. She gave first performances in Argentina of Clara Schumann's Concerto in a minor and Liszt's Piano Concerto Nº 3. She frequently performs solo, chamber music recitals and with orchestras in Argentina. Estela Telerman concertized and lectured on Argentine music in halls and universities in Uruguay, Paraguay, the US, Canada, Peru, Ecuador, Colombia, Costa Rica, France, Italy, Holland, Spain, and Norway. In 2008 she was a member of the jury at the Washington International Piano Competition and performed Argentine music in New York and Washington DC. In 2009 she gave a conference on Argentine Piano Music at the EPTA 37th Conference in Prague. In 2011 she took part at the "Tango - Creations, Identifications, Disseminations " International Conference held at the École des Hautes Études en Sciences Sociales (EHESS) in Paris. She taught seminars in 20th and 21st Century Latin American Music at the University of Cuenca Ecuador (2010, 2011, 2012), performed Argentine Music in New Zealand (2012) and clarinet-piano South American music in Italy (2013). She recorded the CD "Liszt Unknown", a chamber music CD with the "Sine Nomine Trio" (clarinet-cello-piano) and two CDs devoted to her research on "Argentine Classical Composers and the Tango". Interested in disseminating the Argentine Music Heritage, she founded and is a member of Argentmúsica, for the Preservation, Dissemination and Publishing of Argentine Music. She is a member of the board of ALAPP Argentina (Latin American Association of Pianists and Pedagogues), an Argentine EPTA branch (European Piano Teachers Association). -----WALTER UJALDÓN----- one of the most distinguished guitarists of his generation, was born in Córdoba (Argentina) obtaining his Master's Degree from the Garzón Conservatory . In 1988 he moved to Buenos Aires, where he pursued a busy career playing throughout Argentina and Latin America. Since then, he has done much to bring music written for the instrument to light and enlarged its repertory by transcribing Baroque and Classical works (Bach, Handel, Haydn, Mozart). Walter Ujaldón also developed a wide 19th century repertoire, which he played in his specially built "Romantic Guitar". A devoted teacher, whose students have won prizes in national and international competitions, he presently teaches at the National University of the Arts, "Astor Piazzolla "Conservatory and Quilmes Arts School in Argentina, giving master classes throughout the world. He recorded a great number of CDs for solo guitar, guitar duos with his wife Marcela Sfriso, and Lieder by Schumann and Schubert with tenor Pablo Pollitzer.
Management / Booking
Get in contact
Amazon, iTunes, Spotify & Co.