Bulge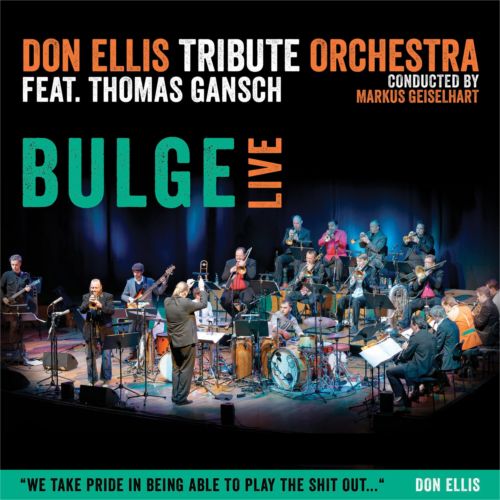 Update Required
To play the media you will need to either update your browser to a recent version or update your
Flash plugin
.
Promotion Text
"We ta ke pride in being able to play the shit out..." Don Ellis
The Austrian Connection What a pleasure it is to listen to the remarkable achievements of Markus Geiselhart, Thomas Gansch, and this band of virtuosos! This extraordinary tribute band hails not from Los Angeles or even the United States, but from Austria. And what a fire it is! Markus and his tremendous band not only play Don's charts with amazing virtuosity, they respect the source material while making it their own. These are not dusty museum performances, but vital interpretations, as fresh and invigorating as when they were written almost half a century ago. The music that Markus has chosen for his recent tour spans a period of roughly 10 years - almost the full life of the original Ellis band. It represents a nice snapshot of the range of Ellis' varying aesthetic and approach - from his earliest popular charts in the late 1960's ("Indian Lady" and Ron Myers' "Turkish Bath") to his early 1970s movie music ("The French Connection"), to his forays into world music and rock rhythms, and wrapping it up with "Open Wide" from Don's last album Live at Montreux. To top it all off, there is a brand new homage by Thomas Gansch, arranged by Markus Geiselhart - "5er to Don Ellis" - that smartly echoes the techniques that one might have heard from Don around 1968. (Don's "Variations for Trumpet" in particular to these ears.) I wish I had more space to discuss the charts and individual performances at length, but I would be greatly remiss if I didn't single out the amazing contributions of Thomas Gansch. His soloing ease within the time signatures, his embrace of the electronic effects on the trumpet, and his flat out monster chops make him quite possibly the best person I've heard to occupy Don's chair. My fervent hope is that Markus and his band achieve great success with their efforts and are able to continue to keep the flame of Don Ellis burning bright. Mit der tiefsten Dankbarkeit und Anerkennung! Nick Di Scala Co-Leader, Don Ellis Alumni Orchestra Editor-in-Chief, Don Ellis Critical Editions Don Ellis inspired me, not only as a trumpet player, but also as a composer and, that´s maybe the most important thing, as a performer. I always admired, that on all of don´s recordings, you can hear him and the band enjoy themselves to the max. That energy put me on fire immediately and that´s what I am looking for in all of my music projects since then. Enjoy the music as if it was the last day of my life! To finally have the opportunity to play some of Don´s original charts with the finest big band, I have ever worked with, makes me proud and happy and I hope that you, listeners out there, will catch fire like I did, when I heard my first Don Ellis record! Thomas Gansch It was in November of 2004 when I asked Thomas Gansch if he would be willing to take part in a Don Ellis project. To my great joy, he consented. Since then much has happened and now, 9 years later, you are holding our first cd, which documents this collaboration, in your hands. We played the first Don Ellis Tribute concerts in 2005 and 2007 with the Wurzburg Jazz Orchestra and decided, on the occasion of the 30th day of Ellis' passing, to found the Don Ellis Tribute Orchestra. After performing several concerts with this orchestra in 2008 and 2010, we undertook, in the spring of 2013, a 6-day tour of Central Europe, the result being the recordings presented here. It's for me, each time anew, a honor and pleasure that I may work with this choice selection of wonderful people and musicians but it is also an obligation and honor, in view of his premature death, towards Don Ellis; to be able tocontinue to circulate his music, to develop and to work on it further. I hope you will feel this exact same pleasure when you listen to this CD. Markus Geiselhart
Management / Booking
Get in contact
Amazon, iTunes, Spotify & Co.