Lebendige Vergangenheit - Anny Konetzni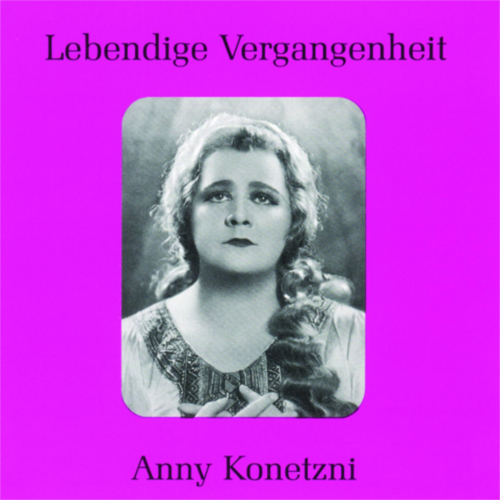 | | |
| --- | --- |
| Artist | Anny Konetzni |
| Title | Lebendige Vergangenheit - Anny Konetzni |
| | |
| Release Date | Monday, August 14, 2006 |
| Genre | Classical > Choro |
| | |
| Composers | Richard Wagner, Richard Strauss, Ludwig van Beethoven, Hugo Wolf, Johannes Brahms |
| Songwriters | Mathilde Wesendonk, Anny Konetzni / Berliner Philharmoniker, Anny Konetzni / Wiener Symphoniker / Mela Bugarinovic, Orchestra Stabile del Maggio Musicale Fiorentino / Anny Konetzni, Hermann v. Glim zu Rosenegg, Anny Konetzni / Denmarks Radio Symphony Orchestra, Eduard Mörike, Otto Julius Bierbaum, Erik Werba / Anny Konetzni, Anny Konetzni / Wiener Philharmoniker / Hilde Konetzni, Anny Konetzni / Orchester der Wiener Staatsoper in der Volksoper |
| | |
| Copyright | © Preiser Records |
| Country | AUSTRIA |
Update Required
To play the media you will need to either update your browser to a recent version or update your
Flash plugin
.
Promotion Text
Lebendige Vergangenheit
Anny Konetzni, am 12. Februar 1902 in Ungarisch-Weißkirchen geboren, erhielt ihre gesangliche Ausbildung am Wiener Konservatorium, ihr Lehrer war der berühmte Heldentenor Erik Schmedes, später studierte sie in Berlin bei Jacques Stückgold. Ihr sängerischer Anfang an der Wiener Volksoper (1925) erfolgte im Alt- und Mezzofach, bald aber kam der Wechsel in das Gebiet der. großen dramatischen Sopranrollen. Nach Stationen in Augsburg, Elberfeld und Chemnitz wirkte sie ab 1931 als Mitglied der Staatsoper Berlin. In diesen Jahren erhielt sie bereits viele Einladungen an die großen Häuser der internationalen Opernwelt. Sie sang an der Pariser Oper, in Buenos Aires, an der Mailänder Scala, sie trat 1935 zum ersten Mal im Londoner Opernhaus Covent Garden auf, wo sie unter Thomas Beechams Leitung in Wagners "Ring" die drei Brünnhilden sang. Bis zum Kriegsbeginn war sie alljährlich ein gefeierter Gast in London. In der Spielzeit 1934-35 war sie an der Metropolitan Opera engagiert. 1934 wurde sie von Direktor Erwin Kerber an das Wiener Opernhaus berufen, dem sie ein und­ zwanzig Jahre angehörte. Auch ihr Wirken bei den Festspielen in Salzburg war von großer Bedeutung: 1934 sang sie dort die Isolde und die Rezia in Webers "Oberon", 1935 wieder die Isolde, stets unter Bruno Walters Leitung, 1936 die "Fidelio"-Leonore unter Arturo Toscanini sowie 1941 unter Hans Knappertsbusch die Marschallin im "Rosenkavalier". Anny Konetzni erhielt bereits 1935 den österreichischen Kammersängertitel, 1955, im Jahr der Eröffnung des wiederaufgebauten Opernhauses wurde sie zum Ehrenmitglied der Staatsoper ernannt, zugleich aber auch in den Ruhestand versetzt. 1957 erlitt sie einen Schlaganfall, der zu einer halbseitigen Lähmung führte. Am 6. September 1968 starb sie in Wien. Anny Konetzni, born on 12 February 1902 in Ungarisch-Weisskirchen, got her vocal training at the Vienna Conservatory, where her teacher was the renowned heroic tenor Erik Schmedes. Later she studied with Jacques Stückgold in Berlin. She began her singing career at the Vienna Volksoper (1925) with alto and mezzo roles, but the change to the big dramatic soprano parts was not long in coming. Afterengagements in Augsburg, Elberfeld and Chemnitz she joined the com­ pany of the Berlin State Opera in 1931. At this time she was already being invited to sing at the world's major opera houses, among them the Paris Opera, the Teatro Colon in Buenos Aires, the La Scala in Milan. She sang for the first time at London's Covent Garden Opera in 1935, doing the three Brünnhildes in Wagner's "Ring" under Sir Thomas Beecham. Every year until the begin­ ning of the war, she was a celebrated guest in London. In the season of 1934-35 she appeared at the Metropolitan Opera. In 1934 director Erwin Kerbler offered her a contract at the Vienna State Opera; she was to remain a member of the company for 21 years. Her performances at the Festivals in Salzburg were of outstanding importance: Isolde and Rezia in Weber's "Oberon" in 1934, Isolde again in 1935 (all performances conducted by Bruno Walter), Leonore in "Fidelio" in 1936 under Arturo Toscanini, and the Marschallin in "Rosenkavalier" in 1941, with Hans Knappertsbusch conducting. Anny Konetzni received the Austrian title of "Kammersängerin" in 1935. Twenty years later, in 1955, when the reconstructed house on the Ringstrasse was reopened, she was made an honorary member of the Vienna State Opera, but she was also pensioned off. In 1957 she suffered a stroke which led to hemiplegia. She died in Vienna on 6 September 1968.
Amazon, iTunes, Spotify & Co.