Lebendige Vergangenheit - Xenia Belmas (Vol.2)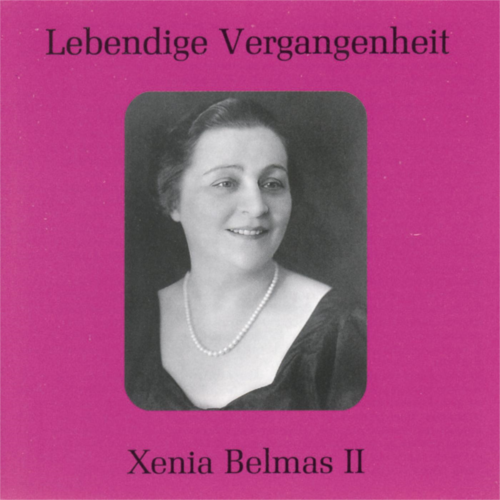 Update Required
To play the media you will need to either update your browser to a recent version or update your
Flash plugin
.
Promotion Text
Lebendige Vergangenheit
Die Karriere der russischen Sopranistin Xenia Belmas verlief überraschend: auf dem Höhe­ punkt ihres Ruhmes verschwand sie von der Bühne und wurde jahrzehntelang für verstorben gehalten. Anlässlich ihres Ablebens im Alter von 91 Jahren in Südafrika konnten etliche Missverständnisse in ihrer Biographie richtiggestellt werden, davon einige, die zum Zeitpunkt der Herausgabe der beiden Schallplatten in dieser Serie verfälscht waren. Geboren wurde sie am 23. Januar 1890 im ukrainischen Sjernigo. Nach dem Besuch des-Konservatoriums im ca. 40 km entfernten Kiew, setzte sie ihre Studien in Moskau bei Emil Cooper fort. 1913 debütierte sie an der Oper von Odessa in Wagner's "Walküre". Die eigentliche Rolle ist nicht bekannt, ebenfalls - bis auf die Tatjana in Tschaikowskys "Eugen Onegin" - Einzelheiten über ihre weitere Partien um diese Zeit. Nach vielen Entbehrungen während der russischen Revolution verließ sie ihre Heimat 1921 und reiste nach Mailand, um das italienische Repertoire zu erarbeiten. 1925 übersiedelte sie nach Paris, wo sie ihre Ausbildung vollendete und bald als Solisten in Konzerten berühmter Dirigenten wie Albert Wolff, Paul Paray und Philippe Gaubert auftrat. Am 16. Januar 1926 feierte sie ein außerordentlich erfolgreiches Debüt als Aida an der Pariser Opera. In den folgenden Jahren (1927 - 1930) entstanden ihre Schallplatten, die vorwiegend in Berlin aufgenommen wurden, wo sie auch als Konzertsängerin wirkte. Dirigent dieser Auf­ nahmen war ihr Ehemann, Alexander Kitschin, der sie auf ihrer beruflichen Laufbahn eben­ falls begleitete. Die Einspielungen der Belmas zeugen von den Qualitäten, die ihren schnellen Ruhm begründeten: eine Stimme von unverwechselbarem Timbre, brillant und sinnlich zugleich, vorzüglich geschult in Geläufigkeit und Expansionsfähigkeit. Dazu kommen ihre hohe Musikalität, ausgezeichnete Intonation und Sprachbeherrschung, rhythmisches slancio und ein ganz persönliches Pathos im Vortrag. Sollte es stimmen, dass sie in Wiesbaden die Isolde mit Carl Schuricht einstudierte, dann wäre dies ein weiterer Beweis ihrer erstaunlichen künstlerischen Kapazität. Zu einer festen Bindung an ein Opernhaus kam es offensichtlich nie, denn es ist immer nur von Konzertreisen und Tourneen die Rede, die sie nach Polen und in die Baltischen Länder führten, auch nach Paris, Monte Carlo, Rom und Milano, wo sie erfolgreich auftrat. Mit einer italienischen Operngesellschaft kam sie nach einer Australien-Tournee am 25. Juli 1934 in Kapstadt an. Welche Erwägungen es waren, die zu ihrem Entschluss führten, in Südafrika zu bleiben, sind heute nicht mehr nachvollziehbar. Nach mehreren Konzertauftritten ließ sie sich in Durban nieder und blieb bis ins hohe Alter eine gesuchte Pädagogin, der viele südafrikanische Sänger ihre Karrieren zu verdanken haben. Sie starb am 2. Februar 1981. The career of the Russian soprano Xenia Belmas was unusual: at the height of her fame she suddenly vanished from the opera stage and for decades was considered deceased by the international musical world. On the actual occasion of her death at the age of 91 in South Africa, many errors regarding her life and career could be corrected, some of which had found their way into the biography which accompanied the two LP records devoted to her in this series. She was born on January 23, 1890 in the Ukrainian town of Sjernigo, some forty kilometers from Kiev. After attending the music conservatory in the provincial capital, she continued her studies in Moskau with Emil Cooper. In 1913 she made her debut in Wagner's "Die Walküre" in Odessa. The actual role she sang is not known, nor - with the exception of Tatiana in Tchaikovsky's "Eugene Onegin" -. is there information available regarding her repertoire during this period. After undergoing many hardships during the Russian revolution she left her native country in 1921 and travelled to Milan to study the Italian repertory. In 1925 she resettled in Paris, where she completed her training and was soon heard in concert as soloist under such prominent conductors as Albert Wolff, Paul Paray and Philippe Gaubert. She made a very successful debut as Aida at the Paris Opera on January 16, 1926. During the following years (1927 - 30), she made many records, mostly in Berlin, where she also appeared in recital. The conductor was always her husband, Alexander Kitschin, who also accompanied her throughout her career. These recordings give testimony to the qualities upon which her sudden fame was based: a voice with an individual timbre, brilliant and at the same time sensual and excellently schooled in regard to flexibility and expansion. In addition to this came her fine musicality, exceptional intonation and command of languages, rhythmic slancio and a very special pathos in her interpretative style. If it is true that she actually prepared the role of Isolde with Carl Schuricht in Wiesbaden, then we have further evidence of her extraordinary artistic endowment. It seems that Xenia Belmas was never a member of a particular opera ensemble - one reads only of concerts and tours, which took her to Poland and the Baltic countries as well as Paris, Monte Carlo, Rome and Milan, where she enjoyed a great success. Having finished a tour of Australia with an Italian opera company, she arrived in Capetown, South Africa on July 25, 1934. After several recital appearances she settled in Durban; we shall never know what factors influenced her decision never to leave South Africa. In her adopted country she was considered a highly regarded teacher of singing well into advanced age, and guided the careers of many South African singers. She died, on February 2, 1981.
Amazon, iTunes, Spotify & Co.