Lebendige Vergangenheit - Willy Treffner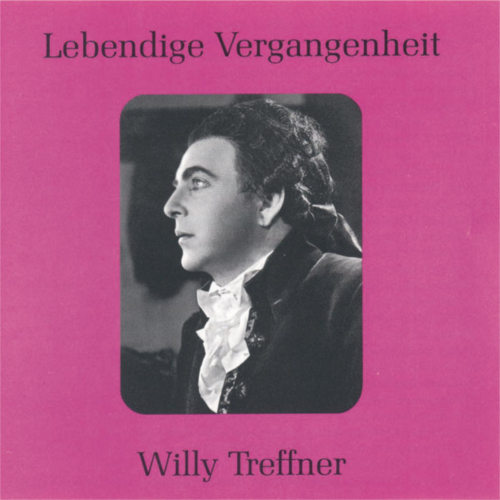 | | |
| --- | --- |
| Artist | Willy Treffner |
| Title | Lebendige Vergangenheit - Willy Treffner |
| | |
| Release Date | Wednesday, September 6, 2006 |
| Genre | Classical > Choro |
| | |
| Composers | Ludwig Schmidseder, Peter Igelhoff, Wolfgang Amadeus Mozart, Franz Lehar, Giuseppe Verdi, Herrmann Dostal, Joseph Haydn, Gaetano Donizetti, Amilcare Ponchielli, Pietro Mascagni, Cesare Andrea Bixio, Peter Cornelius, Alois Melichar, Friedrich von Flotow |
| Songwriters | Willy Treffner, Willy Treffner / Margarete Teschemacher, Willy Treffner / Margarete Düren, Hubert Marischka, Willy Treffner / Josef Herrmann / Heinrich Tessmer |
| | |
| Copyright | © Preiser Records |
| Country | AUSTRIA |
Update Required
To play the media you will need to either update your browser to a recent version or update your
Flash plugin
.
Promotion Text
Lebendige Vergangenheit
Willy Treffner wurde am 5. Juli 1903 in Vracov in Mähren geboren. Obwohl er sich seit früher Jugend zum Singen angeregt fühlte, hatte er sich auf Drängen seiner Eltern an der Wiener Technischen Hochschule einschreiben lassen. Daneben studierte er Gesang an der Akademie für Musik und darstellende Kunst. Kurz vor seiner zweiten Staatsprüfung nahm er jedoch ein Informationsgastspiel am Theater in Plauen als Turiddu in "Cavalleria rusticana" war, das sehr günstig ausfiel und ihm einen Spielzeitvertrag einbrachte. Der 14. Januar 1928 stellt sein Bühnendebut dar. Von Plauen gelangte er nach Dortmund und Bremen und erregte Aufsehen am Opernhaus von Nürnberg, dem er für die Spielzeit 1933-34 angehörte. 1934-35 sang er am Opernhaus von Hannover, anschließend an der Oper von Frankfurt am Main. 1938 folgte er einem Ruf der Dresdener Staatsoper, der er bis zur Schließung des traditionsreichen Theater durch den "Totalen Krieg" 1944 angehörte. Nach der Zerstörung Dresdens am 13. Februar 1945 übersiedelte er nach Villach und gab 1946 Gastspiele in Graz. 1946 erlitt er einen schweren Autounfall, der zur Folge hatte, dass gelegentliche Textschwierigkeiten auftraten, die eine weitere Bühnenlaufbahn unsicher erscheinen ließen. Wohl trat der Sänger noch gelegentlich 1947 und 1948 in Operettenaufführungen in Villach und Klagenfurt auf; an eine kontinuierliche Karriere war jedoch nicht mehr zu denken. Willy Treffner ließ sich jedoch nicht unterkriegen; er entschloss sich, das Tischlerhandwerk zu erlernen und legte 1951 seine Gesellenprüfung mit Erfolg ab. Mit 48 Jahren begann nun ein neues Leben, das noch 29 Jahre währen sollte; am 25. Januar 1980 starb Willy Treffner an Herzversagen. Im Jahr 1938 wurde auch die Schallplattenfirma Electrola auf den jungen Sänger aufmerksam; zuerst wurde eine Platte mit zwei populären Liedern produziert und im Nachtrag vom Februar 1939 wie folgt angepriesen: ,,Der junge lyrische Tenor der Dresdener Staatsoper, Willy Treffner, stellt sich hier auf Electrola sehr überzeugend vor mit den virtuos gesungenen Schlagerliedern aus erfolgreichen Tonfilmen". Trotz der enormen Konkurrenz der ebenfalls für Electrola singenden Tenöre• Helge Rosvaenge, Marcel Wittrisch und Walther Ludwig war die nächste Treffner-Platte bereits zwei Opernarien gewidmet: Nemorinos Romanze und Turiddus Abschied von der Mutter. Mit seiner nächsten Opern-Platte gelangte Willy Treffner sogar in die begehrte Hochpreis-Serie DB. Es war dies die Arie des Lyonel und Enzos Romanze "Himmel und Meer". Es folgten noch vier populäre Platten, die letzte erschien Mitte 1943 und dann, ja dann gab es nur noch wenige Veröffentlichungen und keine Treffner Platte mehr. Im Vertrauen auf den "Endsieg" wurde freilich noch weiter aufgenommen, jedoch sollten diese Aufnahmen nie mehr erscheinen, denn durch die Kriegseinwirkungen wurden die meisten Matrizen vernichtet, nur wenige überlebten das Inferno. Und so grenzt es fast an ein Wunder, wenn wir heute - 58 Jahre danach - 10 … Willy Treffner was born on July 5th 1903 in Vracov in Moravia and from bis early childhood felt drawn towards singing. Although he gave in to his parents' urging and inscribed hi!]1self at the Technical University of Vienna, at the same time he began to study singing at the Academy of Music and Performing Arts. Just before his second state exam he put himself up for a guest performance at the opera house in Plauen as Turiddu in "Cavalleria Rusticana" which turned out to be a great success and secured him a seasonal contract. January 14th 1928 marked the day of his official debut. From Plauen he proceeded to Dortmund and Bremen and caused quite a sensation at the Nuremberg opera house where he remained for the 1933/34 season. For the 1934/35 season he was engaged at the Hanover opera house and after that appeared at Frankfurt am Main. In 1938 the Dresden State Opera called upon his services and Treffner remained with the ensemble until 1944 when the house was closed with the onset of total war. After the destruction of Dresden on February 13th 1945, Treffner moved to Villach in Austria and appeared in guest performances in Graz in 1946. In the same year he had a serious car accident which left him with frequent lapses of memory on stage and put his future into jeopardy. Although the tenor did appear sporadically in operetta in 1947 and 1948 in Villach and Klagenfurt, a continuous career was out of the question. But Willy Treffner did not give up. He decided to become a carpenter and successfully took his final exam in 1951. At the age of 48 he started a new life which was to last another 29 years. On January 25th 1980 Willy Treffner died of heart failure. In 1938 the record company Electrola had become aware of the young tenor. His first record consisted of two popular songs and was published in February 1939 as follows: "The young lyric tenor of the Dresden State Opera, Willy Treffner, makes his recording debut for Electrola most convincingly with virtuoso performances of hit songs from successful sound films." Despite the enormous competition from other Electrola tenors such as Helge Rosvaenge, Marcel Wittrisch and Walther Ludwig, Treffner's next record featured two operatic arias: Nemorino's romanza and Turiddu's Farewell. His subsequent record of Lionel's aria from "Marta" and Enzo's "Cielo e mar", was even issued on the prestigious higher priced DB series. Four more popular records were to follow, the last one in 1943. After that few records were issued, and none by Treffner. Still hoping for the Endsieg the recording studios were kept busy, but the products were never published and only a few matrices survived the inferno of war. It seems a miracle that now - 58 years later - …
Amazon, iTunes, Spotify & Co.