Lebendige Vergangenheit - Wilhelm Strienz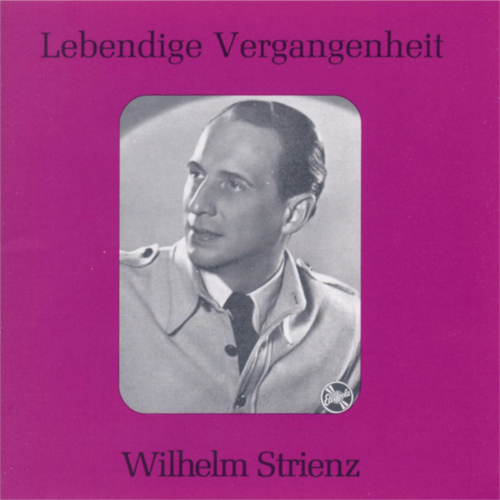 | | |
| --- | --- |
| Artist | Wilhelm Strienz |
| Title | Lebendige Vergangenheit - Wilhelm Strienz |
| | |
| Release Date | Saturday, September 2, 2006 |
| Genre | Classical > Choro |
| | |
| Composers | Gretchaninov, Bedrich Smetana, Wolfgang Amadeus Mozart, Albert Lortzing, Modest Mussorgsky, Friedrich von Flotow, Giuseppe Verdi, Peter Ilyich Tchaikovsky, Peter Cornelius |
| Songwriters | Bruno Seidler - Winkler / Wilhelm Strienz, Orchester der Staatsoper Berlin / Bruno Seidler - Winkler / Walther Ludwig / Wilhelm Strienz, Orchester der Staatsoper Berlin / Bruno Seidler - Winkler / Wilhelm Strienz, Orchester der Staatsoper Berlin / Wilhelm Strienz / Bruno Seidler - Winkler / Walther Ludwig, Wilhelm Strienz / Orchester der Staatsoper Berlin / Bruno Seidler - Winkler, Orchester der Staatsoper Berlin / Wilhelm Strienz / Bruno Seidler - Winkler / Traude Machula, Bruno Seidler - Winkler / Wilhelm Strienz / Orchester der Staatsoper Berlin, Orchester der Staatsoper Berlin / Wilhelm Strienz / Bruno Seidler - Winkler, Orchester der Staatsoper Berlin / Bruno Seidler - Winkler / Wilhelm Strienz / Georg Höllger |
| | |
| Copyright | © Preiser Records |
| Country | AUSTRIA |
Update Required
To play the media you will need to either update your browser to a recent version or update your
Flash plugin
.
Promotion Text
Lebendige Vergangenheit
Wilhelm Strienz hailed from Stuttgart - Swabia - a region whose population and musical artistry is characterized by simple dignity, warm-heartedness and emotional profundity. Undoubtedly many of these traits are evident in Wilhelm Strienz' art, too.Born in 1900 Strienz began his vocal studies in 1918 with Kammersänger Prof. Theodor Scheidl and Oscar Schröter, the director of the Stuttgart Conservatory. On January 10, 1922 Strienz made his stage debut, singing the Hermit in Weber' s "Freischütz" at the Deutsche Opernhaus in Berlin. His success resulted in his being engaged for one season. Despite - or because of - the post-war upheavals, Berlin enjoyed a thriving cultural life that proved most beneficial for Strienz' future career. He completed his studies with the famous Wagnerian soprano Prof. Luise Reuss-Belce - the first Bayreuth Elsa - and the American vocal coach Prof. Louis Bachner. Tue first subsequent engagement was initially inauspicious: a fire in the Wiesbaden State Theatre destroyed the stage and Strienz thereupon left for Kaiserslautern, although he later returned to Wiesbaden and sang there for some years during the Otto Klemperer era. He also appeared in Bremen during this time. Strienz' breakthrough came in 1927. Ernst Hardt, the intendant of the West German Broadcasting Station in Cologne, engaged the up-and-coming young bass. Of course, at that time broadcasting was still in its infancy and the engagement was thus a matter of prime importance - unlike now where broadcasting engagements are an everyday occurrence. Strienz gained first­ hand experience of the manifold technical developments, learning to hone bis voice to suit the requirements of the microphone. Thus he developed a vocal style that was to take him to the very pinnacle of fame. Initially there were obstacles aplenty. On October 14, 1933 the directors of the West German Broadcasting Station sacked him; his presence was "not tolerable" as far as the National Socialists were conceded. Henceforth Strienz lived _as a free-lance artist in Berlin. Having familiarized himself with stage and microphone requirements, he now set out to conquer the concert hall. Both in Germany and abroad he gave recitals together with Michael Raucheisen and Bruno Seidler-Winkler. In 1938 he made a guest appearance at Covent Gardenconducted by Sir Thomas Beecham. One· year previously Beecham bad already engaged him to sing Sarastro in a recording of Mozart' s "Magic Flute" which is still considered a milestone in gramophone history. It was as Sarastro that he also made a guest appearance at the Vienna State Opera on October 6, 1938. Strienz was especially acclaimed in Holland. In the Amsterdam Concertgebouw, in Den Haag, in Rotterdam, at the AVRO in Hilversum he was a frequent and welcome visitor. Had World War II not broken out, he would have moved to Amsterdam, to be close to many friends who bad emigrated from Germany. Wilhelm Strienz was one of those basses whose very timbre already cast a spell. His easy top range was tapered and focused. It possessed a metallic sheen, was clear and flexible. The bottom range was voluminous and warm. Virtually intoxicating was the soothing velvet of his middle range; it was seductive, yet never devoid of intrinsic masculinity. Strienz' voice radiated shining optimism, victorious prowess, warm, emotional confidence in plentifold gradations as well as torrential strength. Those were exactly the qualities much in demand during World War II. Wilhelm Strienz became a public idol, the acclaimed star of the German "People' s concerts" and the "On special request" shows. Everyone who heard him at the time will recall bis singing "Glocken der Heimat" and "Heimat, deine Sterne". Yet fate was to strike again. Although Strienz bad been sacked in 1933 on order of the Nazis, he was again boycotted after 1945 - because he had been only too popular during the Third Reich era. He had to wait a long time for his rehabilitation before he could continue his concert and recording career in Germany, Austria, Switzerland, Holland and Belgium. In 1963 a serious operation forced him to terminate his career.
Amazon, iTunes, Spotify & Co.