Lebendige Vergangenheit - Wilhelm Rode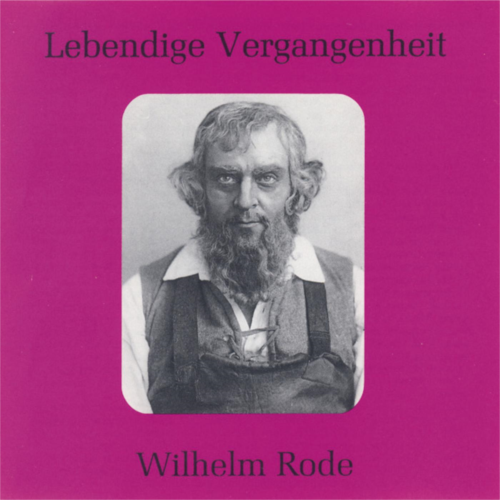 | | |
| --- | --- |
| Artist | Wilhelm Rode |
| Title | Lebendige Vergangenheit - Wilhelm Rode |
| | |
| Release Date | Tuesday, September 5, 2006 |
| Genre | Classical > Choro |
| | |
| Composers | Richard Wagner, Giuseppe Verdi, Giacomo Puccini, Giacomo Meyerbeer, Georges Bizet, Arrigo Boito |
| Songwriters | Orchester der Staatsoper Berlin / Wilhelm Rode, Berliner Philharmoniker / Eva Hadrabova / Wilhelm Rode, Orchester der Städtischen Oper, Berlin / Wilhelm Rode, Berliner Philharmoniker / Wilhelm Rode |
| | |
| Copyright | © Preiser Records |
| Country | AUSTRIA |
Update Required
To play the media you will need to either update your browser to a recent version or update your
Flash plugin
.
Promotion Text
Lebendige Vergangenheit
Wilhelm Rode verkörperte in idealer Weise einen Bariton-Typus, der in der heutigen Zeit überaus selten geworden ist; in gleicher Weise war er Idealinterpret des Wagner-Faches und Darsteller der dämonischen Rollen der italienischen und französischen Oper. Am 17. Februar 1887 in Hannover geboren, wurde er zuerst Versicherungsangestellter, ehe er sich dem Gesangsstudium zuwandte. Glücklicherweise ist es möglich, den Künstler selbst zu Wort kommen zu lassen und so eine authentische Schilderung seines Werdeganges zu erlangen: Da saß ich also im Büro der Deutschen Militär-Versicherungsanstalt zu Hannover und befasste mich mit höchst realen Dingen. Mitunter unternahm ich wohl einen Ausflug in die Gefilde der Kunst, wenn nämlich der eine der Herren Direktoren Hausgesellschaft hatte. Dann sang ich etwas vor oder wirkte auch in kleinen Aufführungen mit. Und eines Tages erklärte mein Chef: ,Junger Mann, wie wäre es, wenn Sie ihre schöne Stimme ausbilden ließen?' Das war ein neuer Gesichtspunkt, und darum war ich wohl zunächst etwas verwirrt: ,Ich weiß nicht, Herr Direktor, ob meine Mutter das erlauben wird...' Da schüttelte der Direktor verwundert den Kopf: ,Wenn mir das einer in meiner Jugend gesagt hätte! Da fragt man doch gar nicht erst die Eltern!' Am Opernhaus Hannover gab es damals einen Sänger, der der Liebling des Publikums war, der Bassist Kammersänger Moest. Er wohnte draußen in einem Vorort in einem hübschen Häuschen, um das sich ein Garten zog. Ich erinnere mich noch in allen Einzelheiten jenes Tages, da ich mich in meinen Sonntagsanzug warf, einen hohen Stehkragen umlegte, meinen schwarzen Stock mit der Silberkrücke ergriff und hinauspilgerte zu ihm, der nun mein Lehrer werden sollte. Dass er es werden würde, war für mich beschlossene Sache. Im Garten des Künstlers sah ich einen Mann eifrig bei der Arbeit; ich hielt ihn für den Gärtner: ,Sagen Sie, mein Lieber', so rief ich über den Zaun, ,wohnt hier der Kammersänger Moest?' - Der Angeredete drehte sich erstaunt um: ,Der bin ich, was wünschen Sie?' Da pochte mir doch mein mutiges Herz und etwas kleinlaut antwortete ich:, Mein Name ist Rode, ich möchte gern bei Ihnen Gesangsstunde nehmen.' Der Kammersänger lächelte, klopfte sich die Erde von den Händen, zog seine Jacke an und bat mich ins Musikzimmer. Er setzte sich an den Flügel und ich sang: ,Wer ein Liebchen hat gefunden ...'. Moest hörte aufmerksam zu, dann sagte er: ,Sie sind kein Bassist, sondern ein Bariton! Ich bin im Übrigen bereit, Ihnen Unterricht zu geben!' Und bald war ich des großen Sängers Meisterschüler und konnte nach dreijährigem Gesangsstudium den Sprung zur Bühne wagen. … Wilhelm Rode embodied in an ideal fashion a type of baritone that has become rare in the present day: he was an ideal interpreter, at the same time, not only of Wagner roles but also of demonic roles in Italian and French opera. Rode was born on 17 February 1887 in Hanover, Germany. He worked for an insurance company before he turned to vocal study. Fortunately it is possible to let the artist speak for himself, and thus get an authentic description of his career: "There I sat in the office of the German Military lnsurance Company in Hanover and was totally occupied with concrete facts. Once in a while I would undertake an excursion into the realm of art when one of the directors gave a hause party. Then I would sing something or would take part in small performances. And one day my boss declared, 'Young man, how would it be, if you would let your beautiful voice be trained?' This was a new perspective, and at first I was therefore somewhat confused. 'I don't know, Herr Direktor, if my mother would allow it.' The director shook his head in astonishment. 'If only someone had said that to me when I was young! One surely does not first ask one's parents!' "At that time there was a singer at the Hanover opera house who was a favorite with the public - the bass, Kammersänger Moest; He lived out in one of the suburbs in a lovely little house surrounded by a garden. I can still remember that day in every detail, when I put on my Sunday suit, added a high stand-up collar, seized my black cane with the silver handle, and traveled out to him, the one who should become my teacher. That he would accept me, was already a foregone conclusion for me. "I saw a man working zealously in the garden; I assumed he was the gardener. 'Tell me, my good man', I called over the fence, 'does Kammersänger Moest live here?' The man I had addressed turned to me and said, 'I am he, what do you wish?' My courageous heart began to pound and I answered somewhat timidly, 'My name is Rode, and I would like to study voice with you.' Moest smiled, shook the dirt from his hands, put on his jacket and invited me into his music room. …
Amazon, iTunes, Spotify & Co.