Haydn, Hofmann, & Salieri "Raritäten"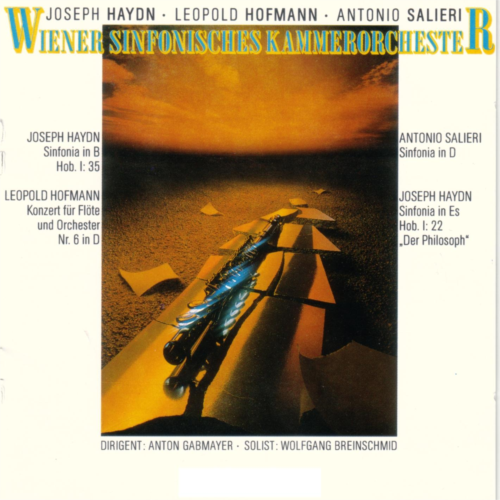 Update Required
To play the media you will need to either update your browser to a recent version or update your
Flash plugin
.
Promotion Text
Das V.S.C.O. spielt seltene Stücke von Haydn, Hofmann & Salieri. Cond: Grabmayer
Das WIENER SINFONISCHE KAMMERORCHESTER wurde im Jahr 1985 gegründet. Es setzt sich zum größten Teil aus fortgeschrittenen Studenten und Absolventen der Wiener Hochschule für Musik zusammen. Weiters wirken Mitglieder des Musik Konservatorium der Stadt Wien mit. Dadurch verfügt das Orchester von Beginn an über ein ausge¬zeichnetes musikalisches Niveau. Bereits in den ersten Jahren des Bestehens fand das Orchester bei seinen Kon¬zerten sowohl in den Wiener Palais als auch im Brahmssaal des Musikvereines die Anerkennung des Publikums und international beachtenswerte Beurteilungen der Kritiker. Neben den Auftritten im Österreichischen Rundfunk kann das Orchester auf seine CD Aufnahmen verweisen, die auch außerhalb Österreichs große Beachtung fand. Die Mitwirkung von ausgezeichneten jungen Musikern aus allen Teilen der Welt, die miteinander auf der Basis Wiener Aufführungstraditionen musizieren, verleiht dem Orchester seinen einzigartigen Klang. Die Freude am Musizieren und dieser Klang sind die besonderen Merkmale des Orchesters. Eine möglichst natürliche Interpretation der großen und kleinen Meisterwerke der Musikliteratur hat sich das Orchester zur Aufgabe gemacht. Dies kommt in den zahlreichen Orchesterkon¬zerten, auch mit internationalen Solisten, zum Ausdruck. Die vorliegende CD enthält Stücke von Joseph Haydn, die bisher kaum beachtet und daher auch niemals auf Tonträger aufgenommen wurden. Anlaß für das Wiener Sinfonische Kammerorchester, diese Stücke von Haydn auf Tonträger zu verewigen war die Tatsache, dass diese Stücke in letzter Zeit vom Publikum verstärkt verlangt und dementsprechend oft aufgeführt wurden. The VIENNA SYMPHONY CHAMBER ORCHESTRA was founded 1985 by graduates from VIENNA UNIVERSITY OF MUSIC and members of the VIENNA MUSIC CONSERVATORY. These excellent musicians were and still are guarantees for the high musical standard of this orchestra. The V.S.C.O. orchestra performed in various palaces in Vienna as well as in the world famous Wiener Musikverein (yearly New Years Concert). The performances in Austrian Radio Corporation (ORF) and the CD-albums made the V.S.C.O. orchestra famous especially outside its home country Austria. The unique sound is a result of the tradition of the worldfamous Viennese performance style of the orchestra with its conductor, Maestro Anton Gabmayer. International soloists were often invited to perform together with the V.S.C.O. orchestra. On this album the orchestra plays rare pieces from Haydn, Hofmann, Salieri and Leopold Mozart, which have not been performed very often by international ensembles during the last century. It was the audience which encouraged the V.S.C.O. orchestra to choose these pieces for this DDD recording.
Management / Booking
Get in contact
Amazon, iTunes, Spotify & Co.