2020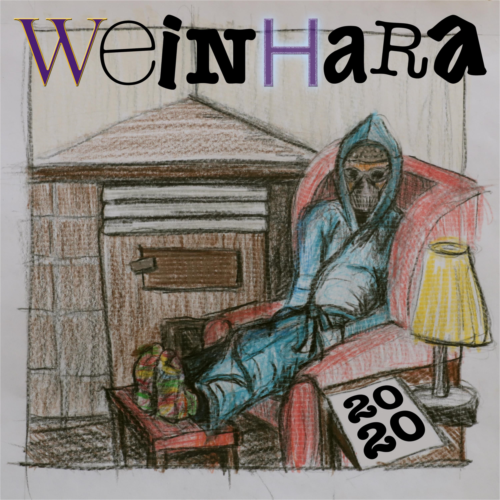 | | |
| --- | --- |
| Artist | WeinHara |
| Title | 2020 |
| | |
| Release Date | Tuesday, October 12, 2021 |
| Genre | Alternative > Alternative Pop |
| | |
| Copyright | © Fair Art Pop Records |
| Country | AUSTRIA |
Update Required
To play the media you will need to either update your browser to a recent version or update your
Flash plugin
.
Promotion Text
Who killed the Baby Elephant?
(English, Deutsch weiter unten)The song "Baby Elephant Cluedo", which was inspired by an awareness campaign by the Austrian government, is a sarcastic statement by WeinHara on the dominant topic of Corona and is part of the EP "2020". Well, who is the murderer? According to the lyrics, it is already clear where and with what the crime was committed. The only question is: "Who killed the baby elephant" in the Cluedo of absurdness? If you don't know Cluedo, also known as Clue, this is a detective game about solving a murder. Like a rascal, Philipp Müller alludes with made-up words not only to the conscious and the unconscious recklessness of some people, but also to the inability of those in charge and advertising spots, which, due to their unspeakable naivety, aroused aggression in some rather than addressing reason. Despite all of these annoyances, there is also a positive message: "Verlier nicht deinen Humor" what means "Don't lose your humor". Müller's singing is joined by a crazy prancing xylophone and Hari Artner aka hart.sax on the saxophone, who interprets the death screams of the dying baby elephant. All of this happens on a tight song structure of reduced electro-funk, interrupted by a loud and crunchy chorus. "Baby Elephant Cluedo" is only one of three tracks from the EP "2020". The other two are instrumental pieces, called "Booby-Trapped Zauberschloss" and "Coughit-05", and can be understood as the soundtrack of last year. "Coughit-05" is also the title of a triptych by Müller created between March and July 2020 and is a sort of a painted collage of TV images. "Booby-Trapped Zauberschloss" could be used in an online role-playing game with a horror atmosphere.The Art-Pop of WeinHara is marketed by the label Fair Art Pop Records and a share of the revenue goes to the NGOs, Amnesty International, Doctors Without Borders and Green Peace.(Deutsch)Der durch eine Aufmerksamkeits-Kampagne der österreichischen Regierung inspirierte Song "Baby Elephant Cluedo" ist ein sarkastisches Statement von WeinHara zum dominierenden Thema Corona und ist Teil der EP "2020".Na, wer hat unseren Babyelefanten am Gewissen? Laut des Songtextes ist bereits klar wo und womit die Tat begangen wurde. Stellt sich eben nur mehr die Frage: "Who killed the Baby Elephant" im Cluedo des Absurden? Wer Cluedo, auch bekannt als Clue nicht kennt, das ist ein Detektivspiel, in dem es darum geht einen Mord aufzuklären. Wie ein Schelm spielt Philipp Müller mit schrägen Kunstworten nicht nur auf bewusste und unbewusste Rücksichtslosigkeit einiger Menschen an, sondern auch auf das Unvermögen von Verantwortungsträgern und Werbe-Spots, die durch ihre unsägliche Naivität bei manchen eher Aggression erweckte, als die Vernunft anzusprechen. Trotz all dieser Ärgernisse ist mit "Verlier nicht deinen Humor" auch eine positive Message enthalten. Zu Müllers Gesang gesellt sich ein verrückt tänzelndes Xylofon und Hari Artner aka hart.sax am Saxofon, der die Todesschreie des sterbenden Babyelefanten interpretiert. All das geschieht auf einer kompakten Songstruktur aus reduziertem Elektro-Funk unterbrochen durch einen krachigen Refrain."Baby Elephant Cluedo" ist nur einer von drei Tracks der EP "2020". Die anderen zwei sind instrumentale Stücke, heißen "Booby-Trapped Zauberschloss" und "Coughit-05", und können als Soundtrack des vergangenen Jahres verstanden werden. "Coughit-05" ist auch der Titel eines Triptychon, das Müller von März bis Juli 2020 mahlte und aus collagierten TV-Bildern besteht und "Booby-Trapped Zauberschloss" könnte in einem Online Role Playing Game mit Gruselstimmung Verwendung finden.Der Art-Pop von WeinHara wird durch das Label Fair Art Pop Records vermarktet und ein Teil der Einnahmen geht an die NGOs, Amnesty International, Ärzte Ohne Grenzen und Green Peace.
Management / Booking
Get in contact
Amazon, iTunes, Spotify & Co.