Lebendige Vergangenheit - Walther Kirchhoff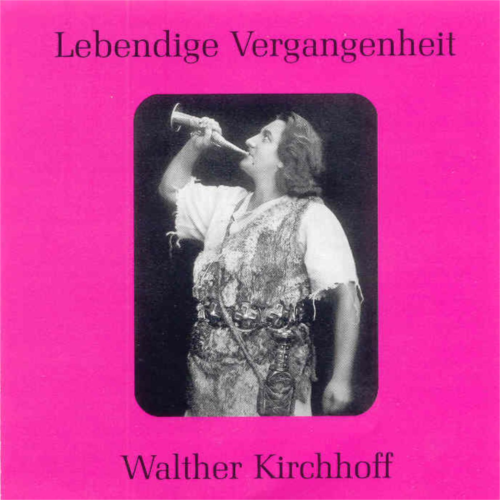 Update Required
To play the media you will need to either update your browser to a recent version or update your
Flash plugin
.
Promotion Text
Lebendige Vergangenheit
Geboren 1879 war er ursprünglich preußischer Dragoner-Leutnant. In Mailand und Berlin studierte er Gesang und debütierte 1906 an der Berliner Hofoper als Faust. Sein eigentliches Ziel jedoch waren die Wagner-­Partien. Der Erfolg gab ihm schließlich recht: Zunächst als Loge, dann als Lohengrin und Stolzing gelang ihm an der Berliner Hofoper der Durchbruch zum Spitzenstar, ehe er 1911 nach Bayreuth berufen wurde. Kirchhoff war im ersten Weltkrieg einer der ersten, der sich 1914 freiwillig zur Front meldete. Ab 1920 be­gann seine internationale Karriere. Seine internationalen Erfolgspartien waren Tristan, Tannhäu­ser, Siegmund und der Siegfried der "Götterdämmerung", zeitweilig auch Lohengrin und schließlich Loge.Er gastiert in London, Paris, Bar­celona, Wien, Brüssel und Amsterdam; in Buenos und von 1926 bis 1931 an der Metropolitan Opera. 1933 endete seine aktive Sängerlaufbahn: Als Freimaurer schien er den neuen Machthabern "politisch nicht einwandfrei". 1951 starb er in Wiesbaden. Born in 1879 he originally had been a lieutenant in the Prussian Dragoons. He studied singing in Milan and Berlin, and in 1906 sang his debut as Faust at Berlin's Hofoper. His real goal, however, was to perform Wagnerian roles. In the end his success bore him out: as Loge and then as Lohengrin and Stolzing he made his breakthrough at Berlin's Hofoper and became a top star before being called to Bayreuth in 1911. Kirchhoff was one of the first to volunteer for duty at the front in 1914. In 1920 he launched his international career. He made guest appearances in London, Paris, Barcelona, Vienna, Brussels and Amsterdam. His most successful roles internationally were to become Tristan, Tannhäuser, Siegmund and Siegfried in Götterdämmerung and, finally, Loge. From 1926 to 1931 he sang at the Metropolitan Opera. In 1933 his active singing career ended: as a Freemason, he was not "politically reliable enough" for the new powers that be. In 1951 he died in Wiesbaden.
Amazon, iTunes, Spotify & Co.