So viel der Helden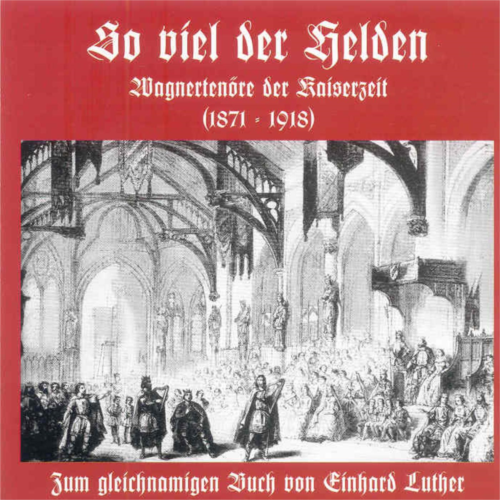 | | |
| --- | --- |
| Artist | Various |
| Title | So viel der Helden |
| | |
| Release Date | Thursday, October 26, 2006 |
| Genre | Classical > Choro |
| | |
| Composer | Richard Wagner |
| Songwriters | Otto Lähnemann, Josef Mann, Karl Jörn, Karl Erb, Otto Wolf, Otto Briesemeister, Hermann Jadlowker, Franz Xaver Battisti, Oskar Bolz, Benno Haberl, Adolf Lussmann, Alfred Goltz, Fritz Trostorff, Johannes Sembach, Hans Tänzler, Carl Baum, Adolf Löltgen, Heinrich Knote, Petur Jonsson, Adolf Gröbke, Peter Unkel, Jacques Decker |
| | |
| Copyright | © Preiser Records |
| Country | AUSTRIA |
Update Required
To play the media you will need to either update your browser to a recent version or update your
Flash plugin
.
Promotion Text
Lebendige Vergangenheit
SO VIEL DER HELDEN. Wolframs freundliche Begrüßung der Gäste des Landgrafen zum "Sängerkrieg auf Wartburg" gewinnen unversehens an Gewicht und Bedeutung, wenn man sie auf die Geschichte der Wagnerinterpretation bezieht. Angesichts des heute von Auszehrung bedrohten Heldentenorfachs muss es unfassbar erscheinen, dass es zur Kaiserzeit Anfang des 20. Jahrhunderts "soviel der Helden" gab, wie sich anhand von Jahrbüchern, Almanachen, Kritiken, Programmen und auch Tondokumenten nachweisen lässt. Die trockene erste Halbjahres-Statistik des seinerzeit beim Verlag Oesterheld & Co. erschienenen "Deutschen Bühnenspielplans" kommt 1914 allein für "Parsifal" auf 537 Aufführungen in Deutschland, Österreich-Ungarn und der Schweiz. Der für die 181 Tage zwischen dem 1. Januar und dem 30. Juni 1914 ermittelte Mittelwert von 2,97 heißt, dass allein im deutschsprachigen Theaterraum - abgesehen von allen anderen Wagner­ Vorstellungen - ,,Parsifal" allein täglich knapp dreimal gespielt wurde. Dafür sind 150 Titel­ Darsteller namentlich nachweisbar; weltweit ließen sich weitere 21 Parsifal-Sänger vor­ wiegend italienischer, aber auch spanischer, französischer, englischer und slawischer Herkunft ermitteln. Im Ganzen wurde "Parsifal" 1914 über 800mal gegeben. Heute wäre kaum ein Zehntel dieser Zahl denkbar. Die unerwartete Fülle an Material stellte selbst den an Überraschungen gewöhnten Autor der "Heldentenorsaga" vor einige Probleme. Teil III der "Biographie eines Stimmfaches" musste sich notgedrungen auf die Wagnertenöre der Kaiserzeit in Deutschland beschrän­ ken und damit wörtlicher als beabsichtigt Wolframs Begrüßung in "Tannhäuser" befolgen, die vollständig lautet: ,, So viel der Helden, tapfer, deutsch und weise!" Das hatte seine Auswirkungen auf die vorliegende CD: Auch auf dieser parallel produzierten Tondokumentation wird man - wie im Buch - selbst Fachvertreter der Wagnerhochburg Wien vergeblich suchen. Ihnen wie den zahlreichen Wagnertenören anderer. Sprachräume wird ein eigener Teil der "Heldentenorsaga" gewidmet werden, zu der es eine freilich auch wieder von der Fülle des Matertals abhängige CD geben soll. Die Freunde italienischer, französischer, russischer oder "österreichischer" Wagneraufnahmen seien also um Geduld gebeten. Soweit möglich, werden dann auch Sänger wie Jean de Reszke, Francisco Vigfias, Giuseppe Borgatti, Paul Franz oder Iwan Erschow - um nur einige zu nennen - zu ihrer verdienten Ehrung gelangen. Doch - um mit Stolzing zu sprechen: ,, Genug der Wort'!" Diese CD sei den Helden selbst vorbehalten - und dem gesungenen Wort. Weitere Einzelheiten sind ohnehin im Buch selbst genauer und ausführlicher nachzulesen - auf immerhin 434 Seiten. SO MANY HEROES. In the opera Tannhäuser Wolfram sings this friendly greeting to the Landgrave's guests at the singing competition in the Wartburg, a scene that suddenly gains new significance and importance when one considers the history of Wagner interpretation. Given the dwindling number of tenors able to capably sing heldentenor roles today, it seems almost 1.mimagina­ ble that in the imperial period of the early 20th century there were "so many heroes." And yet their names and artistry have been preserved in yearbooks, almanacs, reviews, pro­ grammes and recorded documents. Reading the dry statistics for the first half of 1914, as recorded in the Deutscher Bühnen­ spielplan published by Oesterheld & Co, one discovers that there were 537 performances of Parsifal in Germany, Austria-Hungary and Switzerland alone. That means an average of 2.97 a day in the 181 days between 1 January and 30 June 1914. Thus setting aside all the other Wagner operas, the theatres of the German-speaking world presented Parsifal almost three times a day on average. We know that 150 singers appeared in the title role in these performances. Worldwide, there were another 21 Parsifal singers, primarily of Italian origin, but there were Spanish, French, British and Slavic singers as weil. In all, Parsifal was performed more than 800 times in 1914. Today it is hard to imagine the figure being even a tenth of that. Although accustomed to surprises, the author of a three-volume work on Wagnerian tenors was faced with several problems, given this unexpected wealth of material. In the third volume of his Biographie eines Stimmfaches, he was forced to limit himself to the Wagnerian tenors of the, imperial period in Germany and thus act in the spirit of Wolfram's greeting, which says in its entirety: "So manyheroes, valiant, German, wise!" This also had an effect on the present CD: the recorded document produced parallel to the book was also forced to neglect singers in the Wagner "stronghold" of Vienna. A separate volume of the work on Wagnerian tenors will be dedicated to them as well as the numerous tenors who sang Wagner in other parts of the world. Again, a CD will be produced to accompany it, drawing on a wealth of recorded material. Friends of Italian, French, Russian or Austrian Wagner recordings are asked to remain patient. To the extent possible, such singers as Jean de Reszke, Francisco Vignas, Giuseppe Borgatti, Paul Franz and Ivan Ershov - to mention only a few - will be honored in the manner they deserve. But to echo Walther in Die Meistersinger: "Enough words!" This CD is dedicated to the heroes themselves and to words as they are sung. Other details may be found in a more exact and expanded form in my book, on a total of 434 pages.
Amazon, iTunes, Spotify & Co.