Four Famous Wagnerian Basses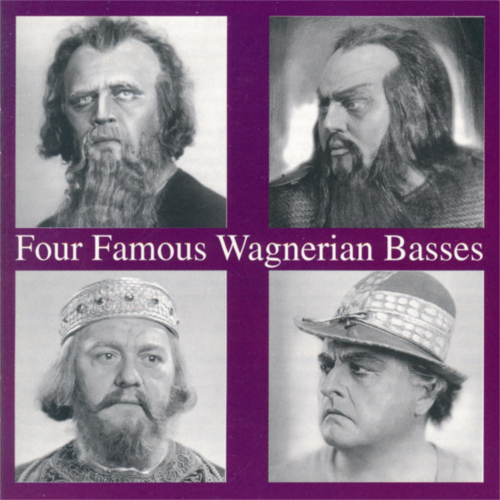 Update Required
To play the media you will need to either update your browser to a recent version or update your
Flash plugin
.
Promotion Text
Lebendige Vergangenheit
In his "dictionary of impoliteness", which was published in 1876 and contains a collection of maliciously critical statements about Wagner and his art, the author, Wilhelm Tappert, offers many quotations regarding the "voice-destroyer" Richard Wagner. One reads about "dragonlike howling", about singers "gigantic shouting" and about Wagner's voice-slaughter for his own benefit, while Bayreuth is called the "moloch of voices". Nowadays, these rather odd insults are considered nothing more than curiosities, especially when one thinks of all the glorious high-points in more than a hundred years of Wagner singing. It has proved right long ago that the cause for ruinous exploitation of voices is attributed rather to vocal abuse and over-estimating one's natural abilities than to the "murderous" substance of Wagner's compositions. There should be no doubt, however, that there has always been a considerable herd of "black sheep". The dense orchestration of Wagner's music has misled many a coarse and rough voice to shout or "bark" which has brought Wagner's art-form as a whole into discredit. Still, there has always been a handful of people, who, like "guardians of the holy grail" were able to fulfil the composer's intentions in an exemplary way. In the course of recording history there luckily have been preserved several testimonies of such mastery. The four tenors who are remembered on this CD have all started their careers as Wagner-Singers on German opera stages and - with the exception of Torsten Ralf - they all belonged to the Wagner ensemble of America's most important opera house, the New York Metropolitan Opera. Lauritz Melchior (* 1890 in Copenhagen, + 1973 in Santa Monica) is undisputedly a "classic" among Wagnerian tenors of the twentieth century. He owes this distinguished position not only to his glorious career but also to his valuable recording legacy which, until today, has remained generally valid and immortal. Although several of his colleagues and contemporaries may have excelled him regarding musicality and performance as an actor, there was not one who came even near Melchior's vocal endurance. There also was no one who reached such an omnipotent position in Wagner singing. Always keeping his high standard the artist dominated this field which demands the utmost of a singer's vocal potential for more than thirty years. Still, Melchior was no beserk but an artist of great intellect and empathy. The center of his career was the Metropolitan Opera (24 seasons between 1926 and 1950) where, in roles like Tannhäuser, Lohengrin, Tristan, Siegmund, Siegfried and Parsifal, he appeared more often than any other of his colleagues. Melchior started as a baritone and switched to the tenor repertoire in 1928 whereby he mainly but not exclusively devoted himself to the dramatic roles in Wagner's operas. He was closely connected to the Bayreuth Festival (1924-1931), other important stations of his glorious career were London, Berlin and Hamburg. The German Wagner tenor Max Lorenz(* 1901 in Düsseldorf,+ 1975 in Vienna) is, until today, unforgotten in roles like Rienzi, Tannhäuser, Tristan, Siegfried and Parsifal. Without doubt, the unfavorable circumstances of the time did not secure the artist the high rank of recognition which his eminent artistic gift would have deserved. Contrary to many other representatives of the heroic field of singing Lorenz was also an outstanding actor whose performance even deeply impressed such a famous stage artist as Werner Krauss. Germany's political situation in the Thirties and Fourties, the years of World War II made international appearances impossible and only late in his career Max Lorenz was able to resume the promising times of his beginnings. The chronology of his appearances at the MET show this break very well: Lorenz 'debuted as Eric in "Der fliegende Holländer" in 1931 and until 1933/34 sang Tannhäuser, Lohengrin, Stolzing, Siegmund and Siegfried. Only in the years from 1947 to 1950 he returned to New York where he then also interpreted Parsifal and Tristan. Lorenz belonged to the most important singers of the Bayreuth Festival where he had made his debut in 1933 as Parsifal (under Richard Strauss) and in both Siegfried roles (under Karl Elmendorff). In 1936 and 1937 he sang in the "Ring" performances under Wilhelm Furtwängler, his last appearance at Bayreuth was in the "Ring" of 1952 which was conducted by Joseph Keilberth. Other essential stations in this artist's career were Dresden, Berlin, Vienna, London, Rome, Florence, Paris, Buenos Aires, the Scala of Milan and the Salzburg Festival. The broad repertory of Max Lorenz enclosed Italian opera ("Un ballo in maschera", "Aida", "Otello") as well as the Slavonic repertoire (Hermann in "Pique Dame") and contemporary music, operetta and musical. Torsten Ralf(* 1901 in Malmö, + 1954 in Stockholm) was like Lauritz Melchior of Nordic origin. He started his operatic career in 1930 in Stettin (as Cavaradossi in "'fosca"). In 1935 he joined the Dresden State Opera during the era of Karl Böhm where he soan became one of the substantial members of the ensemble. There Ralf sang the role of Apollo in the world premiere of Richard Strauss' "Daphne" in 1938. Only after the war he was able to pursue his international career which had already started with an engagement at London's Covent Garden Opera in 1935. At the MET he sang in the years from 1945 to 1948 the Wagner roles of Tannhäuser, Lohengrin, Stolzing, Siegmund, Parsifal and he once appeared as Tristan. Like Max Lorenz he, too, was an excellent interpreter of Verdi's "Otello". Being of Swedish origin Set Svanholm …
Amazon, iTunes, Spotify & Co.