Stereo Grande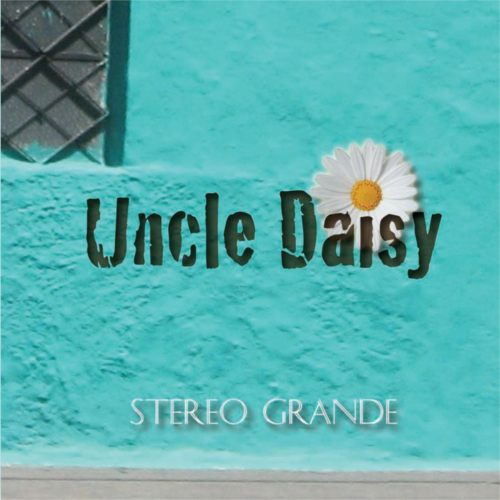 | | |
| --- | --- |
| Artist | Uncle Daisy |
| Title | Stereo Grande |
| | |
| Release Date | Sunday, October 10, 2010 |
| Genre | Latin > Rock En Espanol |
| | |
| Copyright | © Chile Bolita Productions |
| Country | CANADA |
Update Required
To play the media you will need to either update your browser to a recent version or update your
Flash plugin
.
Promotion Text
Ya llegó Uncle Daisy/Here is Uncle Daisy/Voici Uncle Daisy
En Español El primer álbum de Uncle Daisy representa una ola que desea unir al mundo entero. Con canciones como « La justicia está de vacaciones », Uncle Daisy canta la gran decepción silenciosa existente. Humanista, Uncle Daisy canta sobre la vida que observa y traduce sus constataciones en canciones. Las mujeres no deben desaparecer, los niños deben ser protegidos, la justicia no debe venderse. Uncle Daisy es una sátira sonora en contra de los influyentes y aquellos que los apoyan. Uncle Daisy es música espontánea, se pueden apreciar pop, rock y un toque de blues. Uncle Daisy canta en español, inglés y francés, sus lenguas oficiales. Uncle Daisy es la reunión de dos amigos, músicos, autores y compositores, que recorren las Américas y la Europa en busca de sus canciones. En éste álbum, se unen dos sensibilidades artísticas, dos talentos, dos generaciones. El tío C y el tío M forman este dúo poco común presentando su visión del mundo. Los invitamos a descubrir a Uncle Daisy… In English Uncle Daisy's first album is much like a sound wave seeking to reach everyone. Uncle Daisy manifests aloud our common silent disappointments through songs like « La justicia está de vacaciones ». Humanistic, Uncle Daisy tells the story of life as they see it. Uncle Daisy interprets their observations into songs. For better or for worst, life itself is their inspiration. Women must not disappear, children should be protected and justice should not be for sale. Uncle Daisy cleverly pokes fun at both the powerful and those claiming to be. Uncle Daisy is spontaneous music. Listen, and you'll hear pop, rock and a touch of blues… Uncle Daisy sings in Spanish, English and "pourquoi pas", in French. Uncle Daisy unites two friends, musicians, authors and composers. Their quest for music, spanning from the Americas to Europe, have nurtured thought and has found their place in their songs. In Stereo Grande, two understanding spirits have chosen the same path. Two talents, two different generations, two musicians. Uncle C and Uncle M personify this unusual duo. Listen to their vision of the world. Discover Uncle Daisy… En Français Le premier album de Uncle Daisy est comme une onde qui veut rejoindre tout le monde. Avec des chansons comme « La justicia está de vacaciones », Uncle Daisy chante tout haut la déception silencieuse. Humaniste, Uncle Daisy chante la vie qu'il voit. Uncle Daisy traduit ses constatations en chanson. C'est la vie pour le meilleur et le pire qui l'inspire. Les femmes ne doivent pas disparaître, les enfants doivent être protégés, la justice ne doit pas être à vendre. Uncle Daisy c'est un bon gros rire sonore face aux puissants et à ceux qui le prétendent. Uncle Daisy c'est de la musique spontanée. On prête l'oreille et on entend du pop, du rock et un soupçon de blues… Uncle Daisy chante en espagnol, en anglais et, pourquoi pas, en français. Uncle Daisy réunit deux amis musiciens, auteurs et compositeurs qui parcourent les Amériques et l'Europe en quête de chansons. Dans cet album, deux sensibilités s'unissent. Deux talents, deux générations, deux musiciens. Uncle C et Uncle M forment ce duo inhabituel. Écoutez leur vision du monde. À vous de découvrir Uncle Daisy…
Management / Booking
Get in contact
Promotion plan
Amazon, iTunes, Spotify & Co.