Lebendige Vergangenheit - Toti dal Monte (Vol.2)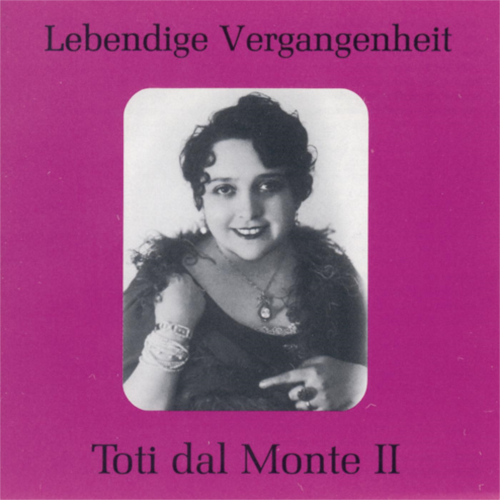 | | |
| --- | --- |
| Artist | Toti dal Monte |
| Title | Lebendige Vergangenheit - Toti dal Monte (Vol.2) |
| | |
| Release Date | Tuesday, September 5, 2006 |
| Genre | Classical > Choro |
| | |
| Composers | Wolfgang Amadeus Mozart, Gaetano Donizetti, Giuseppe Verdi, Geni Sadero, Gaetano Donizetti / Giuseppe Verdi, Vincenzo Bellini, Gioacchino Rossini, Pietro Mascagni |
| Songwriters | Toti dal Monte, Toti dal Monte / Luigi Montesanto, Tito Schipa / Toti dal Monte, Toti dal Monte / Tito Schipa, Toti dal Monte / Augusto Beuf |
| | |
| Copyright | © Preiser Records |
| Country | AUSTRIA |
Update Required
To play the media you will need to either update your browser to a recent version or update your
Flash plugin
.
Promotion Text
Lebendige Vergangenheit
Wenn die großen Vertreterinnen des italienischen Koloraturgesanges genannt werden, sind es vor allem zwei Namen, die an vorderster Stelle stehen: Amelita Galli-Curci und Toti dal Monte. Dass diese spezielle Gattung des Kunstgesanges außerdem noch viele andere respektable Kräfte hervorgebracht hat, daß nicht zuletzt im spanischen und südamerikanischen Raum einige bedeutende Virtuosinnen des Ziergesanges gewirkt haben, ändert an dem Tat­ bestand nichts. Die beiden berühmten Namen regierten in ihrem Fach ziemlich unbestritten, und an ihnen mußten sich nun schon ganze Generationen von Sängerinnen messen. Die Popularität der Galli-Curci und der dal Monte hängt nicht zuletzt mit der weiten Verbreitung ihrer Tonaufnahmen zusammen. Beide waren echte Favoriten der Schallplattenindustrie. Bei Toti dal Monte kommt noch ihre Mitwirkung in Filmen hinzu, sowie ihr oftmaliges Auftreten in den verschiedensten Opernhäusern Europas und Amerikas. Außer ihrem gemein­ samen Ruhm, Spitzenvertreterinnen einer der schwierigsten Gattungen des Kunstgesangs zu sein, hatten die beiden, auch altersmäßig voneinander ziemlich getrennten Primadonnen nur wenig Verbindendes. Toti dal Monte, die jüngere von beiden, verkörperte im Gegensatz zu der eher ernst und asketisch wirkenden Galli-Curci einen wesentlich sinnenfreudigeren Typus. Ihre Stimme besaß Süßigkeit, Schmelz, Wärme, es war eine jener betörenden "Nachtigallen­ stimmen", wie sie im Zeitalter der Romantik so hoch eschätzt wurden. Entsprechend dieser Naturveranlagungen war sie auch die geborene Vertreterin der italienischen Opernromantik. Die schwärmerischen Gesangspartien in den Opern Bellinis (,,Die Nachtwandlerin") und Donizettis (,,Lucia di Lammermoor") haben in ihr die ideale Interpretin gefunden. In ihrem Gesang vollzog sich eine seltene Synthese von technischer Perfektion und Ausdruckswärme. Die Künstlerin, deren bürgerlicher Name Antonietta Meneghel lautete, strebte ursprünglich den Beruf einer Pianistin an, wurde aber auf Anraten von Ermanno Wolf-Ferrari (damals Leiter des Konservatoriums "Benedetto Marcello" in Venedig) zum Kunstgesang hingeführt. Ihre Ausbildung erhielt sie bei der renommierten Gesangspädagogin Barbara Marchisio, in einem Zeitraum von fünf Jahren. Das Talent der jungen Sängerin war so hervorstechend, dass ihr Debüt an hochberühmter Stätte erfolgte: 1916 stand sie zum ersten Mal auf der Bühne der Mailänder Scala und zwar in der Partie der Biancafiore in Zandonais Oper ,,Francesca da Rimini",., In den folgenden Jahren wirkte sie an verschiedenen Operbühnen Italiens und gastierte unter anderem auch in Südamerika. 1921 kehrte sie wieder an die Scala zurück, wo sie unter Toscaninis Leitung in einer gloriosen Aufführung von Verdis "Rigoletto" die Gilda sang. Von hier an datierte der weltweite Ruhm der Sängerin Toti dal Monte. Mit diesem Mailänder "Rigoletto" gastierte die Künstlerin in den verschiedensten Opernhäusern, unter anderem auch in Deutschland, wo sie triumphale Erfolge erntete. Ebenfalls unter Toscanini sang sie eine .weitere ihrer berühmten Partien, die Titelfigur in Donizettis "Lucia die Lammer­ moor". … In lists of great exponents of Italian coloratura singing, the two names generally found at the top are those of Amelita Galli-Curci and Toti dal Monte. There have, of course, been many fine coloraturas, notably in Spain and South America, but the two Italians reigned supreme among the virtuosos and set the standard by which whole generations of singers have been measured. The popularity of Galli-Curci and dal Monte is due in no small measure to the records they made. Both of them were darlings of the recording industry. Toti dal Monte gained further public acclaim thartks to her film roles a d her appearances in opera houses all over Europe and America. Apart from their sterling reputation as the leading exponents of one of the most difficult forms of vocal art, the two prima donnas had little in common, including their ages. While Galli-Curci tended to strike the listener as cool and ascetic, Toti dal Monte, the younger of the two, was much more sensuous. Her voice was sweet, mellow and warm; it was one of those infatuating "nightingale voices" which were so highly esteemed in the romantic era. These natural gifts predestined her for Italian romantic opera; she was the ideal interpreter of "visionary" roles in the operas of Bellini ("La Sonnambula") and Donizetti (" Lucia di Lammermoor"). In her singing there was a rare synthesis of technical perfection and expres­ sive warmth. Toti dal Monte, whose real name was Antonietta Meneghel, began studying music with the intention of becoming a pianist, but on the advice of Ermanno Wolf-Ferrari, who was then the director of the Benedetto Marcello Conservatory in Venice, she switched to singing. For five years, she trained with the renowned vocal pedagogue Barbara Marchisio. So evident was the young singer's talent that she made her debut in Italy's most prestigious opera house: in 1916 she made her first appearance on the stage of La Scala in Milan, in the role of Biancafiore in Zandonai's opera "Francesca da Rimini." After that she sang at several Italian opera houses, and guest performances took her as far as South America. In 1921 she returned to La Scala, singing Gilda in Verdi's "Rigoletto" in a legendary performance under the baton of Arturo Toscanini. The worldwide fame of Toti dal Monte dates from that occasion. In the Milan production of "Rigoletto" she made guest appearances in many European opera houses, some of them in Germany, where she scored triumphant successes. Under Toscanini she sang another of her famous roles, the name part in Donizetti's "Lucia di Lammermoor." …
Amazon, iTunes, Spotify & Co.