Lebendige Vergangenheit - Torsten Ralf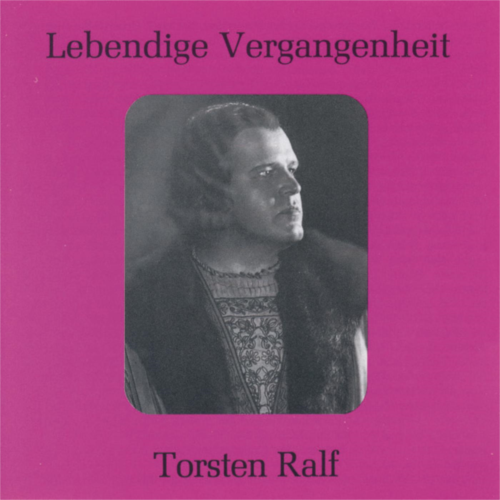 | | |
| --- | --- |
| Artist | Torsten Ralf |
| Title | Lebendige Vergangenheit - Torsten Ralf |
| | |
| Release Date | Wednesday, August 30, 2006 |
| Genre | Classical > Choro |
| | |
| Composers | Richard Wagner, Richard Strauss, Giuseppe Verdi, Eugen D´Álbert, Georges Bizet, Giacomo Puccini |
| Songwriters | Tiana Lemnitz / Torsten Ralf / Orchester der Staatsoper Berlin, Torsten Ralf / Sächsische Staatskapelle, Torsten Ralf / Orchester der Staatsoper Berlin, Sächsische Staatskapelle / Torsten Ralf, Tiana Lemnitz / Orchester der Staatsoper Berlin / Torsten Ralf, Sächsische Staatskapelle / Josef Herrmann / Torsten Ralf, Torsten Ralf / Orchester der Staatsoper Berlin / Friedel Beckmann |
| | |
| Copyright | © Preiser Records |
| Country | AUSTRIA |
Update Required
To play the media you will need to either update your browser to a recent version or update your
Flash plugin
.
Promotion Text
Lebendige Vergangenheit
Zu den zahlreichen Sängern nordischer Provenienz, die einen Großteil ihrer Karriere in Deutschland absolvierten, zählt auch der schwedische Tenor Torsten Ralf. Der Künstler entstammt einer außergewöhnlich musikalischen Familie; auch zwei seiner Brüder, Oscar und Einar, ergriffen gleich ihm die Sängerlaufbahn, und wirkten in ihrer Heimat als anerkannte Künstler. Torsten Ralf widmete sich zunächst 9em technischen Studium an der Universität Lund. Nach Abschluss seiner Lehrjahre wirkte er in Stockholm als Angestellter des Telegrafenamtes. Bereits während seiner Studienzeit hatte er sich mit gutem Erfolg als Amateursänger betätigt, und hatte zu den profiliertesten Mitgliedern des gut renommierten Universitätschores Lund gehört. Während einer Amerika-Tournee dieses Ensembles im Jahre 1925 war er auch mit größeren solistischen Leistungen in Erscheinung getreten. Schließlich verdrängten die künstlerischen Ambitionen das bürgerliche Berufsziel, und er begann das Gesangsstudium mit höchster Gewissenhaftigkeit zu betreiben. Einige Jahre hindurch war er Schüler des anerkannten n01wegischen Gesangspädagogen Ingeljart, der als einstiger Lehrer von Kirsten Flagstad und Ivar Andresen in denkbar bestem Rufe stand. Schließlich erbat sich Ralf von seiner vorgesetzten Behörde Urlaub, und begab sich nach Berlin, wo er seine gesanglichen Studien bei Herta Dehmloff fortsetzte. Bereits im darauffolgenden Jahr (1930) debütierte er am Stadttheater Stettin in der Partie des Cavaradossi. Von 1932 bis 1933 war er Chemnitz, von 1933 bis 1935 am Opernhaus von Frankfurt am Main tätig. Von Frankfurt weg wurde er von Karl Böhm an das Dresdener Opernhaus verpflichtet, wo er bis zum Jahre 1943 als Mitglied verblieb. In die Zeit seiner Dresdener Wirkungszeit fällt als hervorstechendes Ereignis die Uraufführung der Oper "Daphne" von Richard Strauss (1938), in der Torsten Ralf in der Rolle des Apollo mitwirkte. Während der Kriegsjahre trat der Sänger wiederholt und mit exzeptionellem Erfolg an der Berliner Staatsoper auf. Von 1945 bis1948 war Ralf an die Metropolitan Opera New York verpflichtet, in den darauffolgenden Jahren bis zu seinem unvermutet eingetretenen Tod teilte er seine Tätigkeit zwischen seiner schwedischen Heimat und der Wiener Staatsoper. Gastspiele führten ihn mehrere. Male an die Covent Garden Opera London, an die Pariser Oper, sowie an nahezu alle großen Opernhäuser des deutschen und des nordischen Raumes. Im Jahre 1936 wurde Ralf zum deutschen Kammersänger ernannt, 1945 wurde ihm der schwedische Orden "Literis et artibus" zuteil, 1952 .. Tue Swedish tenor Torsten Ralf was one of numerous singers hailing from Scandinavia who spent the greater part of their career in Germany. The artist came from an exceptionally musical family; also two of his brothers, Oscar and Einar, pursued a singing career and were esteemed in their home country. Torsten Ralf initially studied engineering at the University of Lund. After graduation he worked in Stockholm as an employee of the municipal telecommunications office. Already during his university time he had taken part in amateur performances and was regarded as one of the most promising members of the famous Lund University Choir. During a US tour of this ensemble in 1925 he had also taken on solo parts. Ultimately his artistic ambitions came to the fore and he began serious vocal studies. For some years he was a pupil of the renowned Norwegian vocal coach Ingeljart, who, as the former teacher of Kirsten Flagstad and Ivar Andresen, enjoyed the best possible reputation. Eventually Ralf asked his municipal employer for leave and went to Berlin, where he continued his vocal studies with Herta Dehmloff. Already during the following year (1930) he made his debut as Cavaradossi at the Municipal theatre Stettin. From 1932 to 1933 he was engaged in Chemnitz, from 1933 to 1935 at the Frankfurt am Main Opera House. Karl Böhm engaged him to join the ensemble of the Dresden Opera, where he remained a member until 1943. Tue outstanding event of Torsten Ralfs time in Dresden was the world premiere of Richard Strauss' opera "Daphne" in which Torsten Ralf sang the role of Apollo. During the war years Ralf made outstandingly successful guest appearances at the Berlin State Opera. From 1945 to 1948 Ralf was a member of the Metropolitan Opera, New York, and in the subsequent years until his unexpected death, he divided his time between Sweden and the Vienna State Opera. Guest appearances repeatedly took him to Covent Garden, London, the Paris Opera as well as virtually all important opera houses of the German and Northem region. In 1936 Ralf was awarded the title of "Kammersänger" and in 1945 he received the Swedish order "Literis et artibus". In 1952 …
Amazon, iTunes, Spotify & Co.