Titta Ruffo - The early recordings 1906 - 1912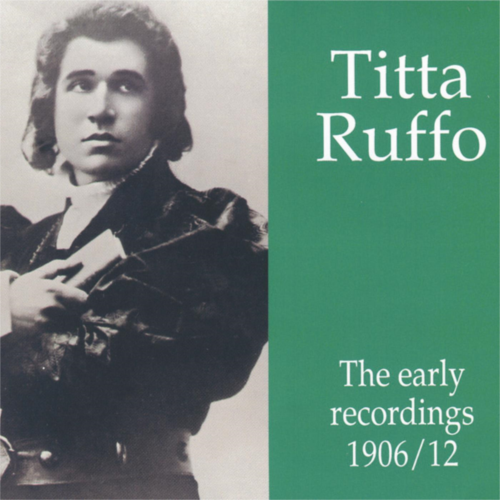 | | |
| --- | --- |
| Artist | Titta Ruffo |
| Title | Titta Ruffo - The early recordings 1906 - 1912 |
| | |
| Release Date | Saturday, August 19, 2006 |
| Genre | Classical > Choro |
| | |
| Composers | Ettore Titta, Ambroise Thomas, Vincenzo Billi, Umberto Giordano, Giuseppe Verdi, Ernesto De Curtis, Eduardo di Capua, Charles Gounod, Vincenzo Bellini, Ruggiero Leoncavallo, Amilcare Ponchielli, Wolfgang Amadeus Mozart, Francesco Paolo Tosti, Gaetano Donizetti, Mario Ferradini, Gioacchino Rossini, Georges Bizet |
| Songwriters | Titta Ruffo, Fosca Titta / Emanuele Ischierdo / Titta Ruffo, Titta Ruffo / Andreas Perello de Segurola, Titta Ruffo / Maria Galvany, Graziella Pareto / Titta Ruffo, Titta Ruffo / Graziella Pareto, Titta Ruffo / Emanuele Ischierdo |
| | |
| Copyright | © Preiser Records |
| Country | AUSTRIA |
Update Required
To play the media you will need to either update your browser to a recent version or update your
Flash plugin
.
Promotion Text
Lebendige Vergangenheit
Throughout his career, the artist was accompanied by the epithet of the "singing lion". Tue description fitted his appearance, his imposing Herculean figure, his mighty head with the "Lion's mane"- and, naturally his voice, which was of virtually incredible strength - a "lion's voice" indeed, as Lauri-Volpi put it succinctly. When this refulgent voice turned wan and pale, the reviews spoke of the "dying lion" and Ruffo himself said after he terminated his artistic career in 1936: "Tue lion is silent." Tue comparison is most apt. Ruffo's voice had something of a force of nature about it, something animalistic even. It was a singular phenomenon. His whole appearance was unique in the world of opera. All singers of his generation revered him without malice as the possessor of the mightiest baritone voice. Deep at heart Ruffo was, in fact, a naturalist and by no means a pure belcanto singer. His strength was the unbelievably rich volume in the highest range (which occasionally reached tenorial regions), the immediacy of tonal formation and thus an astonishing ability at 'parlando' singing. This was offset by a certain huskiness in the lower range - a deficit that increased during the course of his career. As a singer Ruffo made full use of a "colouristic" palette. In his autobiography "La mia parabola" (Milan 1937) he outlined how he mixed light, dark and irritating colors - an ability that was a remarkable contribution to the fusion of optic and acoustic impressions. Ruffo Cafiero Titta - thus the real name of the artist - was born in Pisa, the son of a metal worker, and grew up in great poverty. Already as a child he was forced to do heavy physical work. Ultimately he grew tired of the depressing conditions at home and took his leave. For many years he travelled through Italy until he finally found a master who taught him the trade of iron worker. Meanwhile his stupendous vocal talent had become evident and several mentors enabled him to study at the Academia di Santa Cecilia. Here Ruffo became a pupil of the famous Persichini. But after six months Ruffo left Rome and set off for Milan to study with Lelio Casini. After several years of dire poverty, which brought him to the brink of starvation, (only by making records for a tiny recording company did he earn a little money) he was finally able to make his stage debut: as Heerrufer in "Lohengrin" at the Teatro Costanzi 1898. In subsequent years he toured the Italian provinces, singing leading roles such as Rigoletto, Renato, Barnaba and Carlos. Around the turn of the century Titta Ruffo's world career at last took wing. Ruffo never consented to be tied to any one particular opera house for any length of time, preferring guest appearances in the most important operatic centres. He was triumphantly successful in South America and at Covent Garden, London (especially as Figaro in "Barbiere"). He was also acclaimed in Egypt and in Russia. In 1905 he made a sensational appearance in Paris on the occasion of the "Italian Season", in which also Caruso, de Lucia, Sammarco and others appeared. That same year he first sang Thomas' "Hamlet", a role that was henceforth particularly associated with him. He sang this role at various opera houses and frequently the opera was staged only for him. In 1906 he and Caruso made a guest appearance at the Vienna Hofoper (Rigoletto). Subsequently he again toured Russia and appeared in Buenos Aires, Madrid, Paris and Philadelphia. From 1912 to 1914 he appeared regularly at the Chicago Opera. During the war he interrupted his career and fought as a soldier in the Italian Army. In 1919/20 the artist was again singing in South America. He made his Metropolitan Opera debut relatively late (1922). There are valid reasons to suppose that the management intended to avoid engaging him as long as Caruso was still active. Ruffo made his Met debut as Figaro in. "Barbiere". During his time at the Met (1922 - 1929) he sang in "Pagliacci", "Ernani", "Aida", "Andrea Chenier" and "La Gioconda". Ruffo also appeared in several world premieres, including Leoncavallo's "Edipo Re" (1920). After terminating his career, he lived in Italy, but, as a vehement opponent of the Mussolini regime he was ostracized for many years. Only at the end of his life did he enjoy a splendid rehabilitation. Titta Ruffo's recordings are a priceless legacy of the gramophone. Although his musical characterizations are highly subjective, the brazen splendor and fascination of his singularly "demonic" voice has lost none of its fascination.
Amazon, iTunes, Spotify & Co.