Lebendige Vergangenheit - Tito Schipa Vol.3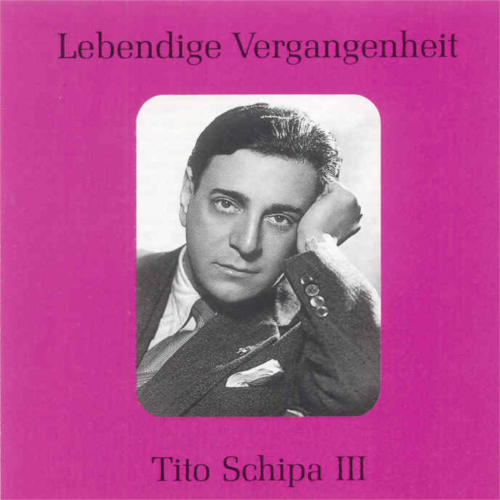 | | |
| --- | --- |
| Artist | Tito Schipa |
| Title | Lebendige Vergangenheit - Tito Schipa Vol.3 |
| | |
| Release Date | Wednesday, October 25, 2006 |
| Genre | Classical > Choro |
| | |
| Composers | Jose Serrano, Tito Schipa / Emilio De Gogorza, Alfonso Esparza Oteo, Ernesto Tagliaferri, Oreste Sindici, Jose Padilla, Manuel Marìa Ponce, Tito Schipa, Columbo Arona / Giovanni Drovetti, Bracco / Richard Barthelemy, Anton y Michelena, Osman Perez Freire, Teodoro Cottrau, Emanuele Nutile / Russo, Gonzalo Roig, Eduardo Sanchez de Fuente, Adalberto Alvarez, Palacios, Rodolpho Falvo / Libero Bovio, Jose Maria Lacalle, Francesco Paolo Tosti, Calleja Rafael Barrera |
| Songwriters | Tito Schipa, Tito Schipa / Emilio De Gogorza, Ernesto Murolo, Rafael Nunes |
| | |
| Copyright | © Preiser Records |
| Country | AUSTRIA |
Update Required
To play the media you will need to either update your browser to a recent version or update your
Flash plugin
.
Promotion Text
Lebendige Vergangenheit
In der Auffassung vieler Gesangsexperten verkörpert dieser Sänger den Idealzustand italienischer Belcantokunst schlechthin. Die ziemlich uneingeschränkte Bewunderung, die Tito Schipa sowohl vom Publikum als auch von den Fachkollegen erntete (so haben sich etwa Giacomo Lauri Volpi und Giovanni Martinelli mit lobenden Worten über seine Gesangeskunst geäußert ) ist umso höher zu bewerten, als sich die Stimme des Künstlers weder durch besondere Naturgaben noch durch außergewöhnlichen Glanz auszeichnete. Die spezifische Eigenart von Schipas Gesangeskunst ist eine sublim entwickelte Technik. Zu den weiteren Wesensmerkmalen zählen seine hohe Musikalität und sein weitgespanntes Ausdrucksvermögen. Tito Schipa verkörpert den Typus des "Tenore di grazia". Der Klang seiner schmalen, stets umflort wirkenden Tenorstimme ist von ganz eigentümlicher, im wahrsten Sinn des Wortes unvergleichlicher Wirkung. Tito Schipa kam in Lecce zur Welt und erweckte bereits im Knabenalter durch seinen reinen Gesang Aufmerksamkeit. Seine grundlegende stimmliche Ausbildung erhielt er bei Alceste Gerunda in Lecce und bei Emilio Piccoli in Mailand. In der Spielzeit 1915/16 gehörte Schipa erstmals der Mailänder Scala an (Antrittsrolle: Wladimir in Borodins "Fürst Igor"). 1920 wirkte der Sänger mit größtem Erfolg in Chicago, wenig später kam seine Verpflichtung an die Metropolitan Opera New York, der er noch bis in die Jahre des Zweiten Weltkriegs angehörte. Eine seiner beliebtesten Leistungen auf der Bühne der "Met" war der Nemorino in Donizettis "Liebestrank". Die Metropolitan Opera und die Mailänder Scala waren fortan die beiden wichtigsten Zentren seines künstlerischen Wirkens. Darüber hinaus gab er Gastspiele in aller Welt, wobei er sich sowohl als Bühnenkünstler als auch als Konzertsänger immensen Ruhm erwarb. Eine besondere Spezialität des Künstlers war der Vortrag von italienischen Volksliedern. Seine Karriere währte ungewöhnlich lang. Noch in den Jahren 1957/58 war er mit Konzerten auf Tournee und gastierte unter anderem in Moskau, Leningrad und Riga. Tito Schipa wirkte außerdem in mehreren Tonfilmen mit und trat auch als Komponist von Operetten in Erscheinung. In the opinion of many experts on voices, this singer embodied absolutely the ideal of Italian bel canto art. The almost unlimited admiration he gained from audiences and colleagues alike -Giacomo Lauri Volpi and Giovanni Martinelli were among those who praised his singing -must be evaluated all the higher, for Schipa 's voice was not distinguished by special natural gifts or by unusual brillance. The specifically characteristic feature of Schipa's art is a sublimely developed technique; other hallmarks are great musicianship and a broad range of expression. Tito Schipa was a prime representative of the "tenore di grazia". The sound of his slender, "covered" voice has a quite particular effect which is incomparable in the truest sense of the world. Tito Schipa was born in Lecce (Italia) and was still a boy when his pure singing began to attract attention. He got his fundamental vocal training from Alceste Gerunda in Lecce and Emilio Piccoli in Milan. In the season of 19l5/l6 he sang for the first time at La Scala in Milan, where his debut role was Vladimir in Borodin's "Prince Igor". In 1920 Schipa sang with great success in Chicago, and a little later he was engaged by the Metropolitan Opera in New York, to which company he belonged weIl into the years of the Second World War. Olle of his most popular roles on the Met stage was that of Nemorino in Donizetti's "L'Elisir d' Amore". From then on, the Metropolitan and La Scala were his two most important houses, but he also guested all over the world, earning immense fame both as an opera singer and concert artist. One of Schipa 's specialities was Italian folksongs. He had an unusually long career: as late as 1957/58 he wellt on tour as a concert singer, giving guest performances in Moscow, Leningrad and Riga, among other places. Tito Schipa also appeared in several sound films and was a composer of operettas.
Amazon, iTunes, Spotify & Co.