Lebendige Vergangenheit - Tiana Lemnitz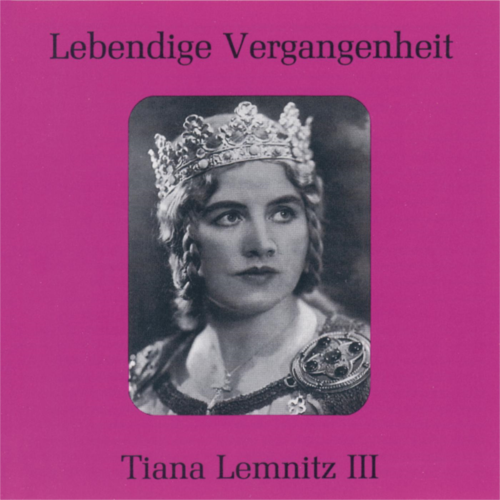 Update Required
To play the media you will need to either update your browser to a recent version or update your
Flash plugin
.
Promotion Text
Lebendige Vergangenheit
Tiana Lemnitz besaß eine jener weichen, innigen, typisch deutschen Sopran­ stimmen, die für Opernpartien vom Range der Agathe in Webers "Freischütz" und der Elsa,im "Lohengrin" prädestiniert sind. Die Künstlerin wurde in Metz geboren, und hatte das Glück, in einem Familienkreis aufzuwachsen, in dem die Musik zu den unentbehrlichsten Lebensgütern zählte. Ihr Vater war Militärkapellmeister in Metz und auch ihre Mutter war mit außergewöhnlichen musikalischen Talenten begabt. Im Alter von fünfzehn Jahren begann Tiana Lemnitz an der heimischen Musikschule Gesangunterricht zu nehmen. In den Kriegsjahren übersiedelte die Familie nach Frankfurt am Main, wo Tiana am Hochsehen Konservatorium ihren Studiengang fortsetzte. Nach drei Jahren Unterricht bei Professor Anton Kohmann debütierte sie als Gast am Heilbronner Stadttheater als Undine in Lortzings gleichnamiger Oper. Dies war im Jahre 1920. Ihr erstes reguläres Engagement trat sie im darauffolgenden Jahr in Aachen an, ihre Antrittsrolle war die Woglinde in Wagners "Rheingold". In Aachen verblieb die Sängerin bis zum Jahre 1928. Von 1928 bis 1934 gehörte sie dem Opernhaus Hannover an, und war währenddem durch einen Gastspielvertrag an die Staatsoper Dresden gebunden. Zu dieser Zeit hatte sie sich als hervorragende lyrische und jugendlich-dramatische Sopranistin besten Ruf erworben, und erhielt Einladungen zu Gastvorstellungen in London, Amsterdam, sowie in zahlreichen deutschen Opernhäusern. Im Jahre 1934 wurde sie an die Berliner Staatsoper verpflichtet, wo sie sich als Rollennachfolgerin der Maria Müller bald größte Beliebtheit erwarb. Der Berliner Oper blieb sie bis zu ihrem Abschied von der Künstlerlaufbahn im Jahre 1955 treu. Während ihrer Berliner Ära erweiterte Tiana Lemnitz ihre Gastspieltätigkeit, sie sang mit größtem Erfolg in den Opernhäusern von München und Wien, sie war - vor allem als Mozartsängerin - oftmals Gast an der Londoner Covent Garden Opera, sie sang an nahezu allen größeren Opernbühnen Europas und Nordamerikas. Eine Einladung an die Metropolitan Opera war im Jahre 1938 an sie ergangen, doch konnte sie wegen der politischen Lage diesem Ruf nicht Folge leisten. 1939 sang sie mit außergewöhnlichem Erfolg die Agathe unter Knappertsbuschs Leitung bei den Salzburger Festspielen. Denkwürdige Interpretationen waren weiterhin ihre Desdemona unter de Sabatas Leitung an der Berliner Oper, sowie ihre Rollenkreation der Philomene in Wagner­ Regenys Oper "Die Bürger von Calais" (Berlin 1939). Auch nach dem Zweiten Weltkrieg setzte die Künstlerin ihre internationale Karriere fort, so sang sie 1950 im Teatro Col6n die Sieglinde, Jenufa und Pamina. Die letztgenannte Partie gehörte zu ihren bedeutendsten Darbietungen, sie hat sie auch in einer maßstäblichen "Zauberflöten"-Aufführung (unter der Leitung von Sir Thomas Beecham) für die Schallplatte gesungen. Weitere hervorragende Leistungen setzte die Künstlerin als Leonore (,,Troubadour"), als Eurydike im Gluck'schen "Orpheus", als Tatjana (,,Bugen Onegin") und Antonia (,,Hoffmanns Erzählungen"). … Tiana Lemnitz possessed one of those creamy, tender, typically German, soprano voices predestined for Agathe in Weber's "Freischütz" and Eisa in "Lohengrin". Miss Lemnitz was born in Metz and was fortunate enough to grow up in a family for. which music was a prerequisite of life. Her father was military bandmaster in Metz and her mother, too, was highly musical. At the age of fifteen, Tiana Lemnitz started taking singing lessons. When the first World War broke out, her family moved to Frankfurt am Main, where she continued her studies at the local conser­ vatoire. After three years of study with Prof. Anton Kohmann, she made her debut in 1920, as a guest artist at the Heilbronn Stadttheater, singing the eponymous heroine in Lortzing's "Undine". In 1921 she became a regular member of the company in Aachen where her debut role was Woglinde in Wagner's "Rheingold". Tiana Lemnitz remained in Aachen until 1928. From 1928 to 1934 she was a member of the Hanover Opera company, with a guest appearance contract for the, Staatsoper in Dresden. During this time she consolidated her reputation as a superb lyric­ and lyric-spinto soprano, appearing also in London and Amsterdam. She was engaged at the Berlin Staatsoper in 1934, where she was hailed as the legitimate successor of Maria Müller. She remained a member of the Berlin company until her farewell in 1955. During this time, she made many guest appearances in Munich and Vienna and was especially appreciated in Mozart roles at Covent Garden. Her world-wide career included appearances in North America, but the political situation prevented her from accepting an engagement at the MET in 1938. She enjoyed an enormous success as Agathe in "Freischütz" at the 1939 Salzburg Festival - conductor: Knappertsbusch. Special mention must also be made of her Desdemona under de Sabata in Berlin, as well as her world premiere performance of Wagner­ Regency's "Die Bürger von Calais" (Berlin 1939). After World War II, Tiana Lemnitz resumed her international career, singing Sieglinde, Jenufa and Pamina at the Teatro Colon in 1950. Pamina was, in fact, one of her most important roles and she sang this part in the legendary "Zauberflöte" recording conducted by Sir Thomas Beecham. ….
Amazon, iTunes, Spotify & Co.