Lebendige Vergangenheit - Theodor Scheidl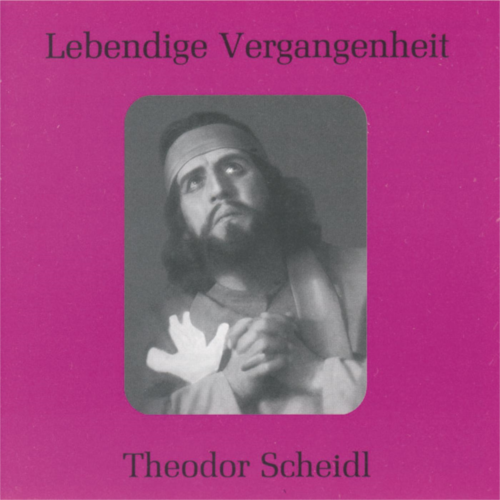 | | |
| --- | --- |
| Artist | Theodor Scheidl |
| Title | Lebendige Vergangenheit - Theodor Scheidl |
| | |
| Release Date | Saturday, September 30, 2006 |
| Genre | Classical > Choro |
| | |
| Composers | Ruggiero Leoncavallo, Giacomo Meyerbeer, Richard Wagner, Jaromir Weinberger, Albert Lortzing, Theodor Scheidl / Wiener Schrammel-Quartett, Heinrich August Marschner, Giuseppe Verdi, Conradin Kreutzer, Ludwig Gruber |
| Songwriters | Theodor Scheidl / Hedwig Von Debicka, Theodor Scheidl, Theodor Scheidl / Elisabeth Ohms, Theodor Scheidl / Wiener Schrammel-Quartett, Josef Hornig |
| | |
| Copyright | © Preiser Records |
| Country | AUSTRIA |
Update Required
To play the media you will need to either update your browser to a recent version or update your
Flash plugin
.
Promotion Text
Lebendige Vergangenheit
THEODOR SCHEIDL (3. 8. 1880 Wien - 22. 4. 1959 Tübingen). Einer der interessantesten Heldenbaritone des Bayreuth-Ensembles der Siegfried-Wagner-Ära ist mehr durch sportliche Erfolge als durch seine Sängertätigkeit in die Geschichte seiner Vaterstadt eingegangen: Als der 1880 in Wien geborene Theodor Scheidl bei den Olympischen Zwischenspielen 1906 in Athen für Osterreich startete, hatte er sein Gesangstudium bei Professor Grienauer gerade erst begonnen. Für damalige Begriffe war er ein Spätberufener. Er war nach seiner Schulzeit zehn Jahre Hauptkassier der österreichischen "Medizinal-Drogen-AG.", ehe er 1910 bei Rainer Simons an der Wiener Volksoper seinen "ersten theatralischen Versuch" als Heerrufer wagte und sein erstes Engagement in Olmütz antrat, als Kollege des später bekannten Tenors Juan Spiwak und einer Soubrette namens Fritzi Schulz, die wenig später den Opernkapellmeister des Hauses Dr. Ernst Jokl heiratete und unter diesem Namen weltbekannt wurde. Nach zwei Jahren Olmütz und einer Saison in Augsburg wurde Scheidl prominent: Seit 1913 war er Heldenbariton am Württembergischen Hoftheater. Durch die Arbeit mit Bayreuths einstigem Heldentenor Emil Gerhäuser und dem ebenfalls Bayreutherprobten Dirigenten Max von Schillings, die damals die Stuttgarter Oper leiteten, entwickelte sich Scheidl bald zu einem führenden Wagnersänger seiner Zeit. 1914 debütierte er als Donner und Klingsor in Bayreuth, ehe das Festspielhaus mit Kriegsausbruch für zehn Jahre geschlossen wurde. 1915 heiratete er seine Sängerkollegin Emma Haußer, die ihre Karriere aufgab, als Scheidl 1921 seinem einstigen Stuttgarter Chef Max von Schillings an die Berliner Staatsoper folgte. 1924 bis 1930 sang er in Bayreuth den Amfortas, 1927 auch den Kurwenal, und nützte den spielfreien Sommer 1926 zu einem Gastspiel an der Zoppoter Waldoper, deren erster Telramund er war. Um Schwierigkeiten mit dem neuen Regime aus dem Wege zu gehen, verlegte er 1933 sein Wirkungsfeld nach Prag, gastierte aber bis Mitte der dreißiger Jahre immer noch in Berlin, nicht an der Staatsoper, sondern an der Volksoper im Theater des Westens, wo er sich im Mai 1936 als unfassbar intensiver und fesselnder Boris Godunow verabschiedete. In dieser Zeit, da sich seine Karriere schon dem Ende zuneigte, gab er sein einziges Gastspiel in seiner Vaterstadt: Am 2. Januar 1936 trat er als Nelusco in der auf deutschen Bühnen längst verbotenen "Afrikanerin" auf. 1937 zog er sich von der Bühne zurück und wurde Pädagoge an der Münchner Musikhochschule. Die Nachkriegsjahre bis zu seinem Tode 1959 wirkte er als Gesangslehrer in Tübingen. Sein wohl prominentester Schüler war der Bayreuther Heldenbariton Alfons Herwig. … Theodor Scheidl was one of the most interesting heroic baritones in Bayreuth's Ensemble during the era of Siegfried Wagner. In his hometown he was much more famous for his successes as an athlete than as a singer. Born in Vienna in 1880, Theodor Scheidl had only recently started his vocal training with Professor Grienauer when he participated for Austria at the Olympic Interludes in 1906 in Athens. At his time he was regarded a late beginner. Having finished school Scheidl was the main cashier of the Austrian "Medizinal-Drogen-AG" for ten years. In 1910 he undertook his "first theatrical attempt" as Heerrufer at Vienna's Volksoper, then under the direction of Rainer Simns. In the same year he obtained his first engagement in Olmütz, becoming a colleague of the later famous tenor, Juan Spiwak and a soubrette called Fritzi Schulz who soon married the house's principal conductor, Dr. Ernst Jokl, and gained world wide reputation under the name Fritzi Jokl. After two years in Olmütz and one season in Augsburg Scheidl had established himself: from 1913 on he was the heroic baritone of Württemberg's Court Opera. By working with Bayreuth's former heroic tenor, Emil Gerhäuser and the conductor Max von Schillings, a skilled performer at Bayreuth, too, who were then co-directors at Stuttgart's Opera House, Scheidl developed into one of the leading Wagner singers of his time. His debut at Bayreuth had taken place as Donner and Klingsor in 1914 shortly before it was closed for ten years after the outbreak of World War I. In 1915 Scheidl married his colleague, Emma Haußer who gave up her own career when her hus­ band followed Max von Schillings to Berlin's State Opera in 1921. From 1924 to 1930 he appeared in Bayreuth as Amfortas, in 1927 also as Kurwenal. In 1926 he took advantage of Bayreuth being closed and made a guest appearance at Zoppot's Waldoper becoming its most significant Telramund. To avoid difficulties with the new regime the singer moved his field of action to Prague in 1933 but continued to sing in Berlin, not at the State Opera but at the Volksoper, the Theater des Westens where he gave an incredibly captivating and intense farewell performance in May 1936 as Boris Godunow. In this late stage of his career Scheidl gave his only guest performance in his hometown: on January 2nd 1936 he appeared as Nelusco in "L'Africaine" which had been banished from German stages long ago. Tue artist retired in 1937 and taught at Munich's Music Academy. Theodor Scheidl spent the post-war years until his death in 1959 as singing teacher in Tübingen - his most famous pupil was Bayreuth's heroic baritone, Alfons Herwig. …
Amazon, iTunes, Spotify & Co.