Four Famous German Baritones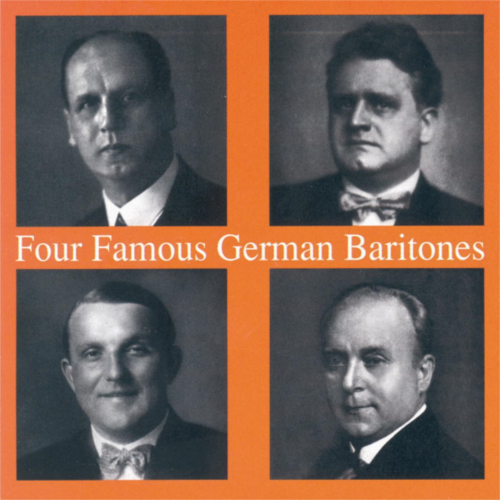 | | |
| --- | --- |
| Artist | Theodor Scheidl |
| Title | Four Famous German Baritones |
| | |
| Release Date | Monday, September 11, 2006 |
| Genre | Classical > Choro |
| | |
| Composers | Richard Wagner, Arrigo Boito, Wolfgang Amadeus Mozart, Giuseppe Verdi, Christoph Willibald Gluck, Charles Gounod, Georges Bizet, Giacomo Meyerbeer, Heinrich August Marschner, Ignaz Brüll, Giacomo Puccini |
| Songwriters | Theodor Scheidl, Wilhelm Rode, Michael Bohnen, Emil Schipper, Leo Schützendorf / Emmy Bettendorf / Michael Bohnen / Carl Martin Oehmann |
| | |
| Copyright | © Preiser Records |
| Country | AUSTRIA |
Update Required
To play the media you will need to either update your browser to a recent version or update your
Flash plugin
.
Promotion Text
Lebendige Vergangenheit
Theodor Scheidl was one of the most interesting heroic baritones in Bayreuth's Ensemble during the era of Siegfried Wagner. In his hometown he was much more famous for his successes as an athlete than as a singer. Born in Vienna in 1880, Theodor Scheidl had only recently started his vocal training with Professor Grienauer when he participated for Austria at the Olympic Interludes in 1906 in Athens. At his time he was regarded a late beginner. Having finished school Scheidl was the main cashier of the Austrian "Medizinal-Drogen-AG" for ten years. In 1910 he undertook his "first theatrical attempt" as Heerrufer at Vienna's Volksoper, then under the direction of Rainer Simons. In the same year he obtained his first engagement in Olmütz. After two years in Olmütz and one season in Augsburg Scheidl had established himself: from 1913 on he was the heroic baritone of Württemberg's Court Opera. By working with Bayreuth's former heroic tenor, Emil Gerhäuser and the conductor Max von Schillings, a skilled performer at Bayreuth, too, who were then co-directors at Stuttgart's Opera House, Scheid! developed into one of the leading Wagner singers of his time. His debut at Bayreuth had taken place as Donner and Klingsor in 1914 shortly before it was closed for ten years after the outbreak of World War I. In 1915 Scheid! married his colleague, Emma Haußer who gave up her own career when her husband followed Max von Schillings to Berlin's State Opera in 1921. From 1924 to 1930 he appeared in Bayreuth as Amfortas, in 1927 also as Kurwenal. In 1926 he took advantage of Bayreuth being closed and made a guest appearance at Zoppot's Waldoper becoming its most significant Telramund. To avoid difficulties with the new regime the singer moved his field of action to Prague in 1933 but continued to sing in Berlin. The artist retired in 1937 and taught at Munich's Music Academy. Theodor Scheid! spent the post-war years until his death in 1959 as singing teacher in Tübingen. Born in Vienna on August 19, 1882 Emil Schipper initially studied law before taking his Ph.D. Concurrently he began his vocal tuition with Hermann Winkelmann, the famous Heldentenor, in 1903. Already in 1904 he gave his first public concert but continued his studies with Guarino in Milan. In 1908 he auditioned unsuccessfully at the Wiener Hofoper and later at the Volksoper. Thereupon he set off for Prague, where he made his debut on January 21, 1909 as Telramund and was immediately engaged. One year later he was engaged in Teplitz-Schönau and in 1911 in Linz at which point his career really took wing. By the time Rainer Simons offered him a three-year contract for the Wiener Volksoper in 1912 Schipper thus had a fairly big repertoire. It was at the Volksoper that Schipper sang his first Hans Sachs, a role with which he made his much-praised debut at the Wiener Hofoper on June 7, 1915. Initially, however, Schipper only stayed in Vienna for one year because of a prior engagement in Munich, where from 1916 to 1921 he was one of the outstanding ensemble members during the Bruno Walter aegis. Apart from the standard repertoire he also took part in many first performances and world premieres including the world premiere of Pfitzner's "Palestrina" on June 22, 1917. At the time Schipper alternated with Fritz Feinhals as Carlo Borromeo. As of May 1, 1921 Richard Strauss engaged him to join the Vienna State Opera, where he remained a celebrated artist until his farewell in 1938. From 1924 to 1928 Emil Schipper was hailed in Wagner roles in London and in 1928-1929 also in Chicago and Boston. In August 1922 he took part in the first staged "Ring" at the Teatro Colon in Buenos Aires, conducted by Felix Weingartner. Schipper also appeared in Berlin, Madrid, Rio de Janeiro, Paris and many other cities. In 1930, 1935, 1936 he sang Agamemnon and Kurwenal at the Salzburg Festival. Emil Schipper bade farewell to the Vienna public as Flying Dutchman. Virtually no other singer could or can look back on a more straightforward career than Michael Bohnen. Born on May 2, 1887 in Cologne he enrolled at the Steinbach Conservatoire in Cologne, aged 16. After nine months he started vocal tuition with Professor Richard Schulz-Domburg, who was to remain his sole vocal mentor throughout his career. Already in 1910 he made his debut at the Municipal Theatre, Düsseldorf. There he was heard by Count Hülsen, at the time Intendant in Berlin. Hülsen immediately offered him an engagement at the Court Theatre in Wiesbaden, where he was also director. From 1912-1914 Bohnen primarily concentrated on the bass repertoire. In 1914, when the exclusive rights on Wagner's "Parsifal" expired, Bohnen travelled to Berlin to hear the performance at the Court Opera, having already studied the role of Gumemanz. On entering the house he was informed that Paul Knüpfer, scheduled to sing Gumemanz had fallen ill and Bohnen was asked to substitute for him. His courage to sing this role for the first time on stage - at the Berlin Court Opera, moreover - was triumphantly acclaimed and he became a celebrity overnight. In May and June 1914 he made guest appearances at London's Drury Lane Theatre as Ochs and Sarastro (conducted by Sir Thomas Beecham) and on May 23 he made his Covent Garden debut as King Heinrich. In summer 1914 he sang Daland and Hunding at the Bayreuth Festival. When World War I broke out he was drafted and deployed in Belgium to work in a hospital unit. On catching dysentery one year later he returned to Germany. There he was re-engaged by Count Hülsen and was soon back on the stage of the Berlin Hofoper. …
Amazon, iTunes, Spotify & Co.