Spod Budína - Rubato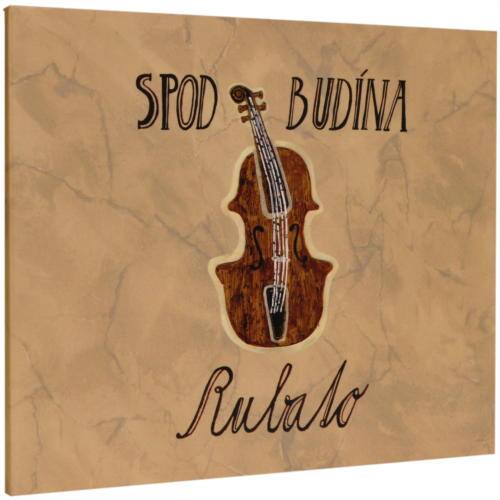 | | |
| --- | --- |
| Artist | Spod Budína |
| Title | Spod Budína - Rubato |
| | |
| Release Date | Wednesday, May 28, 2014 |
| Genre | World > Eastern Europe |
| | |
| Copyright | © PAVLIK RECORDS |
| Country | SLOVAKIA |
Update Required
To play the media you will need to either update your browser to a recent version or update your
Flash plugin
.
Promotion Text
Slovenský folklór v spojení s hudobným žánrom world music
Hudobná skupina vznikla v roku 2009 pod Budínom, najvyšším vrchom Oravskej Magury. Začali hraním vlastných folkových piesní, z ktorých akosi spontánne prešli do slovenského folklóru. Hrajú známe aj menej známe slovenské ľudové piesne v štýle ktorý sa označuje ako world music. Sú držiteľmi viacerých hudobných ocenení a zúčastňujú sa mnohých festivalov na Slovensku ale aj v susedných Čechách a Poľsku. Popri bicích, basovej gitare a akustickej gitare, znejú bravúrne zvládnuté husle a dychové nástroje z rôznych kútov sveta (turkish caval, hulusi, írska píšťala, gajdy, slovenské pastierske píšťaly...). CD Rubato je ich prvotina, kde zhrnuli takmer celú svoju doterajšiu tvorbu. www.spodbudina.sk Kapelu SPOD BUDÍNA tvoria:Lucia Pitáková - spev, Lukáš Štipta - gitara, vokály, Róbert Hulej - dychové nástroje (gajdy mulitánky, írska píšťala, duclar, hulusi, turecký kaval), spev, Adrián Maľovaník - husle, viola, vokály, Zdeno Graňák - basová gitara, Michal Puchel - bície nástroje The music group Spod Budína was created in 2009, below Budín, which is the highest peak in Oravská Magura. They started with playing their own folk songs, which spontaneuosly headed towards slovak folklore. Their repertoire consists of well-known as well as lesser-known slovak folk songs in world music style. They have been awarded with a lot of music awards. They regularly attend many Slovak, Czech and Polish Festivals. Their music is a mixture of musical instruments such as drums, bass guitar, acoustic guitar, violin and wind instruments from all over the world (turkish caval, hulusi, irish tin whistle, bagpipes, slovak shepherd´s pipes, etc...) Rubato is their first CD, which summarises their up to the present time work.
Management / Booking
Get in contact
Promotion plan
| | |
| --- | --- |
| 26.06.2014 | Drienok |
| 28.06.2014 | Vacenovice (CZ! |
| 29.06.2014 | Tvrdošín |
| 18.07.2014 | Turzovka (Drotária) |
| 29.07.2014 | Sklené Teplice |
| 25.07.2014 | Fest Dobré Bohunice |
| 09.08.2014 | Žiar nad Hronom (Hudba mesta) |
| 16.08.2014 | Senica |
| 15.08.2014 | Kremnica (Kágor Fest) |
| 24.08.2014 | Párnica |
| 20.09.2014 | Vavrečka |
Amazon, iTunes, Spotify & Co.