Lebendige Vergangenheit - Sofia Preobrazhendskaya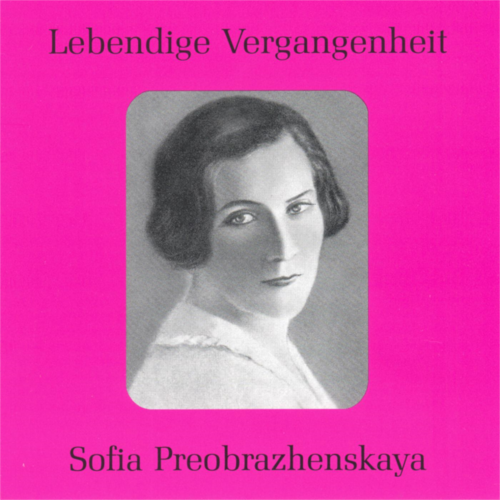 | | |
| --- | --- |
| Artist | Sofia Preobrazhendskaya |
| Title | Lebendige Vergangenheit - Sofia Preobrazhendskaya |
| | |
| Release Date | Monday, August 14, 2006 |
| Genre | Classical > Choro |
| | |
| Composers | Modest Mussorgsky, Peter Ilyich Tchaikovsky, Nicolai Rimsky - Korsakov, Giuseppe Verdi, Taneiev |
| Songwriters | Sofia Preobrazhendskaya / Serval / Chorus and Orchestra of the Kirov Opera and Ballet Theatre in Leningrad, Sofia Preobrazhendskaya / Chorus and Orchestra of the Kirov Opera and Ballet Theatre in Leningrad, Chorus and Orchestra of the Kirov Opera and Ballet Theatre in Leningrad / Sofia Preobrazhendskaya / Chesnokov, Sofia Preobrazhendskaya / Solomyak / Chorus and Orchestra of the Kirov Opera and Ballet Theatre in Leningrad, Sofia Preobrazhendskaya / Shashkov / Ulyanov / Chorus and Orchestra of the Kirov Opera and Ballet Theatre in Leningrad, Sofia Preobrazhendskaya / Ulyanov / Chorus and Orchestra of the Kirov Opera and Ballet Theatre in Leningrad, Sofia Preobrazhendskaya / Leningrad Philharmonic Symphony Orchestra |
| | |
| Copyright | © Preiser Records |
| Country | AUSTRIA |
Update Required
To play the media you will need to either update your browser to a recent version or update your
Flash plugin
.
Promotion Text
Lebendige Vergangenheit
Zwei historische Opern-Gesamtaufnahmen beide 1946 entstanden, haben den Namen Sofia Petrowna Preobrashenskaja auch im Westen bekannt gemacht. In Tschaikowskis "Jungfrau von Orleans" singt sie die Titelrolle, in Mussorgskys "Chowantstschina" die Partie der Marfa. Beide Aufnahmen sind mittlerweile auf Compact Disc erschienen. Die Künstlerin wurde am 14. September 1904 in St. Petersburg geboren und begann ihr Gesangstudium 1923 am Konservatorium von Leningrad. Ihre Lehrer waren der berühmte Tenor Iwan Erschoff und Frau Nadeschda Zaitsewa. 1927 wurde sie an das Kirow Theater von Leningrad berufen, dem sie länger als zwanzig Jahre angehörte. Ihre Debütrolle war der Page Urban in Meyerbeers "Hugenotten". Andere Quellen nennen hingegen die Amneris in "Aida". 1928 gastierte sie mit dem Leningrader Opernstudio bei den Salzburger Festspielen in der Oper "Der unsterbliche Kaschtschey" von Rimsky-Korsakow und wirkte auch in einem Konzert Russischer Arien und Lieder mit. Sie war oft in den russischen Musikzentren, namentlich Moskau, Kiew und Charkow zu Gast und hatte eine erfolgreiche Karriere als Konzertsängerin, ist aber nicht mehr im Ausland aufgetreten. Ihre Hauptrollen auf der Bühne waren die Gräfin in "Pique Dame", die Marina in "Boris Godunow", die Marfa in "Chowantstschina", die Azucena im "Troubadour", die Amneris in "Aida", die Lubascha in der "Zarenbraut", die Kontschakowa in "Fürst Igor", die Dalila in "Samson und Dalila", die Fricka in der "Walküre", die Waltraute in "Götterdämmerung", der Oktavian im "Rosenkavalier" und als besondere Glanzrolle die Titelrolle in der "Jungfrau von Orleans". Die Künstlerin blieb auch während der Belagerung von Leningrad durch die deutschen Truppen in der Stadt (während das Ensemble des Opernhauses nach Perm im Ural evakuiert wurde) und trat dort, als die Umstände es einigermaßen erlaubten, sogleich 1943 wieder auf, als sie im weitgehend zerstörten Michailowsky-Theater die Gräfin in "Pique Dame" sang. Sie wirkte an der Oper von Leningrad in den Uraufführungen mehrerer zeitgenössischen Opern mit, so in "Eis und Stahl" von Dechevow (1930), "Panzerkreuzer Potemkin" von Tschischko (1937), "Tschors" von Fardi (1938) und "Die Familie Tarass" von Kabalevsky (1950). 1946 und 1951 wurde sie mit dem Stalinpreis ausgezeichnet, 1955 wurde sie zur Volkskünstlerin der UdSSR ernannt. 1948 bis 1953 wirkte sie als Professorin am Konservatorium von Leningrad. Die Rolle der Johanna in der "Jungfrau von Orleans" hatte die Künstlerin in besonderem Maße beschäftigt. Nachdem 1945 beschlossen wurde, die Oper in Leningrad auf die Bühne zu bringen, hatte sie bereits vor dieser Premiere, die schließlich am 19. Dezember 1945 stattfand, Teile dieser Partie vor Soldaten an der Front und auf Kriegsschiffen gesungen. Nach der Premiere, die für sie ein ungeheurer Erfolg war, brachte sie ihre Gedanken über diese Rolle, die sie sehr bewegt hat, aufgrund des tragischen Schicksals von Johanna und ihrer großen Liebe zur Heimat, zu Papier. Bei ihren Rollengestaltungen befolgte sie immer den Ratschlag … The name Sofia Petrovna Preobrazhenskaya became well-known in the West because of two historical recordings of complete operas, both of them made in 1946: she sang the title role in Tchaikovsky's Maid of Orleans and the role of Marfa in Khovanshchina. Both recordings have meanwhile been issued on CD. The artist was born in St. Petersburg on 14 September 1904 and began studying singing in 1923 at Leningrad Conservatory. Her teachers were the celebrated tenor Ivan Ershov and Nadezhda Zaitseva. In 1927 she was called to Leningrad's Kirov Theatre, where she remained a member for more than 20 years. Her debut role there was the page Urban in Meyerbeer's Les Huguenots, although other sources say it was Amneris in Aida. In 1928 she made a guest appearance with the Leningrad opera studio at the Salzburg Festival in the opera Kashchey the Immortal by Rimsky-Korsakov and also took part in a concert of Russian arias and songs. She was often heard in Russian and Ukrainian musical centres, such as Moscow, Kiev and Kharkov, and also had a successful career as a concert singer but never performed abroad again. Her principal stage roles were the Countess in The Queen of Spades, Marina in Boris Godunov, Marfa in Khovanshchina, Azucena in Il trovatore, Amneris in Aida, Lyubasha in The Tsar's Bride, Konchakova in Prince Igor, Dalila in Samson et Dalila, Fricka in Die Walküre, Waltraute in Die Götterdämmerung, Octavian in Der Rosenkavalier and the title role in The Maid of Orleans, which was one of her most brilliant. The artist remained in Leningrad even when the city came under siege by German troops (the ensemble of the opera house had been evacuated to Perm in the Ural Mountains) and performed there again in 1943 as soon as the circumstances more or less permitted, singing the Countess in The Queen of Spades at the Mikhailovsky Theatre, which had largely been destroyed. At the Leningrad Opera she participated in the premiere performances of several contemporary operas, including Ice and Steel by Deshevov (1930), The Battleship Potemkin by Tchishko (1937), Tchors by Fardi (1938) and The Taras Family by Kabalevsky (1950). She was awarded the Stalin Prize in 1946 and 1951 and was named People's Artist of the USSR in 1955. From 1948 to 1953 she was a professor at Leningrad Conservatory. The artist devoted particular attention to the role of Joan in The Maid of Orleans. After a decision was made in 1945 to stage the opera in Leningrad, she sang excerpts from the role for soldiers at the front and aboard warships even before the premiere, which took place on 19 December 1945. Following the premiere, which was a tremendous personal success, she wrote an account of her thoughts about the role, which had deeply moved her because of the tragic fate of Joan and her great love for her country. In interpreting the roles she sang, she always followed the …
Amazon, iTunes, Spotify & Co.