Lebendige Vergangenheit - Sigrid Onegin (Vol. 2)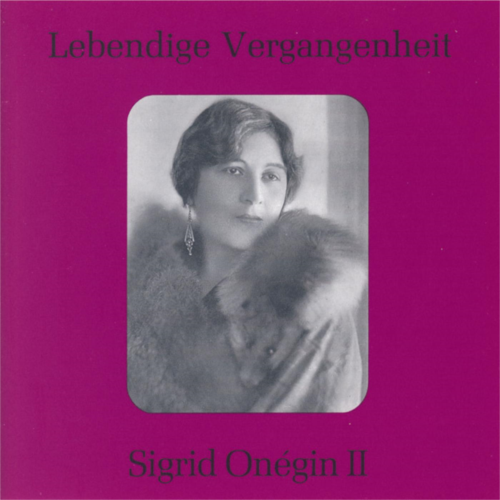 | | |
| --- | --- |
| Artist | Sigrid Onegin |
| Title | Lebendige Vergangenheit - Sigrid Onegin (Vol. 2) |
| | |
| Release Date | Tuesday, September 5, 2006 |
| Genre | Classical > Choro |
| | |
| Composers | Johannes Brahms, Franz Schubert, Arthur Rubinstein, Wolfgang Amadeus Mozart, Frédèric Chopin, Antonio Lotti, Franz Liszt, Felix Mendelssohn Bartholdy, Luigi Arditi, Giulio Caccini, Carl Loewe |
| Songwriters | Sigrid Onegin / Franz Rupp, Bruno Seidler - Winkler / Sigrid Onegin, Sigrid Onegin / Franz Dorfmüller, Sigrid Onegin / Bruno Seidler - Winkler, Sigrid Onegin / Fritz Huebsch |
| | |
| Copyright | © Preiser Records |
| Country | AUSTRIA |
Update Required
To play the media you will need to either update your browser to a recent version or update your
Flash plugin
.
Promotion Text
Lebendige Vergangenheit
Sigrid Onegin was born on 1 June 1889 of German parents in Stockholm as Elisabeth Hoffmann. After her parents' divorce, mother and daughter moved to Wiesbaden, Germany. Although her talent for singing was evident at an early age, vocal tuition was out of the question, as Sigrid Onegin bad to work to support herself and her mother. A performance of 'Carmen' with the famous Mme. Charles Cahier as the eponymous heroine changed all that. Sigrid Onegin decided to audition for the then famous teacher and singer Bugen Robert Weiß. His positive comments tipped the scales. Doing clerical work at nights to finance the whole venture, she was soon the prize pupil at the Spangenberg conservatoire, where she met Baron Bugen Borisowitsch Lhwoff Onegin, soon her advisor and accompanist and eventually her first husband. Max von Schillings heard her perform a small part at a Bachfestival in Stuttgart and invited her to audition at the Stuttgart Hofoper. Due to the influence of the great conductor and composer, the contract had already been drafted and all she had to do was sign. in 1912 she made her debut as Carmen, billed as Lilly Hoffmann-Onegin. Some weeks after her debut, Enrico Caruso sang Don Jose to her Carmen in Stuttgart. The famous tenor, in fact, was so impressed that he tried to cajole the young singer to move to the United States, but her Stuttgart contract and the opposition of her husband, who deemed her vocally immature for such a venture, prevented this. She continued her studies in Stuttgart with Cavaliere de Ranieri, a Milanese vocal coach. By 1914 she had already become so well known that a world career seemed viable. But the out­ break of the First World War put a stop to any such notion. As a Russian citizen, Baron Onegin had to go into hiding and Sigrid Onegin actually succeeded in keeping him secluded for two years. Only then did she confess her 'misdemeanor' to the King, receiving a royal pardon. But the war also terminated her studies with de Ranieri. Sigrid Onegin subsequently sought tuition from her Dresden colleague Margarete Siems, the first Chrysothmis, Marschallin and Zerbinetta. On 12. November 1919 her beloved spouse died and Sigrid Onegin left for the Munich State Opera. It was in Munich that she met her second husband, the physician Dr. Fritz Penzoldt. Apart from her operatic activities, she gave countless recitals in the big German cities, including Berlin where she had a vast following. She stayed in Munich until 1922, then she left for the United States. She made her debut on 29. October 1922 in Carnegie Hall with the Philadelphia Symphony Orchestra, conducted by Leopold Stokowski. Her success was overwhelming, despite the fact that the 'seal of approval', an appearance at the MET, was still in the offing. In November 1922 she made her debut at the MET as Amneris. Her partners were Elisabeth Rethberg and Giovanni Martinelli. Subsequently she sang Brangane and Fricka (Walkure). Then she toured the United States as a recitalist. She continued to appear in the United States regularly. Her final appearance was on 30. January 1938 in the Town Hall, New York. From 1920 - 1931 she was a member of the ensemble of the Städtische Oper Berlin and from 1931 - 1935 she also had a guest contract with the Stadt­ theater Zürich. In 1931 she was much admired at the Salzburg Festival as Orfeo, singing opposite Maria Müller and Maria Cebotari. 1933 - 34 she appeared at the Bayreuth Festival as Frick, Waltraute and first Norn. She appeared at the Paris Opera, Covent Garden and the Berlin and Vienna State Operas. After 1931 she lived in Switzerland, where she died on 16. June 1943. Sigrid Onegin's roles included virtually the whole repertoire of alto and mezzo parts. She was even heard as Lady Macbeth in a memorable new production at the Städtische Opera Berlin.
Amazon, iTunes, Spotify & Co.