Lebendige Vergangenheit - Set Svanholm (Vol.2)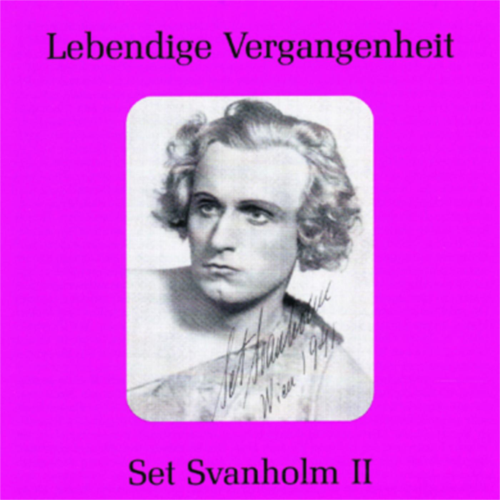 | | |
| --- | --- |
| Artist | Set Svanholm |
| Title | Lebendige Vergangenheit - Set Svanholm (Vol.2) |
| | |
| Release Date | Tuesday, September 5, 2006 |
| Genre | Classical > Choro |
| | |
| Composers | Richard Wagner, Ture Rangström, Giuseppe Verdi, Ludwig van Beethoven, Carl Maria von Weber, Gunnar de Frumerie |
| Songwriters | Set Svanholm / Eileen Farrell / Rochester Philharmonic Orchestra, Swedish Radio Orchestra / Set Svanholm, Set Svanholm / Blanche Thebom, Set Svanholm / RCA Victor Orchestra, Set Svanholm / Swedish Radio Orchestra, Eileen Farrell / Rochester Philharmonic Orchestra / Set Svanholm, Brita Ewert / Set Svanholm, Set Svanholm / Leonard Warren |
| | |
| Copyright | © Preiser Records |
| Country | AUSTRIA |
Update Required
To play the media you will need to either update your browser to a recent version or update your
Flash plugin
.
Promotion Text
Lebendige Vergangenheit
Die landläufige Meinung verbindet mit dem Heldentenor und namentlich mit dem Wagnertenor das Erscheinungsbild der Riesenhaftigkeit, der Massivität. Unzählige Karikaturen und sonstige scherzhafte Darstellungen haben den Begriff gefestigt, dass es sich bei den Wagnersängern - und natürlich auch bei den Wagnersängerinnen - durchwegs um unbeholfene Kraftmenschen von elefantenhaftem Äußeren handeln müsse. Nun hat es diesen unpoetischen Typus zwar immer gegeben, auch schon zu Richard Wagners Zeiten - der erste Tristan-Sänger, Ludwig Schnorr von Carolsfeld, ist dafür ein Beispiel - aber zu allen Epochen waren auch jene Sänger vorhanden, die durch Spiel, Erscheinung und Gesang ihren Rollen den höchsten Grad von Glaubhaftigkeit verleihen konnten. Allerdings - ein Tenor von so schlanker, geradezu asketischer Erscheinung wie dies Set Svanholm war, stellte zweifellos. eine ausgesprochene Seltenheit dar. Der junge schwedische Sänger, der gegen Ende der Dreißigerjahre in Deutschland und Osterreich bekannt wurde, war bald von einer Aura des Besonderen und Mysteriösen umgeben. In Rollen wie Tannhäuser und Lohengrin, später auch mit dem Tristan, legte er eine Vergeistigung, eine Innerlichkeit und Entrücktheit an den Tag, die ihn gleich von Anfang an aus allem Vergleichbaren heraushob. Sein Gesang enthielt vielleicht nicht ganz die dramatische Wucht anderer Tenöre des Zeitalters, aber mit seinem eigentümlich herb getönten, schlanken und dennoch metallischem Timbre vermochte er Dimensionen des Ausdrucks zu erschließen, die nur ihm allein zugänglich waren. Svanholms frühe Wirkungszeit fällt in eine Epoche, in der es auf der deutschen Opernbühne eine große Anzahl bedeutender dramatischer Tenöre gab: Franz Völker, Max Lorenz, Torsten Ralf, Julius Pölzer, um nur einige zu nennen. Set Svanholm blieb in dieser Generation immer so etwas wie ein Außenseiter, denn in seinem Gesang, in seinen Rollengestaltungen lebte etwas, das mit herkömmlichen Kategorien nicht zu messen war. Svanholm wurde am 2. September 1904 in Västeräs geboren, er erhielt seine gesangliche Ausbildung bei dem berühmten schwedischen Sänger John Forsell. Nach sechs Jahren sängerischer Tätigkeit als Bariton an der Königlichen Oper Stockholm wechselte er zum Tenorfach über und begann 1936 seine neue Karriere mit dem Radames in Verdis "Aida". Bereits zwei Jahre später gab er erstmals ein Gastspiel an der Wiener Staatsoper, der er fortan bis zum Ende des Weltkriegs als Mitglied angehörte. Bei den Salzburger Festspielen 1938 sang er den Walther von Stolzing in Wagners "Meistersingern" unter Wilhelm Furtwänglers Leitung sowie den Tannhäuser unter Hans Knappertsbusch. In den Kriegsjahren gastierte er in Hamburg, Berlin, an der Mailänder Scala, er trat bei den Bayreuther Festspielen des Jahres 1942 auf, als Siegfried - alternierend mit Max Lorenz - im Ring-Zyklus, unter Karl Elmendorff. Nach 1945 wirkte er zunächst in Stockholm, sang dann auch wieder in Wien, an der , Mailänder Scala (Siegfried unter Furtwängler) und war zwischen 1946 und 1956 Mitglied der Metropolitan Opera New York, ebenso auch der Covent Garden Opera London. Svanholms Repertoire umfasste nicht allein die großen Wagnerpartien wie Siegfried, Tristan, Parsifal, er sang oft auch italienische Opernpartien (Manrico, Radames, Othello, Canio). Zu seinen weiteren Rollen gehörte Mozarts Idomeneo, Max im "Freischütz", Florestan, Herodes in der "Salome", Bacchus in "Ariadne auf Naxos", schließlich auch der Eisenstein in der "Fledermaus". Außerdem war er ein begehrter Oratorien- und Liedersänger. Svanholm, der viele hohe Ehrungen und Auszeichnungen empfangen hat, starb am 4.. Oktober 1964. …. Common lore associates "Heldentenors", especially their Wagnerian incarnation, with behemoth bulk. Innumerable caricatures have reinforced the idea that Wagner singers - male and especially female - are embodiments of elephantine immobility. Of course this unpoetic type has always existed, even at the time of Richard Wagner, his first "Tristan", Ludwig Schnorr von Caroldsfeld, being a case in point. Nevertheless there have always been singers whose acting ability, appearance and vocalism lent the maximum credibility to their roles. Yet a tenor with such a streamlined, virtually ascetic appearance as Set Svanholm's was always an extreme rarity. The young Swedish singer, whose fame began to spread in the late 19308 in Germany and Austria, soon gained a special aura of mystery. In roles like Tannhäuser and Lohengrin, later also Tristan, he evinced a spirituality, an inwardness and other-worldliness that raised him out of the norm right from the start. His voice never had the dramatic heft of other contemporary tenors, but with his strangely ascerbic, lean and yet metallic timbre, he managed to open-up dimensions that were accessible only to him. During his early years there was a plethora of dramatic tenors on the German stage: Franz Völker, Max Lorenz, Torsten Ralf, Julius Pölzer, to mention just a few. In said generation Set Svanholm always remained a virtual outsider because of his style; in his portrayals there was always an element that defied traditional categories. Svanholm was born on September 2, 1904 in Västeras and received his initial tuition from John Forsell, a then famous Swedish singer. After six years singing baritone roles at the Royal Opera in Stockholm his voice began to change and he made his debut as a tenor in 1936 as Radames. Two years later he made a guest appearance at the Vienna State Opera, where he remained a member of the ensemble until 1945. In 1938 he sang Stolzing under Wilhelm Furtwängler in Salzburg and Tannhäuser under Hans Knappertsbusch. During the war years he sang Siegfried at the Bayreuth Festival in 1942, alternating with Max Lorenz, the conductor at the time being Karl Elmendorff. After 1945 he initially sang in Stockholm and Vienna, subsequently appearing again in Vienna, at La Scala (Siegfried under Furtwängler) and between 1946 and 1956 he …
Amazon, iTunes, Spotify & Co.