Lebendige Vergangenheit - Sergei Lemeshev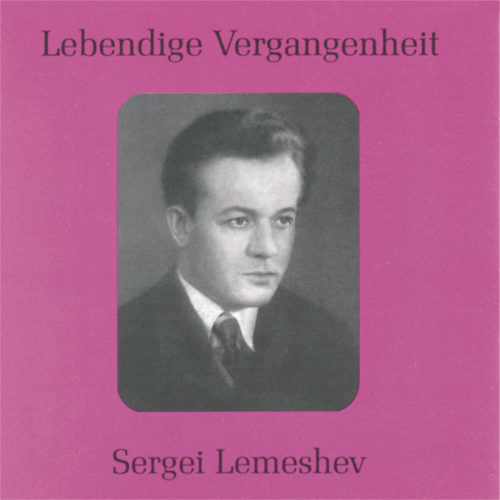 | | |
| --- | --- |
| Artist | Sergei Lemeshev |
| Title | Lebendige Vergangenheit - Sergei Lemeshev |
| | |
| Release Date | Saturday, September 9, 2006 |
| Genre | Classical > Choro |
| | |
| Composers | Giacomo Meyerbeer, Alexander Sergeyevich Dargomijksy, Giuseppe Verdi, Nicolai Rimsky - Korsakov, Peter Ilyich Tchaikovsky, Richard Wagner, Charles Gounod, Daniel - François Auber, Ambroise Thomas, Eduard Napravnik, Friedrich von Flotow, Arthur Rubinstein, Anton Arensky |
| Songwriter | Sergei Lemeshev |
| | |
| Copyright | © Preiser Records |
| Country | AUSTRIA |
Update Required
To play the media you will need to either update your browser to a recent version or update your
Flash plugin
.
Promotion Text
Lebendige Vergangenheit
If one sums up all those qualities that are the marks of a top singer - voice, stage presence, acting ability, charisma - then Sergei Lemeshev is certainly one of the most fascinating artists encountered in the opera houses and concert halls of eastem Europe between 1920 and 1950. Among the tenors of his generation he was what would nowadays be called a glamorous personality. He was extremely handsome, possessed overwhelming charrn, had at his command a lyric, flexible voice of silvery brilliance and youthful freshness - and he was able to preserve these assets until quite an old age. In short, he had everything that is needed to become a popular idol. lt is surely not an accident that Lemeshev also found his way to the cinema screen. Much about his career recalls that of the Polish tenor Jan Kiepura, who was the same age. Sergei Lemeshev was born into a family of small farmers on 10 July 1902 in a village in the environs of Tver, a city west of Moscow. He was only ten when his father died, . and he immediately had to start helping to support his family. His life took a decisive turn when a prosperous academic family moved into the neighborhood. Young Sergei soon got to know them, and a close friendship developed. In this educated, cultivated company he made his first acquaintance with classical music and acquired some elementary knowledge of foreign languages. Most important, however, was that his extraordinary musical gifts were discovered. He was strongly encouraged to have his voice trained, but his mother did not agree to this until she was told that her son could earn more in one evening as a singer than she could in a whole summer working as a harvester. First, Lemeshev went to Tver and auditioned in the civic club; he had learned two arias and some Russian folksongs. There he quickly won over an initially skeptical audience with his unaffected delivery and the freshness of his voice. This success strengthened him in his determination to become a singer. Since he was without financial means, he had to take a roundabout way to realize his ambition: in 1921 he entered the cavalry school in Tver, which had an arts department. From there he was sent on a scholarship to Moscow, to the opera studio of the famous stage director Stanislavsky, and then to the municipal conservatory. In the course of his singing studies he had the opportunity for the first time to attend the Bolshoi Theatre, where he saw a performance of Tchaikovsky's "Bugen Onegin" with the leading tenor of the tsarist era, Leonid Sobinov. Later, Sergei Lemeshev was frequently compared to him. After his final examination, the young singer was immediately engaged by the Bolshoi Theatre, but his dream of appearing on its stage was not yet to be realized. Dissatisfied with the small beginner's roles he was offered, he went to Sverdlovsk where he made his debut in 1926 as Tsar Berendi in Rimsky-Korsakov's fairytale opera "The Snow Maiden". From there he went to the Russian theatre in the norther Chinese city of Kharbin and then to Tiflis. In 1931 it was time for Lemeshev to return to Moscow to the Bolshoi Theatre, but now in leading roles. His house debut was again as Berendei, and then he sang Lensky, Gerald in "Lakme" by Delibes, Nadir in Bizet's "The Pearl Fishers", the title roles in Gounod's "Faust" and "Romeo and Juliet", Massenet's "Werther" and Auber's "Fra Diavolo". Roles in French operas were a focal point of Lemeshev's repertoire at the Bolshoi Theatre. In addition he sang many of the roles in Italian operas which are reserved for lyric tenors: Count Almaviva in "The Barber of Seville", Alfredo in "La Traviata", Rodolfo in "La Boheme" - and, of course, the big parts from the rich store of Russian operas, first and foremost Lensky. This was his favorite role; in 1972 he sang it at the Bolshoi to mark his 70th birthday. By this time he had officially ended his career, stepping back into the second rank of singing teacher and producer. In the early 1960s he headed the opera studio of the Moscow Conservatory and created productions at various houses. He also took part in filmed versions of two Russian operas which are hardly known in the west, "The Damon" by Anton Rubinstein and "Dubrovsky" by Nepravnik. Sergei Lemeshev died in Moscow on 26 June 1977. The characteristic features of Sergei Lemeshev's voice are those typical of Slavic tenors: a bright, almost androgynous sound, overcast by a timbre lined with melancholy. Lemeshev's strenghts lie less in an opulent volume of sound than in the effortless carrying power of his voice, its brilliant luminosity right up to the highest register. Above all, th,e gentle attack and almost instrumental treatment of his head voice produce embellishments and transitions of the greatest refinement. A füll command of legato technique, tasteful phrasing and accentuation are combined in Sergei Lemeshev in almost playful elegance. More than anything eise, Lemeshev's countless concerts brought him a degree of popularity which can be compared to that of Richard Tauber in Germany. His programmes almost always included classical Russian romances and popular folksongs, but also works by composers such as Schubert, Schumann and Beethoven. An event of a special kind was the performance of all of Tchaikovsky's more than 100 romances, which Lemeshev sang in 1939 in a series of five concerts.
Amazon, iTunes, Spotify & Co.