Lebendige Vergangenheit - Sabine Kalter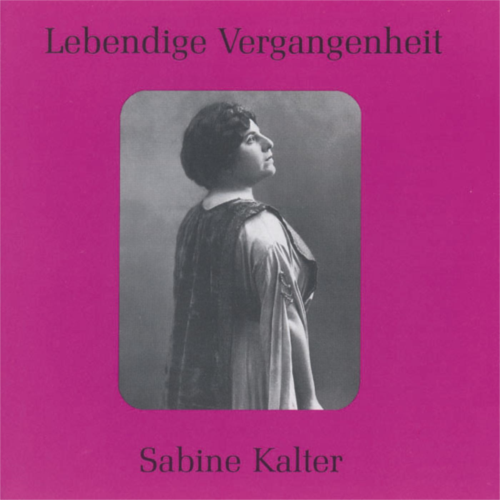 | | |
| --- | --- |
| Artist | Sabine Kalter |
| Title | Lebendige Vergangenheit - Sabine Kalter |
| | |
| Release Date | Wednesday, September 6, 2006 |
| Genre | Classical > Choro |
| | |
| Composers | Jacques Fromental Halevy, Camille Saint - Saens, Richard Wagner, Giacomo Meyerbeer, Richard Strauss, Jules Massenet, Giuseppe Verdi, Georges Bizet, Johannes Brahms |
| Songwriters | Sabine Kalter, Mathilde Wesendonk, Hermann Von Gilm, Hans Bollmann / Sabine Kalter, Sabine Kalter / Richard Tauber, Hermann Lingg |
| | |
| Copyright | © Preiser Records |
| Country | AUSTRIA |
Update Required
To play the media you will need to either update your browser to a recent version or update your
Flash plugin
.
Promotion Text
Lebendige Vergangenheit
There were times, especially during the early years of our century, when the Volksoper of Vienna was held in greater esteem than the Court Opera House. lts director, Rainer Simons, had one great advantage over his colleague at the Court Opera: he possessed an unerring instinct in his search for new talents. But then, only in rare cases he was able to retain them for a longer period, for his constantly critical financial situation allowed no exorbitant fees. As a consequence the big stages in Austria and Germany sooner or later profited from Simon's greatest talents who had won their first and often decisive laurels at his House. In the season of 1912/13 the Volksoper's chronicles boasted with the following names in its Ensemble: Josef Mann, who later became the celebrated heldentenor at the Berlin State Opera and who died in the middle of a performance of "Aida" on September 9th 1921, Rudolf Ritter, later Stuttgart's leading heldentenor and Bayreuth's Siegfried in 1924 and 1925, Emil Schipper, later world­ famous heldenbaritone and star at the Vienna State Opera, Karl Ziegler, who had just enjoyed a great triumph in the role of David at Bayreuth and had already signed a contract with the Vienna Court Opera and last but not least Maria Jeritza, the un­ disputed "primadonna assoluta" of the forthcoming twenty years. This season also marked the arrival of a new singer, a young contralto who only remained for two seasons before moving on to Hamburg: Sabine Kalter from Jaroslau in Galicia. Born on March 28th 1889 she had studied at the Vienna Music Academy before Rainer Simons was able to obtain the 23-year old's services. Already her first two roles in Wolf Ferrari's "I Gioielli della Madonna" and D' Albert's "Liebesketten" revealed that she would soon be moving on to bigger stages. Her performances in the "Ring" and in different Verdi operas in the following year made this even more clear. The Ensemble of the Volksoper, anyhow, underwent constant change: Adolf Lußmann, who appeared with Kalter in "Aida" and the "Meistersinger", had succeeded Rudolf Ritter in the heldentenor repertoire. Both Kalter and Lußmann left Vienna only one year later. Lußmann made his debut in Dresden in 1915 as Stolzing and Sabine Kalter gave her first performance at the Hamburg Opera House as Amneris in "Aida", the title role being sung by Florence Easton. The standards Kalter had to live up to in Hamburg were considerably high. She was engaged to take the place of the famous Ottilie Metzger-Lattermann, who herself had succeeded to Emestine Schumann-Heink some decades earlier, and was expected to continue the great tradition in the contralto- and mezzo-fach. During these years the Ensemble of the Stadttheater Hamburg made quite an impression: Rose Pauly, Vera Schwarz, Thea Drill-Oridge, Elisabeth Schumann and Erika Wedekind were among Kalter's new female colleagues; Heinrich Hensel, Carl Günther, Otto Marak, Richard Schubert, Wilhelm Buers and Hermann Marowski were in charge of the tenor, baritone and hass repertoire. Within no time Sabine Kalter be­ came one of the most popular singers in Hamburg and made her international breakthrough in the beginning of the Twenties. She was invited to sing in Belgium, France and Spain and appeared at the Vienna State Opera for the first time in 1924. The end of her career in Germany was humiliating. As a Jewish singer she was considered a "persona non grata" by the newly established regime and was forced to leave the Hamburg Opera House where she had been active for almost two decades. A last performance of Verdi's "Macbeth" with Hans Hotter in the fall of 1934 gave the public in Hamburg one last chance to celebrate and at the same time say goodbye to one of its favorite artists. Kalter was not spared the fate of other great singers who, like her­ self, stood face to face with ruin and had no opportunity to perform outside of Germany. On May 14th 1935 she made her debut at Covent Garden as Ortrud in "Lohengrin" (with Elisabeth Rethberg, Max Hirz l andAlexander Kipnis). Until 1939 she appeared in London in her most famous roles: Fricka, Erda and Waltraute in the "Ring", Brangäne in "Tristan" and Herodias in "Salome". She was among the few artists who had already been taken under contract for the 1940 season when Covent Garden had to close its doors. One of her last guest appearances on the continent was a performance of "Tristan" in Antwerp on October 6th 1935 with M. Briffaux as Isolde, Josef Kalenberg as Tristan and Hans Hotter as Kurwenal, but even in Belgium she did not feel safe any longer. Her predecessor at the Hamburg Opera House, Ottilie Metzger-Lattermann, who was Jewish, too, had escaped from Germany in 1935 but was arrested in Brussels in 1942 and deported to Auschwitz where she presumably died in spring 1943. Kalter's concert tour through the Netherlands in March 1939 deserves special mention; the whole press paid tribute to her sensational success. After her four years at Covent Garden she retired from the opera stage. London remained her home where she went on to appear in concerts and became a singing teacher. In 1950 she gave one last concert in Hamburg. Seven years later, on September 1st 1957, Sabine Kalter died in London.
Amazon, iTunes, Spotify & Co.