Lebendige Vergangenheit - Rudolf Laubenthal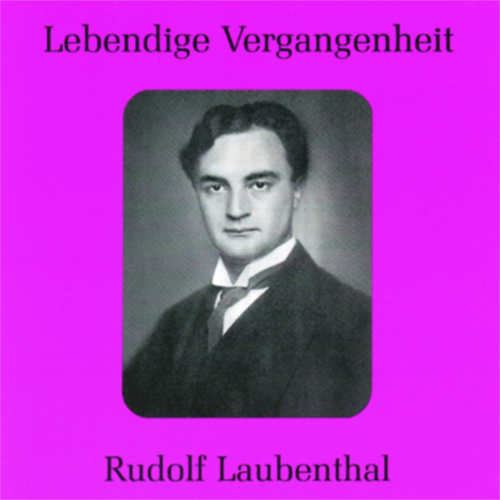 | | |
| --- | --- |
| Artist | Rudolf Laubenthal |
| Title | Lebendige Vergangenheit - Rudolf Laubenthal |
| | |
| Release Date | Tuesday, September 5, 2006 |
| Genre | Classical > Choro |
| | |
| Copyright | © Preiser Records |
| Country | AUSTRIA |
Update Required
To play the media you will need to either update your browser to a recent version or update your
Flash plugin
.
Promotion Text
Lebendige Vergangenheit
Für viele war der Name Rudolf Laubenthal nur noch Legende, bestenfalls bekannt von einigen alten Schallplatten, als die Nachricht von seinem Tode im Oktober 1971 durch die Weltpresse ging. Dabei war Laubenthal einer der interessantesten Heldentenöre seiner Zeit, ein ernsthafter Rivale Lauritz Melchiors an der Metropolitan Opera in den zwanziger Jahren, einer der zahlreichen Wagnersänger zwischen den beiden Weltkriegen, die zu Unrecht vergessen sind; die Konkurrenz gerade im Heldentenorfach jener Jahre war jedoch zahlenmäßig so groß, dass ein guter Siegfried oder Tristan keineswegs zu den Ausnahmeerscheinungen gehörte. Als Laubenthal im Jahre 1931 bei den Münchener Opernfestspielen einen vielbejubelten Siegfried sang, traten im selben Sommer in München mit Fritz Krauß, Julius Pölzer, Kurt Rodeck, Adolf Fischer und Kurt Taucher fünf weitere Heldentenöre auf, in Bayreuth wirkten gleichzeitig Lauritz Melchior, Gunnar Graarud, Gotthelf Pistor und Sigismund Pilinszky; Zoppot setzte bei den Ring­ aufführungen Carl Hartmann, Fritz Soot und Pistor ein, und damit wäre die Reihe international renommierter Wagnertenöre nur zu einem geringen Teil erschöpft gewesen. Am 10. März 1886 wurde Laubenthal in Düsseldorf geboren. Er studierte zunächst Medizin an den Universitäten München, Straßburg und Berlin. Georg Hartmann, der Direktor des neu­ gegründeten Deutschen Opernhauses, hörte ihn 1913 bei einer privaten Veranstaltung und engagierte ihn sofort; als lyrischer Tenor debütierte Laubenthal 1913 in Berlin. Sein Repertoire umfasste in den ersten Jahren Rollen der unterschiedlichsten Stilrichtungen: er war als 1. Gefangener in "Fidelio" zu hören, sang den Lenski, den Don Ottavio in "Don Giovanni", eine große Zahl von Verdi- und Puccinipartien und auch schon lyrischere Wagnerhelden wie den Froh, den Erik und, im dritten Jahr seines Engagements, den Stolzing. Zu Beginn der zwanziger Jahre wurde Laubenthal als Wagnertenor international bekannt. Als Stolzing debütierte er am 9. November 1923 an der Metropolitan Opera in New York, der er zehn Jahre als einer der wichtigsten Wagnersänger angehörte, ohne sich jedoch nur auf dieses Fach festlegen zu lassen. Er war bei einigen bedeutenden Premieren der Met an hervorragender Stelle beteiligt, so als Stewa in der amerikanischen Erstaufführung der "Jenufa" 1924, als Menelas in "Die ägyptische Helena" von Richard Strauss 1928 und als Babinsky in "Schwanda, der Dudelsackpfeifer" von Jaromir Weinberger 1931. Besonders erfolgreich war Laubenthal bei seinen Gastspielen an der Covent Garden Opera in London; sein Siegfried wurde 1928. der beste seit vielen Jahren genannt, und dies, obwohl Lauritz Melchior seit Jahren zu den beliebtesten Sängern Londons gehörte; Laubenthals Tristan nannte der renommierte englische Kritiker Ernest Newman 1926 einen "bleichen, asketisch aus­ sehenden, hochintelligenten, aber in keiner Phase unromantischen Helden". Laubenthals große Zeit, die Zeit seines internationalen Ruhms, dauerte bis in die frühen dreißiger Jahre. Am 4. März 1933 … For many, the name Rudolf Laubenthal was only a legend - known from a few old records at best - when the news of his death was published in the world press in October 1971. And yet Laubenthal was one of the most interesting heldentenors of his time, a serious rival of Lauritz Melchior at the Metropolitan Opera in the 1920s, and one of the numerous Wagnerian singers between the two world wars who have been unjustly forgotten. The competition in those years, especially for heldentenors, was so fierce that a good Siegfried or Tristan was anything but unusual. In the summer of 1931, when Laubenthal was singing his celebrated Siegfried at the Munich Opera Festival, five other heldentenors were also appearing in that city: Fritz Krauss, Julius Pölzer, Kurt Rodeck, Adolf Fischerand Kurt Taucher. Lauritz Melchior, Gunnar Graarud, Gotthelf Pistor and Sigismund Pilinszky were singing at the same time in Bayreuth, while in Zoppot (today Sopot, Poland), Carl Hartmann, Fritz Soot and Pistor were singing in performances of the Ring. And that accounts for only a small number of the Wagnerian tenors who were inter­ nationally famous at the time. Laubenthal was born in Düsseldorf on 10 March 1886. He initially studied medicine at the universities of Munich, Strasbourg and Berlin. Georg Hartmann, the director of the newly founded Deutsches Opernhaus, heard him in 1913 at a private event and immediately hired him, and Laubenthal sang his debut in Berlin as a lyric tenor the same year. In the early years, his reper­ toire included an extremely wide variety of roles: he was the 1st Prisoner in Fidelio, sang Lensky, Don Ottavio in Don Giovanni, and a large number of Verdi and Puccini roles as well as such lyrical Wagnerian heroes as Froh, Erik and, in the third year of his engagement, Stolzing. In the early 1920s, Laubenthal gained international fame as a Wagnerian tenor. He debuted as Stolzing on 9 November 1923 at the Metropolitan Opera in New York, where he remained for ten years as one of the most important Wagnerian singers, without, however, allowing himself to be restricted to that repertoire. He played a prominent part in several important premieres at the Met, including Stewa in the first American performance of Jenufa in 1924, Menelas in Die ägyptische Helena by Richard Strauss in 1928 and Babinsky in Jaromir Weinberger's opera Shvanda the Bagpiper in 1931. Laubenthal was especially successful in his guest performances at the Covent Garden Opera in London; in 1928 his Siegfried was called the best for many years, and this despite the fact that for years Lauritz Melchior had been one of London's most popular singers. In 1926, the renowned English critic Ernest Newman called Laubenthal's Tristan a "pale, ascetic-looking, highly intelligent, but at no point unromantic hero." Laubenthal's greatest phase, the period of his international fame, lasted until the early 1930s. …
Amazon, iTunes, Spotify & Co.