Lebendige Vergangenheit - Rosetta Pampanini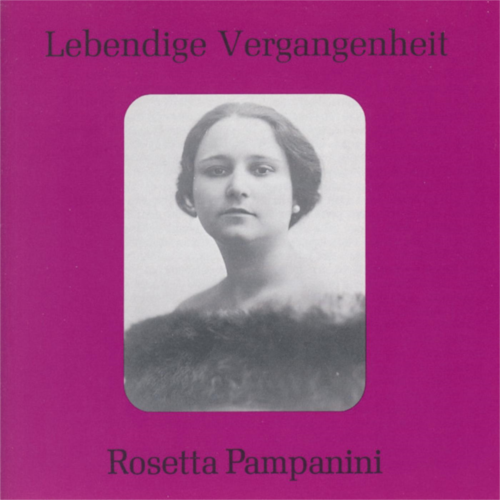 | | |
| --- | --- |
| Artist | Rosetta Pampanini |
| Title | Lebendige Vergangenheit - Rosetta Pampanini |
| | |
| Release Date | Friday, September 1, 2006 |
| Genre | Classical > Choro |
| | |
| Composers | Giacomo Puccini, Giuseppe Pietri, Pietro Mascagni, Giuseppe Verdi, Umberto Giordano, Richard Wagner, Alfredo Catalani, Charles Gounod, Riccardo Zandonai |
| Songwriters | Rosetta Pampanini, Rosetta Pampanini / Ferdinando Ciniselli, Rosetta Pampanini / Orchestra Sinfonica dell´EIAR, Rosetta Pampanini / Dino Borgioli |
| | |
| Copyright | © Preiser Records |
| Country | AUSTRIA |
Update Required
To play the media you will need to either update your browser to a recent version or update your
Flash plugin
.
Promotion Text
Lebendige Vergangenheit
Der Name dieser Künstlerin ist mit dem Schicksal der Oper "Madame Butterfly" von Puccini auf das engste verbunden. Bekanntlich war diesem Werk bei seiner Uraufführm1g an der Mailänder Scala (am 17. Februar 1904) kein Erfolg beschieden. Mehr als zwanzig Jahre mussten vergehen, bis "Madame Butterfly" wieder auf dem Spielplan der Scala erschien. Die Aufführung am 29. November 1925, die unter Arturo Toscaninis Leitung stand, gestaltete sich zu einem vollständigen Triumph für Puccinis Oper. Und es war nicht zuletzt ein Verdienst der Primadonna des Abends, dass die "Madame Butterfly" fortan zu den populärsten Repertoirestücken aller Opernhäuser zählte. Rosetta Pampanini hat der "Madame Butterfly" zu neuem Ruhm verholfen, - andererseits trug auch gerade diese Rolle dazu bei, ihr als eine der hervorragendsten Opernsängerinnen ihres Zeitalters weltweite Berühmtheit zu sichern. Rosetta Pampanini stammt aus einer musikalischen Familie, und war bereits als Kind eine eifrige Sängerin. Ursprünglich sollte sie den Beruf einer Lehrerin ergreifen, doch ließen sich ihre musikalischen und schauspielerischen Gaben nicht auf die Dauer zurückdrängen. Sie studierte in Mailand bei Emma Molaioli und debütierte im April des Jahres 1920 im Teatro Nazionale in Rom als Micaela in Bizets "Carmen". In der folgenden Zeit sang sie an verschiedenen Opernhäusern Italiens, wie Turin, Biella, Triest, Modena, Neapel (Teatro San Carlo), Novarra, Catania, Bergamo, Bologna usw. In dieser frühen Periode ihrer Wirkungszeit war der Dirigent Tullio Serafin ihr Förderer. Unter seiner Obhut erwarb sich die Sängerin allmählich ein größeres Rollenrepertoire. Zu ihren erfolgreichsten Partien zählten vor allem die Mimi in Puccinis "La Boheme", Desdemona in Verdis "Othello", sowie Eisa in Wagners "Lohengrin". Eine weitere wichtige Begegnung in ihrer Künstlerlaufbahn stellte die Bekanntschaft mit Pietro Mascagni dar. Unter der Leitung des Komponisten sang sie in Catania die Titelrolle in seiner Oper "Iris", - mit so großem Erfolg, dass sie dem 1898 uraufgeführten Werk zu einer echten Renaissance verhalf. Außerdem wirkte Rosetta Pampanini bei einigen Uraufführungen zeitgenössischer Opern mit, die jedoch heute nicht mehr bekannt sind. Die dritte wichtige Begegnung in ihrer Karriere war Arturo Toscanini, den sie in Bergamo kennengelernt hatte. Im Jahre 1925 holte sie der berühmte Dirigent an die Mailänder Scala, wo sie gleich in ihrer ersten Spielzeit den großen Triumph mit Puccinis "Madame Butterfly" erlebte. Sie blieb hier bis zum Ende der Toscanini-Ära (1929/39) und sang hauptsächlich die Hauptrollen in den Puccini­ Opern. Neben der "Madame Butterfly" … For most people, the artistry of Rosetta Pampanini is indelibly linked with Puccini s "Madame Butterfly". As is reasonably well known, the world premiere of this opera at La Scala, Milan on 17th February 1904 was a fiasco. More than twenty years were to pass before "Madame Butterfly" was again scheduled for performance at La Scala. The revival on 29th November 1925, which was conducted by Arturo Toscanini, turned out to be a complete triumph - not least because of the eponymous heroine that evening, whose artistry ensured that "Madame Butterfly" soon became one of the most popular operas in the repertoire. The success of this assumption had a reciprocal effect, of course. Not only did Rosetta Pampanini help to establish "Madame Butterfly", the role also ensured world fame for her as one of the most splendid artists of her time. Rosetta Pampanini came from a musical family. She initially trained to become a teacher but her musical and histrionic abilities soon came to the fore. She studied in Milan with Emma Molaioli and made her debut in 1920 at the Teatro Nazionale in Rome as Micaela. Subsequently she sang at various opera houses in Italy such as Turin, Biella, Triest, Modena, Naples (Teatro San Carlo), Novarra, atania, Bergamo, Bologna etc. During this initial period Tullio Serafin was her mentor. Under his guidance she soon acquired a substantial repertoire. Among her most successful roles were, above all, Mimi, Desdemona and Eisa. Of equally great importance for her career was her association with Pietro Mascagni. Under his baton she sang the eponymous heroine in "Iris" - with such success that she virtually re-established this opera dating from 1898 in the contemporary repertoire. Pampanini was also associated with various world premieres of then contemporary operas that have meanwhile been forgotten. The third important mentor during her career was Arturo Toscanini, whom she met in Bergamo. In 1925 Toscanini engaged her to appear at La Scala where she sang the afore-mentioned "Madame Butterfly" …
Amazon, iTunes, Spotify & Co.