Lebendige Vergangenheit - Riccardo Stracciari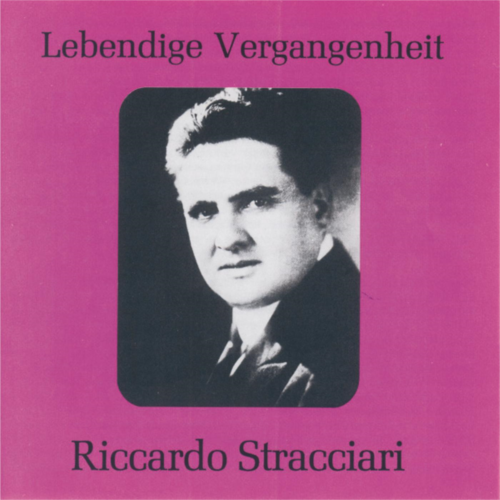 | | |
| --- | --- |
| Artist | Riccardo Stracciari |
| Title | Lebendige Vergangenheit - Riccardo Stracciari |
| | |
| Release Date | Wednesday, August 30, 2006 |
| Genre | Classical > Choro |
| | |
| Composers | Giuseppe Verdi, Jules Massenet, Gioacchino Rossini, Gaetano Donizetti, Eduardo di Capua, Hector Berlioz, Giacomo Meyerbeer, Giacomo Puccini, Ruggiero Leoncavallo, Richard Wagner, Amilcare Ponchielli |
| Songwriter | Riccardo Stracciari |
| | |
| Copyright | © Preiser Records |
| Country | AUSTRIA |
Update Required
To play the media you will need to either update your browser to a recent version or update your
Flash plugin
.
Promotion Text
Lebendige Vergangenheit
Wenn wir heute diesen Künstler zur absoluten Belcanto-Elite zählen (der Sänger-Biograph Henry Pleasants bezeichnet seine Stimme im Vergleich zu den anderen berühmten Baritonisten dieser Zeit als "the most beautiful voice of all"), so müssen wir uns darüber im Klaren sein, dass zu Stracciäris Wirkungszeiten das Urteil nicht immer eindeutig zustimmend ausfiel. Man respektierte zwar den metallischen, edlen Klang der Stimme und den impulsiven Vortrag, der krasse Realismus seiner Gesangsgestaltung stieß jedoch teilweise auf Ablehnung. Stracciari verkörperte ein neues Element in einem Fach, in dem damals die Belcantisten vom Schlage Battistinis und De Lucas regierten. In Carusos Briefen an seine Frau Dorothy findet sich eine Stelle, die in sehr symptomatischer Weise auf dieses Problem hindeutet. Der heutige Hörer von Stracciari-Platten wird den Grund dieser Vorbehalte kaum ermessen können, denn die Interpretationen erscheinen uns keineswegs exaltiert, sondern durchaus maßvoll und gedie­ gen, unseren heutigen Maßstäben entsprechend. Was wir an Stracciaris Stimme bewundern, ist neben der großen Tonfülle und Klangpracht die ausgezeichnete Parlando-Technik. Stracciari bot mit seinem Gesang das Musterbeispiel des "in maschera"-Singens. Hervorhebung verdienen auch seine machtvollen, lang gehaltenen hohen Spitzentöne, die Franz Werfels poetisches Wort vom Gesangston, der " wie ein großer, bronzener Adler in der Höhe schwebt" als zutreffenden Vergleich erscheinen lassen. Stracciari kam in der Nähe von Bologna zur Welt. Sein Vater war ein anerkannter Steinmetz und Bildhauer. Zunächst widmete er sich dem Studium der Technik, und suchte erst als diplomierter Ingenieur das Bologneser Konservatorium auf. Mehr aus launigem Zeitvertreib als aus echten künstlerischen Intentionen wirkte er nebenher als Chorist und Statist bei diversen Theater- und Operettenaufführungen mit. Im Jahre 1899 sprang er für Giuseppe Kaschmann in einer Aufführung von Perosis Oratorium "La risurrezione di Cristo" ein. …Today, if one counts this artist amongst the absolute elite of Belcanto singers (in comparison with other famous contemporary baritones, Henry Pleasants, the biographer of singers, has characterized his voice as "the most beautiful voice of all"), it should be clear that this judgement did not always enjoy unequivocal approval during the course of Stracciari's career. While the noble, metallic ring of the voice and his energetic delivery were certainly respected, the crass realism of his vocal interpretation was, nevertheless, in part rejected Stracciari embodied a new element in a genre over which at that time such great belcanto artists as Battistini and De Luca reigned. In one of Caruso's letters to his wife Dorothy, there is a passage that significantly points to this problem. Today's listener to Stracciari-recordings can hardly judge the reason for these reservations, because the interpretations do not seem at all exaggerated according to present-day standards, but rather measured and aristocratic. What one admires in Stracciari's singing, besides the large, full sound and glorious ring, is the excelleritparlando technique. With his singing, Stracciari J resented the best example of the in the mask" method. His powerful, long-sustained high notes also merit attention: Franz Werfel's poetic phrase about vocal sound "that floats on high like a great bronze eagle" seems to be the most accurate characterization. Stracciari was born near Bologna, where bis father was a well-known stone carver and sculptor. His first- studies were in the technical field, and he only attended the Bologna Conservatory after receiving bis diploma in engineering. As an amusing past-time-rather then with any particular artistic intentions - he occasionally participated in diverse theatre and operetta productions as a chorister or as a "super". ...
Amazon, iTunes, Spotify & Co.