Lebendige Vergangenheit - Raphael Arie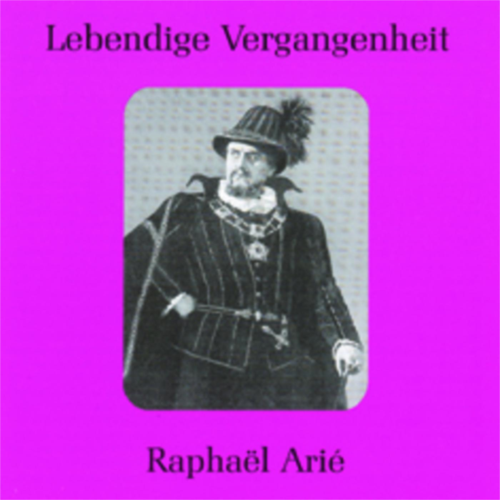 | | |
| --- | --- |
| Artist | Raphael Arie |
| Title | Lebendige Vergangenheit - Raphael Arie |
| | |
| Release Date | Wednesday, August 9, 2006 |
| Genre | Classical > Choro |
| | |
| Composers | Gioacchino Rossini, Giuseppe Verdi, Mikhail Ivanovich Glinka, Modest Moussorgsky, Peter Ilyich Tchaikovsky, Giacomo Puccini, Vincenzo Bellini, Alexander Porfirjewitsch Borodin, Arthur Rubinstein, Charles Gounod, Nicolai Rimsky - Korsakov |
| Songwriters | L´Orchestre de la Suisse Romande / Raphael Arie, L´orchestre de la Société des concerts du conservatoire de Paris / Raphael Arie, London Symphony Orchestra / Raphael Arie, L´Orchestre de la Suisse Romande / Tomaso Spataru / Raphael Arie |
| | |
| Copyright | © Preiser Records |
| Country | AUSTRIA |
Update Required
To play the media you will need to either update your browser to a recent version or update your
Flash plugin
.
Promotion Text
Lebendige Vergangenheit
According to legend, Orpheus came from Thrace in what is now Bulgaria. And the myth continues to be cited today, although it was millennia before the descendants of the forefather of all singers began remembering their spiritual ancestor. It was not until the first half of the 20th century that Bulgaria became an inexhaustible reservoir of great operatic voices. In that country the development is attributed primarily to a baritone who made a reputation for himself in Italy in the 1930s: Christo Brambarov was considered by such world-renowned singers as Ghena Dimitrova, Peter Gougaloff, Dimiter Uzunov, Assen Selimski, Stojan Popov, Nikola Ghiuselev, Nicolai Ghiaurov and Dimiter Petkov to be one of the most important voice teachers of his time. The first singer to bring true renown to Brambarov's school was the bass Raphael Arie. Born on 22 August 1920 in Sofia, he originally wanted to become a virtuoso violinist. But Brambarov, who had just returned to Sofia from Italy, heard the music student, who had rather recently put his change of voice behind him, in a choral concert in 1937 and offered to train him as a singer. In fact, it was Arie who inspired Brambarov to become a voice teacher in the first place. Within two years, his first student was ready for the concert stage, singing his debut in Handel's Messiah in Sofia in 1939. But the strict teacher insisted on another six years of intensive vocal studies. before allowing Arie to accept an engagement at the Sofia opera in 1945. By 1946 Arie had already established an international reputation, having won first prize at the Geneva singing competition. He continued his studies in Italy with Riccardo Stracciari, Apollo Granforte and Carlo Tagliabue before making his debut at La Scala in Milan in 1947 as the King in Prokofiev's Love of the Three Dranges. While that role offered him few possibilities for making a name for himself, he quickly became well known in Italy following his sensational success as Varlaam in Boris Godunov in 1949, also at La Scala. In the same year he sang the Commendatore in Don Giovanni for the first time at the festival of Aix-en-Provence, where he remained one of the most important soloists until 1956. He received his first Italian festival honors in 1952 when he appeared at the Maggio Musicale in Florence, singing the bass solo in Beethoven's Ninth Symphony under Leopold Stokowski. Between 1950 and 1970, Arie was a leading singer of his repertoire not only at the most important houses in Italy but throughout the operatic world where Romance languages are spoken. He made regular guest appearances in Monte Carlo, Barcelona, Madrid and Lisbon, sang Sarastro, Boris Godunov and Mephisto in Gounod's Faust in Paris in 1954 and 1955, and in 1962 performed the role of King Philip in Verdi's Don Carlos in Geneva as well as Count Almaviva in Mozart's Marriage of Figaro. In 1953 he appeared for the first time at the Salzburg Festival, singing the Commendatore in Don Giovanni under Wilhelm Furtwängler, and he returned there in 1960 as the Grand Inquisitor in Don Carlos under the baton of Herbert von Karajan. The centre of his career for 20 years, however, was Rome, where he sang a wide-ranging repertoire at both the Teatro dell'Opera and the Baths of Caracalla. He focused on roles in the works of Rossini, Bellini, Donizetti and, especially, Giuseppe Verdi, but he was also successful as Mephisto in the various versions of Faust by Gounod, Boito and Berlioz. He sang the standard Russian roles sui­ ted to his voice, such as Pimen, Varlaam and the title role in Boris Godunov, Prince Gremin in Eugene Onegin and Ivan Susanin in A Life for the Tsar, and appeared in the first performances of a number of modern operas, for example, as Trulove in Stravinsky's Rake's Progress in Venice in 1951. He seems to have been less interested in the German repertoire: he appeared several times as Caspar in Der Freischütz and was a great success in 1956 as King Henry in Lohengrin, which he also sang at the festival at the Baths of Caracalla in 1959/1962 and in the Arena of Verona in 1963. His last festival appearance was in 1980 in Florence, where he sang the role of Prince Gremin in Eugene Onegin. In 1981 he worked as an opera director, staging Mozart's Cosi Jan tutte at the Rubin Academy of Music in Tel Aviv. He spent the last years of his life in Switzerland, where he died on 17 March 1988. Throughout his career, Arie was overshadowed by his great compatriots Boris Christoff and Nicolai Ghiaurov. Arie probably made a mistake when he shifted the entire focus of his career from Bulgaria to ltaly in 1947. Only a year earlier, a fellow student, Boris Christoff, who had studied with Stracciari, had made his first appearances in Rome and Milan, where he had caused a sensation with his incomparable timbre and convincing acting ability. lt was difficult for Arie, with his fabulously trained but less richly colored bass and rather conventional performing style and stage presence, to compete with this. Perhaps he would have had greater success if he had waited a few years until he had more experience, as could be seen in 1959 in the case of the Brambarov's most famous pupil, Nicolai Ghiaurov, who possessed neither Christoff's charismatic vocal and acting abilities nor Arie's polished style of performance. But times had changed, as had to an even greater degree the taste of the audience. Ghiaurov made an impression with the primal power of his voice, which guaranteed his success at a time when vocal artistry was becoming increasingly rare. Christoff held his ground with his compelling portrayals of the roles he sang, but Arie, with his polished but less emphatic performance style, faded into the background. But in the art of pure bel canto - as can be heard in his recordings - he was certainly superior to his two more famous compatriots.
Amazon, iTunes, Spotify & Co.