Lebendige Vergangenheit - Petre Munteanu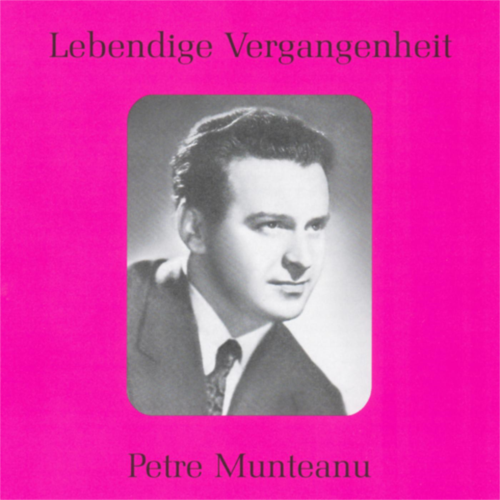 Update Required
To play the media you will need to either update your browser to a recent version or update your
Flash plugin
.
Promotion Text
Lebendige Vergangenheit
Born in Campina, Roumania, on 26st November, 1916, Petre Munteanu studied voice and violin at the Bucharest Conservatory. At the conclusion of his studies there, he received the first prize and, as a result was immediately engaged at the Bucharest State Opera. A year later he attended the Berlin Hochschule taking courses in Lieder and Oratorio, which were given by the well known Professor Weissenborn. His real concert and opera career began at the end of the war, in Italy, where he lived as an Italian citizen. He made his debut in 1947 in "Cosi fan tutte" at La Scala in Milan. Later, at the same theatre, he appeared in Strawinsky's "Persephone", the St. Matthew Passion of Bach, the opera "Il Credulo" of Cimarosa, Mozart's "Entführung aus dem Serail", "Arlecchino" of Busoni, Alban Berg's "Wozzeck" and others.In addition to this, he appeared in the great Opera houses of Rome, Naples, Florence, Venice, Trieste, Bologna, Palermo, Turin and Genoa. In the years 1948-49, at the Edinburgh Festival, he sang in "Cosi fan tutte". Other festivals in which he took part were the Maggio Fiorentino, the festivals of Venice, Schwetzingen, Prades, Wexford, Bregenz, Ravello and the Sagra Musicale Umbra. He has sung in operas, oratorios and recitals at the greatest European institutions, such as the Academy of St. Cecilia in Rome, the Conservatoire de Paris, in Berlin, Hamburg, Vienna, Madrid, Rotterdam, Genève, Oslo. In his 1958 Australian tour he sang in forty concerts with the A.B.C. and in the same year he also sang in India, Pakistan and Singapore. His performances took place under the direction of the greatest conductors, such as Mitropoulos, Stokowski, De Sabata, Gui, Rodzinski, Perlea, Schuricht, Dobrowen, Matacic, Scherchen, Kubelik, Böhm, Isserstedt, Sanzogno, Defauw and others. In addition Munteanu was a conductor and composer of chamber music. He took his doctorate on Hugo Wolf at the University Bocconi in 1960, and was a Professor at the Giuseppe Verdi Conservatory in Milano, where he holds the chair in "Musica da camera e sinfonica". Petre Munteanu died in Milano on 18 July 1988. The following estimate of his art was made by an expert, which I fully underwrite: "To the intelligent music lover, Petre Munteanu stands out from the host of contemporary tenors as perhaps the best example of a "highly civilized voice" – that is, a voice that strives not to assert itself as a natural gift or a mere element of physical beauty, but is constantly disciplined in the service of music. Note how Petre Munteanu sings a "diminuendo" – an important test for any singer. Many tenors go down to a noncommittal "mezzo-forte" or "piano"; if they try to do more, their voice becomes 'empty' or gets lost altogether. Petre Munteanu goes down to an incredible "pianissimo", almost bordering on silence and yet pure, full-bodied, with a natural "vibrato" quality – in other words, a vocal miracle, and he much prefers to do that if the composer wrote "diminuendo", rather than sing louder just to show that he has plenty of voice".
Amazon, iTunes, Spotify & Co.