Lebendige Vergangenheit - Paul Schöffler (Vol.2)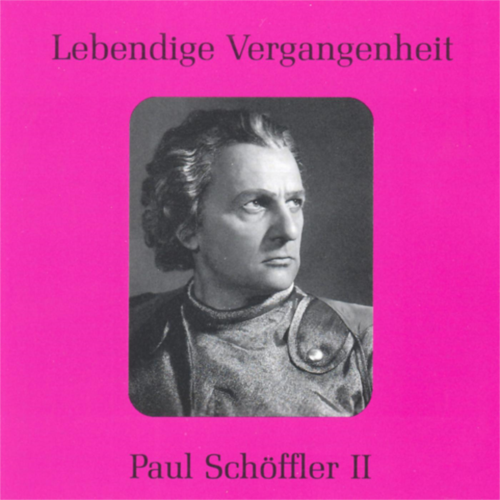 Update Required
To play the media you will need to either update your browser to a recent version or update your
Flash plugin
.
Promotion Text
Lebendige Vergangenheit
Dresden and Vienna, the two major opera houses among German speaking countries, were the artistic homes of this singer who has to be considered one of the most outstanding German stage artists. Paul Schöffler was an ensemble artist in the best sense but at the same time an active performer abroad, celebrated in opera houses around the world. His strong and distinct personality, a stage artist through and through, was paired with several rare natural talents: a dazzling appearance, both musical and histrionic talent and an opulent voice which filled the biggest opera houses without any effort. The term of "a born opera singer" can be applied to this artist with full justification. Paul Schöffler's career spanned over more than four decades. Countless opera lovers still treasure the memories of this charismatic artist and many operatic figures are closely associated with the art of this unique singer and actor. Paul Schöffler, the "singer with the expressive face" (his "Goethe" head was mentioned quite often) ideally suited operatic roles which express wisdom and superiority such as the Sprecher in Die Zauberflöte a small role which was dignified by Schöffler's performance. Famous, too, was his Don Alfonso in Cosi fan tutte. The philosopher's cheerfulness was transmitted to the entire cast. Paul Schöffler was an extremely versatile artist whose repertory had hardly any limits. Still, his art reveals a clearly determined centre point: Mozart. Schöffler's interpretations in operas of Wagner and Strauss as well as those of the Italian, French and Slavonic repertoire were all influenced by his perception of Mozart singing. His artistic qualities can be summarized by the fact that he was an excellent and ideal Mozart singer. Paul Schöffler was born in Dresden on September 15th 1897. He originally intended to become a teacher but soon after World War I, in which he had to participate as a soldier, he devoted himself entirely to music. At the Conservatory of Dresden Schöffler studied singing, violin and piano and later went to Italy to be trained by the famous baritone Mario Sammarco (1873-1930). In 1925 Fritz Busch engaged the young singer at the Dresden State Opera where Schöffler stayed for 13 years. The artist soon established himself as one of the most versatile members of this world famous ensemble singing almost all available roles in the so called "Kavalier"- and "Charakterfach". One of his best interpretations, Figaro in Le nozze di Figaro is available in a complete recording made in his Dresden years under Karl Böhm. After having signed a contract with the Vienna State Opera in 1938 Schöffler became one of the most eminent personalities among the Viennese ensemble members. He put his unmistakable stamp on various so-called "Schöffler roles" such as Don Pizarro in Fidelio, Hans Sachs in Die Meistersinger von Nürnberg, Scarpia in Tosca, Morone in Palestrina, Kurwenal in Tristan und Isolde, the music teacher in Ariadne auf Naxos, La Roche in Capriccio, Orest in Elektra, Iago in Otello and the title roles in Don Giovanni, Boris Godunov, Fürst Igor and Simon Boccanegra. Being such a charming and pleasant interpreter of cheerful characters it seems remarkable that, at the same time, Schöffler impersonated the "sinister" operatic figures so authentically. His Iago was a masterly histrionic perfomance, miles away from the usual stereotyped nastiness. Schöffler's Don Giovanni is regarded a classical interpretation and the singer himself was considered the great "classical" performer in the Viennese ensemble. He was heard at Bayreuth (Hans Sachs) and for many years in Salzburg (Figaro and later Count in Le nozze di Figaro, the title role in the world premiere of Gottfried von Einem's Danton's Tod, Jupiter in the world premiere of Strauss' Die Liebe der Danae, Iago and many more). Guest performances brought him to London, Paris, Rome, the Teatro Colón and the MET (where he stayed for several seasons). The last years of his life Schöffler spent partly in Vienna and partly in London, always eager to pass on his knowledge to the next generation. On November 21st 1977 shortly after his 80th birthday Paul Schöffler died in London.
Amazon, iTunes, Spotify & Co.