Lebendige Vergangenheit - Paul Franz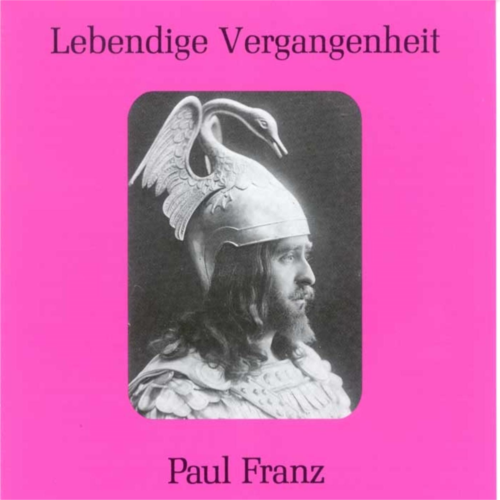 Update Required
To play the media you will need to either update your browser to a recent version or update your
Flash plugin
.
Promotion Text
Lebendige Vergangenheit
Unter den Wagnertenören französischer Herkunft sind es vor allem zwei Künstler, die zu maßstäblicher Bedeutung aufgerückt sind: Charles Dalmores und Paul Franz. Doch im Gegensatz zu Dalmores, dessen Tonaufnahmen uns in erster Linie als Denkmäler einer vergangenen Epoche interessieren, entspricht die Stimme und die Vortragsweise des Heldentenors Paul Franz allen jenen Vorstellungen, die wir auch in heutiger Zeit mit einer idealen Wagner-Interpretation verbinden. Das einzige, was man dabei als Einbuße hinnehmen muss, ist der Tatbestand, dass Paul Franz seine Wagner-Aufnahmen in französischer Sprache gesungen hat. Abgesehen davon vernehmen wir eine voluminöse, machtvolle Tenorstimme von großer Durchschlagskraft, in allen Lagen voll ausgeglichen, dazu auch einen ungewöhnlich hohen Ausdrucksreichtum, der es begreiflich macht, dass Paul Franz oftmals als der wesentliche französische Wagnertenor der Schallplattengeschichte aufgefasst wurde. Der Künstler kam in Paris zur Welt, sein richtiger Name lautet Francois Gauthier. Aufgrund seiner Neigung für deutsche Kunst und Musik - eine Mentalität, die im Frankreich des späten 19. Jahrhunderts sehr verbreitet war - legte er sich als Sänger den deutschen Namen Franz zu. Zunächst arbeitete er in einem bürgerlichen Beruf, war Eisenbahnangestellter. Zum Gesang kam er erst relativ spät, als nahezu Dreißigjähriger. 1908 gewann er einen Gesangswettbewerb für Amateursänger und erweckte damit sogleich die Aufmerksamkeit der Direktion der Pariser Grand Opera. Sein Bühnendebüt im selben Jahr als Lohengrin in Nantes war als eine Art Versuchs­ station zu verstehen, denn kurz nach diesem geglückten ersten Bühnenauftritt gehörte Franz der Pariser Oper an, der er bis zu seinem Abschied im Jahr 1938 angehörte. Für das Pariser Publikum galt er als der legitime Nachfolger von Ernest van Dyck und Charles Rousseliere, auch wurde sein Gesangsstil oft mit Jean de Reszke verglichen. Abgesehen von seinen außerordentlichen gesanglichen Mitteln vermochte Franz auch durch seine stattliche Bühnenerscheinung und durch sein hoheitsvolles Spiel zu fesseln. In Paris wirkte er bei mehreren Uraufführungen mit, so in "La legende de Saint Christophe" von Vincent d'lndy (1920), ,,Antar" von Gabriel Dupont 1921, "Padmävatl'' von Albert Roussel (1923), zu seinen Rollen des französischen Fachs zählten Eleazar in Halevys "Die Jüdin", Faust, Romeo in Gounods Opern, Don Jose, Samson, die Titelrolle in Reyers "Sigurd", der Aeneas in "Die Trojaner" von Berlioz, sowie die Terrorpartien in Massenets "Herodiade" und "Le Cid". An italienischen Opernrollen waren es vor allem Radames und Otello, mit denen er in Paris, sowie auch bei seinen Gastspielen an anderen Bühnen größte Erfolge erzielte. Der Hauptteil seinens Wirkens gehörte jedoch den großen Terrorpartien in Richard Wagners Opern. Bald nach dem Lohengrin folgten Tannhäuser, Siegmund, Stolzing, Parsifal später auch Tristan und Siegfried. In den Jahren 1910 bis 1914 wirkte er mit größtem Erfolg an der Covent Garden Opera London, wo er als Samson (als Partner von Louise Kirkby-Lunn) debütierte. In London war er auch als Radames, Otello, Raoul sowie als Julien in Charpentiers "Louise" zu erleben. 1915 sang er an der Mailänder Scala, 1918 … Among the Wagner tenors of French descent, two - Charles Dalmores and Paul Franz - have achieved legendary status. Unlike Dalmores, whose recordings are now primarily of interest as documentations of a past epoch, the voice and style of the Heldentenor Paul Franz may be considered a pinnacle of Wagner interpretation. The only fly in the ointment is the fact that Paul Franz recorded all his Wagner assumptions in French. He possessed a voluminous, powerful tenor voice of great penetrative power, with fully blended registers and a pronounced expressivity which makes it plain why Paul Franz was regarded as a virtually ideal Wagner singer in the history of the gramophone. The artist, whose real name was Fran.cois Gauthier, was born in Paris. Because of his predilection for German art and music - a widespread trend in the late 19thcentury France - he assumed the "nom de chant" Paul Franz. Initially a navy for the French railways he did not start his vocal tuition until the late age of nearly thirty. In 1908 he won a competition for amateur singers and immediately attracted the attention of the director of the Opera in Paris. His debut that same year as Lohengrin in Nantes was a preliminary test, as it were, for his great success led to his being engaged to join the ensemble of the Paris Opera shortly afterwards, where he remained until his farewell performance in 1938. The Paris audience considered him the legitimate successor of Ernest van Dyck and Charles Rousseliere, indeed his vocal style was frequently compared with that of Jean de Reszke. Apart from his extraordinary vocal qualities, Franz also enchanted his audiences with his impressive stage appearance and histrionic talent. In Paris he took part in several world premieres, viz: "La legende de Saint Christophe" by Vincent d'Indy (1920), "Antar" by Gabriel Dupont 1921, "Padmavati" by Albert Roussel (1923). His French repertoire included Eleazar in Halevy's "La Juive", Faust, Romeo, Don Jose, Samson, the eponymous hero of Reyer's "Sigurd", Aeneas in "Les Troyens" as well as Jean in Massenet's "Herodiade" and Roderigue in "Le Cid". Outstanding assumptions in his Italian repertoire were Radames and Otello - roles in which he was acclaimed in Paris and also in guest appearances in other theatres. However, the lion's share of his repertoire was devoted to Wagner's operas. After Lohengrin, he took on Tannhäuser, Siegmund, Stolzing, Parsifal and later Tristan and Siegfried. Between 1910 to 1914 he sang at Covent Garden, making his debut as Samson opposite Louise Kirkby-Lunn. He also appeared as Radames, Otello, Raoul and Julien in "Louise". In 1915 he sang at La Scala, in 1918 …
Amazon, iTunes, Spotify & Co.