Lebendige Vergangenheit - Paul Bender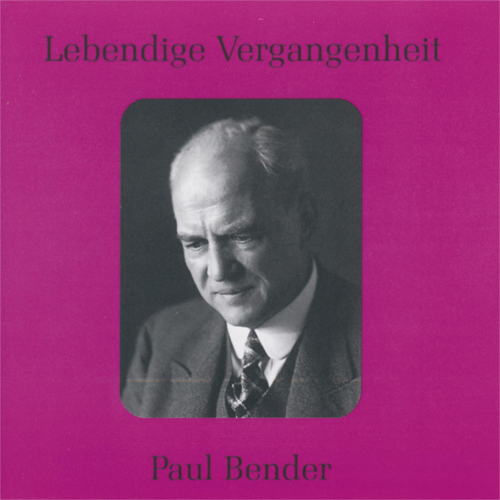 | | |
| --- | --- |
| Artist | Paul Bender |
| Title | Lebendige Vergangenheit - Paul Bender |
| | |
| Release Date | Thursday, September 7, 2006 |
| Genre | Classical > Choro |
| | |
| Composers | Wolfgang Amadeus Mozart, Carl Loewe, Robert Schumann, Richard Wagner, Franz Schubert |
| Songwriters | Paul Bender, Theodor Fontane, Aloys Schreiber, Johann Gottfried Herder, Michael Raucheisen / Paul Bender, Joseph von Eichendorff, Johann Wolfgang von Goethe, August Kopisch, Schmidt, Paul Bender / Michael Raucheisen, Friedrich Rückert, August Schnezler |
| | |
| Copyright | © Preiser Records |
| Country | AUSTRIA |
Update Required
To play the media you will need to either update your browser to a recent version or update your
Flash plugin
.
Promotion Text
Lebendige Vergangenheit
Paul Bender wurde am 28. Juli 1875 in Driedorf im Westerland als Sohn eines Pfarrers geboren. Nach Absolvierung der Mittelschule übersiedelte er 1895 nach Berlin, um an der Kaiser Wilhelm-Akademie Medizin zu studieren. Noch während seines Studiums beschloss er Bühnensänger zu werden und wurde Schüler bei Luise Reuß und dem gefeierten Bariton Baptist Hoffmann. Schon am 15. Mai 1900 fand in Breslau sein erfolgreiches Bühnendebüt als Eremit in "Freischütz" statt, dem am 16. September sein später viel bewunderter Sarastro folgte. Bender wurde für drei Jahre nach Breslau verpflichtet, wo er bald auf sich aufmerksam machte. 1902 debütierte er als Fasolt in ,,Rheingold" bei den Bayreuther Festspielen und traf dort auf die beiden Fachkollegen, mit denen er sich hinfort den Ruf der führenden deutschsprachigen Bassisten teilen konnte: Paul Knüpfer aus Berlin und Richard Mayr aus Wien, der ebenfalls 1902 sein Bayreuther Debüt als Hagen beging. Inzwischen war München auf den jungen Sänger aufmerksam geworden und lud ihn zu einem Gastspiel als König Heinrich in "Lohengrin" im Prinzregenten Theater am 6. September 1902 ein, das zur endgültigen Verpflichtung des Sängers führte. Am 30.April 1903 debütierte Paul Bender als Landgraf in "Tannhäuser" in der Stadt, in der er bis zu seinem Tode im Jahr 1947 annähernd 3500 Mal aufgetreten ist. Schon frühzeitig hatte Paul Benders internationale Karriere begonnen, die ihn fast in alle Länder der Welt führte. 1914 war er bei der ersten deutschsprachigen Aufführung der "Meistersinger" in Paris dabei und im gleichen Jahr der erste Amfortas in Wagners "Parsifal" an der Covent Garden Opera in London. In den Jahren 1922 bis 1927 folgte er einem Ruf an die Metropolitan Opera in New York, wo er neben seinen bekannten Basspartien auch Wotan, Hans Sachs und Holländer gesungen hat. Im Früh­ sommer 1928 fanden unter der Leitung von Bruno Walter im Theater des Champs Elysees in Paris die damals allgemeines Interesse findenden Aufführungen mehrerer Mozart-Opern statt. Paul Bender beeindruckte dabei als würdevoller Sarastro. 1907 wurde Paul Bender zum Kammersänger ernannt und später zum angesehenen Ehrenmitglied der Münchener Staatsoper. 1931 als Professor an die Musikhochschule berufen, hat er seine Lehrtätigkeit bis zu seinem Tod am 25. November 1947 ausgeübt. Zu seinen Schülern zählte der Bassist Josef Greindl. Will man die Vielseitigkeit von Paul Benders Kunst zusammenfassen, so ist ihre stil­ bildende und universelle Bedeutung über Jahrzehnte hinweg nicht zu übersehen. Vor allem hatte Bender bei der Interpretation des Liedes und im Besonderen bei der Wiedergabe von Carl Loewes Balladen Ausdrucksformen hinzugefügt, die manche moderne dramatische Form unserer Tage vorwegnahmen. Ebenso hat der Bühnensänger Paul Bender Maßstäbe gesetzt, die in erster Linie der Wahrhaftigkeit des Bühnen­ geschehens galten. Menschlichkeit und komödiantische Natürlichkeit beherrschten die Szene wenn Paul Bender auf der Bühne stand. Sein Künstlertum hat auch heute noch seine unverrückbare Gültigkeit. German bass singer, Paul Bender, was born on July 28th 1875 in Driedorf/Westerland as the son of a clergyman. After having finished secondary school he moved to Berlin in 1895 where he started to study medicine at the Emperor Wilhelm Academy. During his studies Bender made up his mind to switch to professional singing and became a pupil of Luise Reuß and the celebrated baritone, Baptist Hoffmann. His successful stage debut as Hermit in "Freischütz" took place as early as May 15th 1900 which was followed by his first performance in the later much admired role of Sarastro on September J6th. He signed a contract for a period of three years with the Opera House of Breslau where his first performances already caused a great stir. In 1902 he gave his debut at the Festival of Bayreuth as Falsolt in "Rheingold" and it was there that he met with Paul Knüpfer from Berlin and Richard Mayr from Vienna, who gave his Bayreuth debut as Hagen in the same year. The three of them were hence to share the reputation of being the leading basses among German singers. In the meantime Munich had become interested and invited Bender for a guest performance as König Heinrich in "Lohengrin" at. the Prinzregenten Theater on September 6th 1902 which resulted in a permanent engagement. On April 30th 1903 Bender made his debut as Landgraf in "Tannhäuser" in Munich where he gave close to 3500 performances until his death in 1947. From a very early stage on in his career Bender had enjoyed inter­ national success which took him almost all around the world. In 1914 he appeared in the first German-sung performance of "Die Meistersinger" in Paris and in the same year was Covent Garden's first Amfortas in "Parsifal". The years from 1922 to 1927 saw him as a member of the Metropolitan Opera where, apart from his usual roles, he also was heard as Wotan, Hans Sachs and Holländer. In the early spring of 1928 Bruno Walter conducted a series of internationally acclaimed performances of Mozart Operas at the Theatre des Champs Elysees in Paris. Paul Bender impressed the audience on this occasion with his dignified portrait of the role of Sarastro. Bender was appointed Kammersänger in 1907 and later was a highly respected Honorary Member of the Munich State Opera. In 1931 he took up his professorship at the Munich Conservatory where he continued to teach until his death on November 25th 1947. Among his most renown pupils was the bass singer, Josef Greindl. Trying to sum up the versality of the singer, Paul Bender, one has to point out especially the stylistic imprint and the universal significance of his art which he left over several decades. As a lied singer he was able to add new expressive dimensions to the art of song and most of all his interpretations of ballades by Carl Loewe anticipated many a modern and dramatic interpretation of our days. The stage artist Paul Bender, too, set new standards as far as veracity of acting and scenic movement was concerned. Humanity and a natural sense for comedy towered the scenery whenever Paul Bender stood on stage. His art still lives on and has not lost any of its validity.
Amazon, iTunes, Spotify & Co.