Lebendige Vergangenheit - Nazzareno de Angelis (Vol. 2)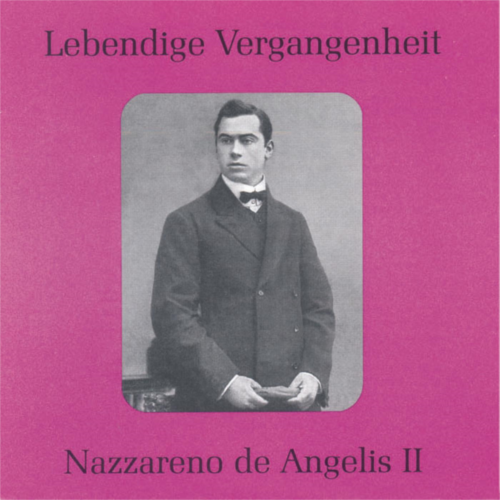 | | |
| --- | --- |
| Artist | Nazzareno De Angelis |
| Title | Lebendige Vergangenheit - Nazzareno de Angelis (Vol. 2) |
| | |
| Release Date | Wednesday, September 6, 2006 |
| Genre | Classical > Choro |
| | |
| Composers | Giuseppe Verdi, Ambroise Thomas, Daniel - François Auber, Niedermeyer, Franz Schubert, Arrigo Boito, Giacomo Meyerbeer, Charles Gounod, Gioacchino Rossini, Giacomo Puccini |
| Songwriters | Nazzareno De Angelis, Elisa Petri / Nazzareno De Angelis, Nazzareno De Angelis / Edoardo Garbin, Nazzareno De Angelis / Ferruccio Corradetti |
| | |
| Copyright | © Preiser Records |
| Country | AUSTRIA |
Update Required
To play the media you will need to either update your browser to a recent version or update your
Flash plugin
.
Promotion Text
Lebendige Vergangenheit
Ezio Pinza, Tancredi Pasero und Nazzareno De Angelis stellen die ruhmreiche italienische Bassisten-Trias der ersten Hälfte unseres Jahrhunderts dar. Drei Sänger, die zu annähernd gleicher Zeit igi selben Fach auftraten, deren künstlerische Strahlungskraft sich jedoch nach ganz verschiedenartigen Richtungen hinauswirkte. Pinzas Domäne war die Metropolitan Opera New York, Pasero fand in seiner italienischen Heimat die höchste Wertschätzung, und, De Angelis eroberte sich durch seine oftmaligen und triumphalen Auftritte am Teatro Colon zu Buenos Aires vor allem die südliche Hemisphäre Amerikas. Auch vom rein gesanglichen Standpunkt her gesehen sind die drei Künstler durch ganz spezielle Merkmale voneinander unterschieden. Ist bei Pinza die ausgeprägte Musikalität, der sensitive Vortrag, bci Pasero die machtvolle, breit und voll verströmende Stimme zu bewundern, so darf De Angelis das Recht für sich in Anspruch nehmen, unter den Genannten als der wohl ausgeprägteste Belcantist zu gelten. Es gibt in der gesamten Überschau der uns bekannten Schallplatten-Stimmen kaum ein Bassorgan, das in ähnlicher gesanglich-technischen Vollkommenheit geführt wird wie die Stimme dieses großartigen Künstlers. Der Klang dieses Organs ist von höchstem Farbenreichtum, die Stimme selbst ungemein expansiv, bruchlos von der tiefsten Bassregion bis in die besonders charakteristische, metallische Höhe reichend. Durch seine einzigartige Beherrschung der subtilsten gesanglichen Finessen war De Angelis wie kein zweiter Künstler seines Zeitalters imstande, die großen Basspartien der alten italienischen Belcanto-Opern mustergültig zu interpretieren. Der Sänger bewirkte eine regelrechte Renaissance vergessener Cherubini-, Donizetti-, Bellini- und Rossiniopern. Seine wohl berühmteste Opernrolle war die Titelpartie in Rossinis "Moses", eine Interpretation, die ihm geradezu legendären Ruhm ein­ trug, und an deren Maßstab bis heute noch alle Sänger dieser Partie verglichen werden. Nazzareno De Angelis kam im Jahre 1881 in Rom zur Welt, er besuchte die Schule S. Salvatore in Lauro und fand bereits als Schulknabe Verwendung im Chor der Capella Giulia. Dank seiner hohen Musikalität und seiner bereits im Kindesalter ungewöhnlich rein und schön geführten Singstimme fand er Aufnahme in den Knabenchor der Capella Sixtina, dem er drei Jahre hindurch angehörte. Nach seiner Schulzeit erlernte er zunächst das Druckereigewerbe, doch fand er in einem italienischen Adeligen, Conte Paolo Semi, einen tatkräftigen Förderer seines gesanglichen Talents. De Angelis studierte nun an der Accademia di Santa Cecilia in Rom unter d.er Leitung von G. Faberi Gesang. Nach Absolvierung seiner künstlerischen Ausbildung debütierte er als Opernsänger am 4. Mai 1903 in Aquila in der Oper "Linda di Chamounix". In den darauffolgenden Monaten durchreiste der Künstler die italienischen Provinzen und trat vorwiegend innerhalb von ad hoc zusammengestellten Stagione-Abenden auf. Allmählich setzte sich die Kunde von seinem starken Talent in Umlauf, und es erfolgten größere und bedeutendere Aufgaben. Im Jahre 1904 …. Ezio Pinza, Tancredi Pasero and Nazzareno De Angelis are generally considered the three most remarkable Italian basses in the early half of this century. Although all three were active around the same time, they were literally worlds apart in most other respects. Pinza ruled supreme at the Metropolitan Opera in New York, Pasero was venerated in Italy and De Angelis, because of his frequent, triumphant appearances at the Teatro Colon in Buenos Aires was revered, above all, in South America. Vocally, too, these three artists differed considerably. Pinza's main characteristic was his exceptional musicality and sensitive style, Pasero achieved fame primarily because of his voluminous, refulgent tone production, whereas Nazzareno De Angelis could well be regarded as the most notable belcanto exponent. Few, if any, basses in the verifiable history of singing are his peer as far as technical finish is concerned - whether it be the kaleidoscopic coloration of the vocal line, the emotive projection or the fully blended registers culminating in a perfectly supported, metallic top. Because of his unique command of the most subtle vocal finesses, De Angelis was better equipped than any of his contemporaries to sing the bass roles of the nineteenth century belcanto repertoire. In fact he triggered a virtual renaissance of all but forgotten Cherubini, Donizetti, Bellini and Rossini operas. Probably his most famous role was Rossini's "Mose", a legendary assumption, even now deemed something of a vocal yardstick. Nazzareno De Angelis was born in Rome in 1881. He attended the S. Salvatore school in Lauro and joined the choir of the Capella Giulia. His exceptional musicality and his pure soprano qualified him for the choir of the Capella Sixtina, where he remained for three years. After leaving school he first became apprenticed to a printer but an Italian aristocrat, Conte Paolo Semi, became his maecenas. De Angelis could thus study with Prof. Faberi at the Accademia di Santa Cecilia in Rome. On completion of his studies he made his debut in "Linda di Chamounix" on 4. May 1903 …
Amazon, iTunes, Spotify & Co.