Concentrated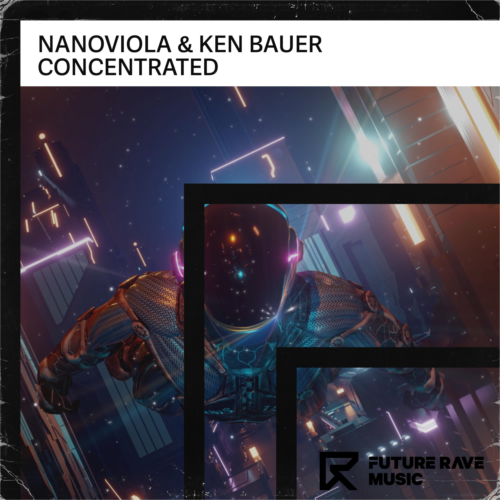 | | |
| --- | --- |
| Artist | Nanoviola / Ken Bauer |
| Title | Concentrated |
| | |
| Release Date | Friday, June 30, 2023 |
| Genre | Electronic > House > Future Rave |
| | |
| Copyright | © Future Rave Music |
| Country | SWEDEN |
Update Required
To play the media you will need to either update your browser to a recent version or update your
Flash plugin
.
Promotion Text
Nanoviola & Ken Bauer collaborates on massive banger "Concentrated!
STOCKHOLM, SWEDEN - A breathtaking fusion of talent and innovation is set to redefine the dance music scene, as classical Future Rave & Techno virtuoso Nanoviola and Swedish electronic maestro Ken Bauer announce their fiery collaboration. The artists are ready to drop their electrifying Big Room Techno track, "Concentrated," on the cutting-edge label, Future Rave Music.Nanoviola, the rising star of Bigroom MainStage Techno and Future Rave, brings her formidable talent and classical music influence to the table. Known for her genre-defying compositions on major record labels like Hardwell's 'Revealed,' she crafts an infectious synergy of the orchestral and electronic. "Concentrated" is no exception, seamlessly blending classical strains with pounding techno beats for a track that'll take listeners on a sonic journey like no other.Ken Bauer, the Swedish DJ and producer making waves with his infectious, high-energy productions, infuses "Concentrated" with his distinctive stamp of creativity. His long-standing reputation, built on a succession of chart-topping tracks and millions of plays on major streaming platforms, is proof of his ability to craft dance anthems that captivate listeners worldwide.Drawing on the rich influences of Future Rave, Future House, Progressive House, and Melodic Techno, Bauer's input on "Concentrated" elevates the track to the next level, blending seamlessly with Nanoviola's classical Techno & Future Rave expertise to create a powerhouse Big Room Techno anthem that will set dance floors ablaze.The track's release through Future Rave Music, the ambitious label founded by Bauer himself, is the cherry on top of this already tantalizing collaboration. The label, known for spotlighting fresh talent and releasing high-quality, impactful music, continues to uphold its reputation of shaping the direction of electronic dance music. The addition of "Concentrated" to their roster is yet another testament to their commitment to redefine the boundaries of the genre."Concentrated" is not just a track, but a revolution – a heady mix of the classical and electronic, the familiar and the novel. With Nanoviola's signature viola strains & export production skills dancing over Bauer's robust techno beats, this track is set to create waves that ripple through the world of EDM. Get ready to lose yourself in the sound. The future of rave is here, and it's "Concentrated."About Future Rave Music: Future Rave Music is a ground-breaking label founded by prodigious Swedish DJ and producer Ken Bauer. With a vision to spotlight emerging talents and redefine electronic dance music, the label is known for its genre-defining releases that push the boundaries of what's possible in EDM. Striving to make music accessible to everyone, Future Rave Music stands out for its commitment to quality and impact, etching its mark on the global dance music scene.
Management / Booking
Get in contact
Amazon, iTunes, Spotify & Co.