Hispanic Spirit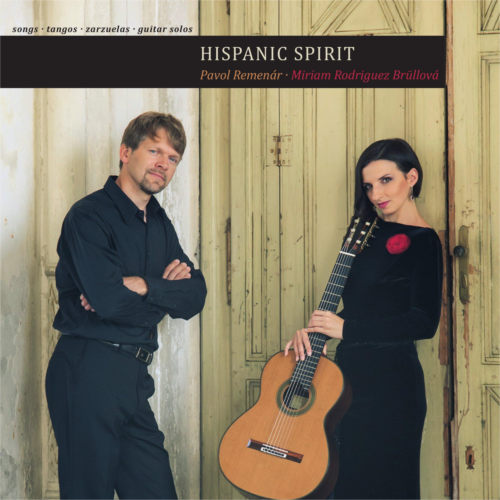 | | |
| --- | --- |
| Artist | Miriam Rodriguez Brüllová / Pavol Remenár |
| Title | Hispanic Spirit |
| | |
| Release Date | Wednesday, January 8, 2014 |
| Genre | Classical > Concertos |
| | |
| Composers | Carlos Guastavino, Enrique Granados, Joaquín Rodrigo, Roland Dyens, Miguel Llobet, Federico Moreno-Torroba, Agustín Barrios Mangoré, Astor Piazzolla, Gerónimo Giménez, Aldo Rodríguez Delgado, Carlos Gardel, Agustín Pérez Soriano |
| Songwriters | Carlos Guastavino, Enrique Granados, Joaquín Rodrigo, Roland Dyens, Miguel Llobet, Federico Moreno-Torroba, Agustín Barrios Mangoré, Astor Piazzolla, Gerónimo Giménez, Aldo Rodríguez Delgado, Carlos Gardel, Agustín Pérez Soriano |
| | |
| Copyright | © PAVLIK RECORDS |
| Country | SLOVAKIA |
Update Required
To play the media you will need to either update your browser to a recent version or update your
Flash plugin
.
Promotion Text
Spain songs, tangos, zarzuelas, guitar solos - Guitar @ Baritone
Captivating and spirited songs of Hispanic (Spanish) virtuoso played Miriam Rodriquez Brüll (acoustic guitar) and soloist of the Slovak National Theatre baritone Pavol Remenár (vocals) captured in a natural acoustic environment of the church. Podmanivé aj temperamentné skladby z Hispánska (španielska) vo virtuóznom podaní Miriam Rodriquez Brüllovej (akustická gitara) a sólistu opery Slovenského národného divadla barytonistu Pavla Remenára (spev) zosnímané v prirodzenom akustickom prostredí kostola. Miriam about Hispanic Spirit At the very beginning of the journey towards this CD stands my great affection to the vocal art. Besides my solo career I have always planned to perform with singers. After all, what could be more natural than the unison of voice with guitar? In the world of pop music this is undoubtedly the most frequent combination, in the world of classical music the role of the accompanying instrument is mostly given to the more "classical" and more "serious" piano. Since my student times I have been collecting an interesting repertoire for voice and guitar. I have played and arranged a lot of Renaissance, Baroque music, Romantic songs and opera arias but my beloved is the music from the Hispanic world – so pure, touching and attractive also thanks to the strong folklore influence. Apart from the repertoire I have been searching for my vocal partner as well. I met Pavol in 2007 at a common concert. As I heard his velvet warm baritone in Valentin's aria from Faust, I was sure that he was "the one". In spite of his successful opera soloist career I was very happy he got enthusiastic about this genre of music. Ever since we have been enjoying performing together. The choice of the vocal pieces is a modest display of the beautiful melodies from the Hispanic world, starting in Spain with Rodrigo's intimate songs, passing through Argentina with charming Guastavino's songs and passionate tango by Gardel and finally returning to Spain with its' greatest contribution to lyric theatre – zarzuela. All accompaniments of these pieces are originally written for piano or orchestra, yet they adapt so naturally to the guitar which even enhances – on one hand certain intimate and nostalgic spirit, on the other Spanish vivid temperament of this music manifesting so well on the guitar – the essential Spanish folklore instrument. Selected instrumental pieces by Granados, Llobet, Barrios or Piazzolla are outstandingly melodic and therefore they create – as well as the other guitar solos – a harmonic unity with the vocal compositions.
Management / Booking
Get in contact
Amazon, iTunes, Spotify & Co.