Mondnacht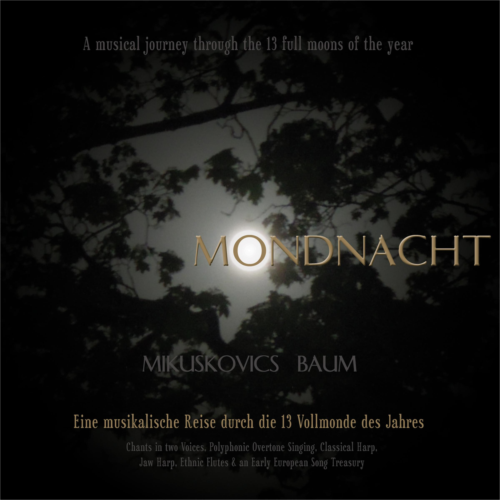 | | |
| --- | --- |
| Artist | Mikuskovics Baum |
| Title | Mondnacht |
| | |
| Release Date | Sunday, September 22, 2013 |
| Genre | Folk > Contemporary Folk |
| | |
| Copyright | © MikuskovicsBaumMusic |
| Country | AUSTRIA |
Update Required
To play the media you will need to either update your browser to a recent version or update your
Flash plugin
.
Promotion Text
Mikuskovics Baum: "MONDNACHT"
"Siehst Du den Mond dort stehen? Er ist nur halb zu sehen und ist doch rund und schön. So sind wohl manche Sachen, die wir getrost belachen, weil unsere Augen sie nicht sehen." Matthias Claudius Mikuskovics Baum machen hörbar was nicht sichtbar ist! Tagmond – Mondnacht Was wären wir ohne unseren eigenen Schatten ? Lichtwesen werfen keine Schatten. Wir Menschen, in die Dualität geworfen, könnten ohne Schatten die Essenz des Lichtes in dem wir stehen gar nicht begreifen. Unser Schatten ist ein untrennbarer Teil unserer selbst. Das goldene Licht der Sonne, silbrig reflektiert von der Mondin, erhellt sanft die Schatten der Nacht und weist tröstlich den Weg durch die Finsternis, die wir fürchten. Auf unserer irdischen Lebensmünze sind beide, Licht- und Schattenseite, aufgeprägt. Nur ungeteilt gewährt sie unserer Seele in ihrer Vollkommenheit Eintritt in diese Welt und Zugang zu ihrer vollen Entfaltung. Es sind die verborgenen Schätze, die das Leben reicher machen. Inspiriert von den 13 Vollmondnächten eines Jahres präsentieren Bernhard Mikuskovics & Georg Baum einfühlsam und innig, feurig und wild, alteuropäische Lieder, Tänze und Folklore in zeitgemäßen Interpretationen, mit Gesang, Obertongesang, Harfe, Gitarre, Maultrommel, Streichpsalter, Okarina, Hornpfeife, ethnischen Flöten & Obertonharfe. __________________________________________________________________ Mikuskovics Baum: "MOON NIGHT" "Look at the moon so lonely! One half is shining only, Yet she is round and bright; Thus oft we laugh unknowing At things that are not showing, That still are hidden from our sight." Matthias Claudius Mikuskovics Baum are making audible that which isn't visible. Day moon - Moon night What would we be without our own shadows? Beings of light do not cast shadows. We humans thrown into the duality could not understand the essence of light without our shadows. Our shadows are inseparable parts of ourselves. The golden light of the sun, silvery reflected by the moon, gently illuminates the shadows of the night consolingly showing us the way through the darkness we fear. Both light and shadow are impressed on our coin of life. Only undivided it grants our soul in its perfection access to this world in order to lead to it's full unfolding. It is the hidden treasures that make life richer. Inspired by the 13 full moons of the year Bernhard Mikuskovics & Georg Baum present sensitive and intimate but yet passionate and wild old European songs and tunes in a contemporary outfit with the use of vocals, overtone singing, classical & celtic harp, guitar, jew's harp, bowed psaltery, ocarina, ethnic flutes & overtone harp.
Management / Booking
Get in contact
Amazon, iTunes, Spotify & Co.