Lebendige Vergangenheit - Miguel Fleta (Vol.3)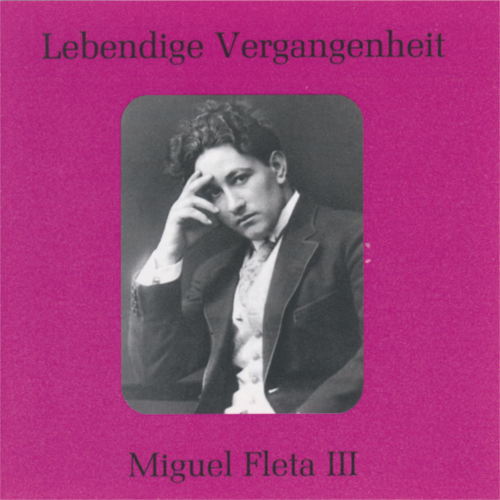 | | |
| --- | --- |
| Artist | Miguel Fleta |
| Title | Lebendige Vergangenheit - Miguel Fleta (Vol.3) |
| | |
| Release Date | Wednesday, August 30, 2006 |
| Genre | Classical > Choro |
| | |
| Composers | Manuel de Falla, Eduardo Vigli y Robles, José Luis Mediavilla, Joacquin Nin, Ottorino Respighi, Johannes Brahms, Nicolai Rimsky - Korsakov, Giacomo Puccini, Amadeo Vives, Alexander Grechaninov, Gaetano Donizetti, Richard Wagner, Jota, Jules Massenet, Soriano, Pablo Luna / Francisco Balaguer, Tomas Bréton |
| Songwriter | Miguel Fleta |
| | |
| Copyright | © Preiser Records |
| Country | AUSTRIA |
Update Required
To play the media you will need to either update your browser to a recent version or update your
Flash plugin
.
Promotion Text
Lebendige Vergangenheit
Manuel Garcia senior (1775 - 1832) was the first Spanish tenor to achieve the highest inter­ national recognition. He stands at the beginning of that famous Spanish vocal school that was destined to produce many great artists. In the 19th-century, the tenors Aramburo, Gayarre and Vignas showed themselves tobe Garcia's worthy followers, and in the first third of the present century another shining trio of tenors with exceptionally sonorous, magnificently trained voices - Cortis, Fleta and Lazaro - claimed Spain as their land of origin. Of the three above-mentioned artists, Miguel Fleta had the shortest career: barely a decade! But in this short space of time, he was granted the possibility of maturing into one of the brightest phenomena in the realm of Belcanto art. The virtuosity of his voice-control and his superb vocal- technique brought about his recognition as the Lord High Keeper of the Seal of the ancient vocal method, which was entirely devoted to the production of beautiful sounds. However, Fleta's singing was artificial and not without manerisms. The unheard of skill that he had acquired in the swelling and diminishing high notes, his sheer "inexhaustible" breath­ control often mislead him into taking considerable liberties with the music. Even in his recorded interpretations, one frequently notices this inclination to change tempos and over-stretch the notes. However, these doubtlessly debatable manerisms from a strictly musical point of view should not mislead today's listener into an overly rigorous judgement of Fleta's vocal style. What must be taken into account is the fact that Fleta was the expression,of a musical fashion for )which the demands of the trivial taste of that time, in a certairi. sense, must bear the responsibility. A similar judgement would apply to many contemporary vocal celebrities. In some of the places where he appeared, Fleta was the object of a degree of adoration that bordered on the mythological. The singer came into the world in 1893 in Aragon. 1897, often given as the year of his birth, belongs to the many legends that grew up around the artist. He came from humble surroundings and was in his youth, it seems, a shepherd. Later on he worked in a factory and as a long shoreman. Finally, his vocal talent was discovered, and he was awarded a scholarship to the Barcelona Conservatory, where he studied with Manuel Azö. He then continued his studies in Milan with the soprano Lucia Pierrich, who soon afterwards became his first wife. On 14th November 1919, Fleta made his debut at the Civic Theatre in Trieste as Paolo in the opera Francesca da Rimini, in the presence of the work's composer, Riccardo Zandonai. Fleta's performance left such a deep impression of the composer, that he was entrusted with the leading role in Zandonai's new opera, Giulietta e Romeo. The world-premiere of this work took place in Rom in 1922, at the Costanzi Theatre (Rome Opera House). After several years of extremely successful activity in Italy and Spain, Fleta was called upon to join New York's Metropolitan Opera Company. His debut there in 1922 was in the role of Cavaradossi; his partners in this Tosca performance were Maria Jeritza and Antonio Scotti. At the "Met" he was heard in the following operas: Aida, Rigoletto, I Pagliacci, La Boheme, Andrea Chenier, Les Contes d'Hoffmann, L'Amico Fritz. Besides this, as member of the Chicago Opera Com­ pany he was also heard in. Faust, Manon,cLa Traviata, and Barber of Sevilla. At Milan's La Scala, as Toscanini's favorite tenor, he sang in Donizetti's La Favorita andin Meyerbeer's Les Huguenots. In the years between 1922 and 1927, Fleta enjoyed triumphal success at Buenos Aires Col6n Theatre. He gave guest-performances and concerts in London, Paris, Vienna and Budapest. The high-point of his career was the world-premiere of Puccini's Turandot (La Scala, Milan, 25th April 1926), in which he created the role of Calaf. Shortly thereafter, his lucky star began to fade. He was not re-engagement by the "Met" because of a tedious and extenuating conflict with the General Management. From 1928 on, Fleta no longer appeared in Italy. By now, the singer lived only in Spain, where he tried to exert his influence on local political developments. A serious, continually worsening illness brought about a slow debilitation of his vocal energies. In this last phase, Fleta appeared in Zarzuelas, but with only moderate success. During the Spanish Civil War he was condemned to death by the political radicals, however, he died before they were able to get hold of him. In spite of his relatively short career, Fleta sang on great number of gramophone records. One of these, the recording of the song Ay ay ay, sold the sensational - for that period - number of 100,000 copies.
Amazon, iTunes, Spotify & Co.