Vienna 1728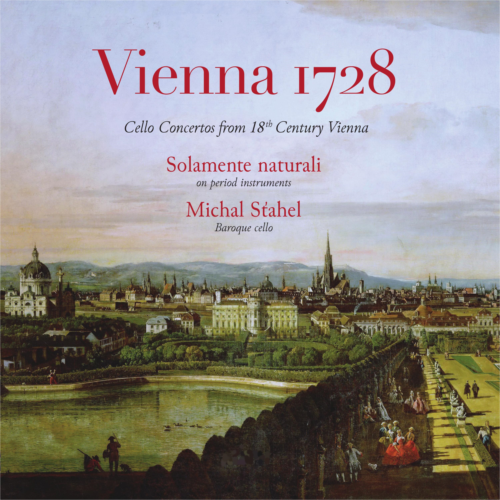 | | |
| --- | --- |
| Artist | Michal Stahel / Solamente naturali |
| Title | Vienna 1728 |
| | |
| Release Date | Friday, February 17, 2017 |
| Genre | Classical > Concertos |
| | |
| Copyright | © PAVLIK RECORDS |
| Country | SLOVAKIA |
Update Required
To play the media you will need to either update your browser to a recent version or update your
Flash plugin
.
Promotion Text
Cello Concertos From 18 th Century Vienna - Solamente naturali & Michal Sťahel
Baroque Concertos for cello recorded in the natural acoustic space, accompanied by baroque orchestra and in addition to anyone who buys the original CD, the possibility can download the free version of recording high-quality audio formats FLAC, stereo and 5 channel versions.Michal SťahelBaroque cello Antony Posch, Vienna 1728 (Esterházy Privatstiftung) Solamente naturaliMiloš Valent, leader and violin1 st violin:Ľubica Habart, Luboslav Nedorost, Ján Kružliak2 nd violin:Monika Tóth, Sofija Krsteska, Blanka PavlovičováViola:Blanka Pavlovičová, Ján KružliakBasso continuo:Martin Gedeon, organSoma Dinyés, harpsichordIgor Davidovics, theorboJonas Carlsson, violone 8'Tibor Nagy, violone 16' Recorded October 2015 in Esterházy Palace in Eisenstadt. Engineer: Rostislav Pavlík, Klaus-Dieter Brandt Slovak cellist Michal Stahel numbers among the most extraordinary baroque music performers of the younger generation. On this recording, he introduces rarely heard and unknown chamber works for violoncello by Italian composers and cellists who worked in Vienna during the first half of the 18th century. The cello played here by Stahel was made in Vienna during the exact same period and belongs to the Esterházy Private Foundation today. And it was in the authentic space of the chapel in the Esterházy Palace in Eisenstadt that Michal Stahel brought to life forgotten pieces and revived the spirit of the era during which this precious instrument was built. He was joined by a group of friends, all of them early music specialists from Hungary and the Czech Republic. The better-known sonatas by Nicola Porpora, Antonio Caldara and Antonio Vivaldi set up a contrast to the unknown repertoire, which consists of previously undiscovered works by Antonio Maria Bononcini, Francesco Paolo Supriano, and Francesco Alborea, the most famous cellist of his day. In all, this recording contains a total of five world premières. And it is very tempting indeed to imagine that some of this repertoire might possibly have been played on the cello heard here, at a time when it was still new and these composers were still alive… "Since 2009, the young Slovak cellist Michal Stahel has been performing successfully on this unique instrument. Built around 1720 at the workshop of Antony Posch, it stands out for the historical proportions of its setup, which reflect the conventions of construction and playing that prevailed up to around the middle of the 18th century. Just like its enchanting golden-yellow varnish, the instrument's fittings are— with few exceptions—originals from the same period. Due to its provenience and its exceptionally original condition, the "Esterházy Basettl" can be viewed as a one-of-a-kind instrument— and for the last few years, it has once more been delighting numerous music lovers with its unmistakable sound thanks to the virtuosic playing of Michal Stahel."Dr. Florian T. Bayer, Head of Collections, Esterházy Private Foundation
Management / Booking
Get in contact
Amazon, iTunes, Spotify & Co.