Lebendige Vergangenheit - Michael Bohnen (Vol.2)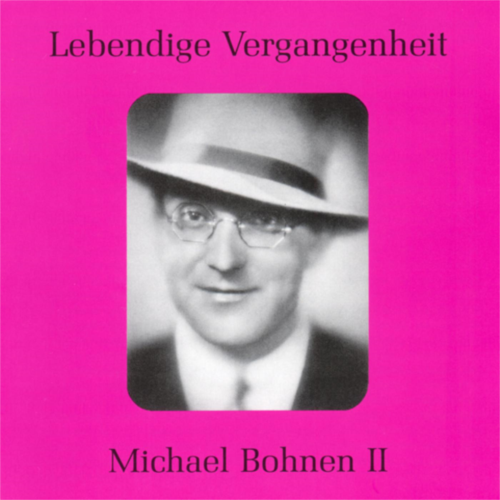 | | |
| --- | --- |
| Artist | Michael Bohnen |
| Title | Lebendige Vergangenheit - Michael Bohnen (Vol.2) |
| | |
| Release Date | Friday, August 25, 2006 |
| Genre | Classical > Choro |
| | |
| Composers | Ludwig Fischer, Richard Wagner, Ruggiero Leoncavallo, Ludwig van Beethoven, Charles Gounod, Michael Brüll, Georges Bizet, Giacomo Meyerbeer, Wolfgang Amadeus Mozart, Carl Maria von Weber, Karl Binder, Victor Ernst Nessler, Robert Radecke |
| Songwriter | Michael Bohnen |
| | |
| Copyright | © Preiser Records |
| Country | AUSTRIA |
Update Required
To play the media you will need to either update your browser to a recent version or update your
Flash plugin
.
Promotion Text
Lebendige Vergangenheit
Mit dieser CD wird die vollständige Serie der Odeon-Aufnahmen von 1916/17 zugänglich gemacht. Sie umfasst 12 Seiten; die vier Parsifal-Titel wurden bereits 1914 aufgenommen. Michael Bohnen hatte im Mai und Juni 1914 in London gastiert und wirkte im Sommer desselben Jahres bei den Festspielen von Bayreuth als Daland und Hunding mit. Nach Ausbruch des Ersten Weltkriegs rückte er zum Militär ein und wurde zu einer Lazaretteinheit nach Belgien kommandiert. Eine schwere Ruhrerkrankung führte ihn ein Jahr später in die Heimat zurück. Dort wurde er von Graf Hülsen, dem Intendanten der Berliner Hofoper reklamiert und stand bald darauf wieder auf der Bühne dieses Hauses. In einer Neuinszenierung des "Barbiers von Sevilla" am 13. Februar 1916 verkörperte er den Don Basilio. Zu diesem Zeitpunkt entstand auch eine umfangreiche Reihe von Aufnahmen für die Firma "Grammophon" und vermutlich auch die Serie für Odeon, wobei es in einigen Fällen zu Wiederholungen kam. Im Gegensatz zu den bekannten Aufnahmen von "Grammophon" scheinen die Odeon-Platten außerhalb von Deutschland wenig Verbreitung gefunden zu haben und gelten daher international als eher selten. Bedingt durch den Krieg gelangten viele Aufnahmen erst nach Beendigung desselben in den Handel. Sängerisch vollzog sich hier der Wechsel zum Heldenbariton-Fach: Aus Veit Pogner wurde Hans Sachs, aus Hunding Wotan. Lediglich den Holländer hat Bohnen offensichtlich nie gesungen; die pralle Figur des Daland reizte den Bühnenmenschen mehr. Der Monolog "Die Frist ist um" gehörte jedoch zu seinem Konzert-Repertoire. Auch behielt er eine Reihe von Bass-Partien bei wie Landgraf Hermann, König Heinrich, König Marke, Hagen, Gurnemanz, Kaspar, Mephistopheles, Rocco, Baron Ochs und Kezal. Abgesehen vom Holländer-Monolog, der in zwei verschiedenen Aufnahmen veröffentlicht wurde, sind alle Odeon-Aufnahmen Varianten zu "Grammophon"- Versionen, wobei der Wahn- Monolog und Wotans Abschied bei "Grammophon" 25cm-Platten waren. Interessant ist auch die Preispolitik der beiden Konkurrenz-Firmen. Während Odeon den Verkaufspreis gleichhielt, wurden bei "Grammophon" die Bohnen-Aufnahmen nach seiner Berufung an die Metropolitan Oper nur noch einseitig ausgeliefert, was zu einer enormen Preissteigerung führte; nach 1924 wurden sie dann wieder doppelseitig gekoppelt, gelangten aber in die teuerste Kategorie: Künstler- Schallplatte "Grammophon" 20 m. This CD makes available the complete series of discs recorded by Odeon in 1916/17. There are twelve sides in all; the four Parsifal numbers were recorded earlier, in 1914. Michael Bohnen had made guest appearances in London in May and June of 1914 and performed at the Bayreuth Festivals in the summer of the same year singing the roles of Daland and Hunding. Following the outbreak of the First World War he reported for military duty and was assigned to a hospital unit in Belgium. Because of a serious case of dysentery he returned home a year later. There he was requisitioned by Count Hülsen, who was the manager and artistic director of Berlin's Hofoper at the time, and soon the singer was back on the stage of that house. On 13 February 1916 he played Don Basilio in a new production of Il barbiere di Siviglia. Grammophon was making an extensive series of recordings with Bohnen, which probably coincided with a series made by Odeon, resulting in a certain overlap. In contrast to the well-known Grammophon recordings, the Odeon records seem to have found little distribution outside Germany and are thus rather seldom found internationally. Because of wartime conditions, many of the recordings were not released until after the conflict was over. At this time Bohnen was in the process of switching to the heldenbariton repertoire: Hans Sachs replaced Veit Pogner, and Wotan replaced Hunding. The Dutchman is the only role Bohnen apparently never sang; as a singing actor he was more interested in the compelling figure of Daland. However, he included the monologue "Die Frist ist um" ("The time is up") in his concert repertoire. He also continued to sing a series of bass roles, such as Landgrave Hermann, King Henry, King Mark, Hagen, Gurnemanz, Caspar, Mephistopheles, Rocco, Baron Ochs and Kezal. Apart from the Dutchman's monologue, which was released on two different discs, all of the Odeon recordings are variants of versions by Grammophon, which released the "Wahn" monologue and "Wotan's Farewell" on 25-cm discs. It is also interesting to note the price policies of the two competing record companies. While Odeon's prices remained the same after Bohnen was called to the Metropolitan Opera, Grammophon began issuing his recordings only on single-sided discs, which effectively led to an enormous price increase. After 1924 the discs were again double-sided but were listed in the most expensive category: the Künstler-Schallplatte "Grammophon" 20 m.
Amazon, iTunes, Spotify & Co.