Lebendige Vergangenheit - Meta Seinemeyer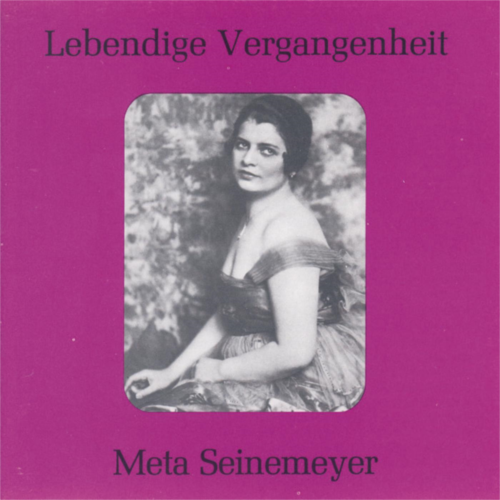 Update Required
To play the media you will need to either update your browser to a recent version or update your
Flash plugin
.
Promotion Text
Lebendige Vergangenheit
Der frühe Tod dieser wahrhaft begnadeten Sängerin war eine der größten künstlerischen Tragödien dieses Jahrhunderts. Meta Seinemeyer wäre ohne Zweifel dazu ausersehen gewesen, allmählich zur bedeutendsten hochdramatischen Sängerin Deutschlands heranzureifen. Aus ihren letzten Tonaufnahmen lässt sich die Inklination zum heroischen Fach deutlich heraushören. Es lässt sich denken, dass aus ihr dereinst eine ideale Interpretin der Isolde, der Brünnhilde geworden wäre. Ähnlich wie im Falle der genialen Hedwig Reicher-Kindermann mussten hier die schönsten Hoffnungen und Auspizien zu Grabe getragen werden. Meta Seinemeyer kam in Berlin als Tochter eines Kriminalkommissars zur Welt. Ihre gesangliche Ausbildung erfuhr sie von Nikolaus Rothmühl und Ernst Grenzebach. Aufgrund eines Vorsingens wurde sie im Jahre 1918 an das Deutsche Opern­ haus Berlin-Charlottenburg verpflichtet. In den sieben Jahren ihrer Berliner Wirkungszeit sang sie zunächst das jugendliche und lyrische Fach (Agathe), und nahm bereits einige Grenzpartien in ihr Repertoire auf (Eva in den ,,Meistersingern''). In den Nachkriegsjahren versuchte sie, wie viele andere deutsche Sänger, ein Amerika-Engagement zu erhalten. Als das Manhattan Opera House eine "German Company" zusammenstellte, wurde Meta Seinemeyer zusammen mit Künstlern wie Friedrich Plaschke, Eisa Alsen, Friedrich Schorr, Alexander Kipnis, Robert Hutt verpflichtet. 1923/24 ging diese Truppe auf eine Nordamerika-Tournee, und Meta Seinemeyer hatte als Meistersinger-Eva bedeutende Erfolge zu verzeichnen. Im November des Jahres 1924 gab die Sängerin ein Gastspiel in Dresden (,,Margarethe"), das zur ständigen Verpflichtung an das dortige Opernhaus führte. Die Dresdener Jahre der Künstlerin stellen den wichtigsten Abschnitt ihrer kurzen Laufbahn dar. Zusammen mit Sängern wie Tino Pattiera, lvar Andresen und Robert Burg war sie maßgeblich an der Verdi-Renaissance beteiligt, die in den Zwanzigerjahren dieses Jahrhunderts von Dresden ausging. Ihre bedeutendsten Leistungen waren vor allem die Leonore in der von Franz Werfel hergestellten deutschen Neufassung von Verdis "Die Macht des Schicksals", die Aida, Desdemona, Tosca, Mimi, Madame Butterfly, Margarethe. Ungemein erfolgreich verliefen auch die Aufführungen von Giordanos "Andre Chenier" und von Puccinis ,Manon Lescaut". In fast allen ihren Opernpartien war Tino Pattiera ihr leidenschaftlicher, glutvoller Partner. Im Jahre 1929 erhielt die Sängerin eine Einladung an die Covent Garden Opera London. Ihre Antrittspartie war die Sieglinde, später hörte man sie als Eva und als Eisa. … The early death of this immensely gifted soprano was one of the great artistic tragedies of this century. As her final recordings so audibly prove, Meta Seinemeyer would undoubtedly have gone on to become the most important German spinto of her time. It seems quite conceivable that in due course her voice would have matured sufficiently for her to have become the id al Isolde or Brünnhilde. Just like in the case of the marvelous Hedwig Reicher-Kindermann, cruel fate dashed all such hopes. Meta Seinemeyer was born in Berlin, the daughter of a police officer. She studied with Nikolaus Rothmühl and Ernst Cirenzebach. After her audition in 1918 she was immediately engaged to appear at the German Opera in Berlin Charlottenburg. In the seven years of her Berlin engagement she initially sang lyric roles in the 'Agathe' (Freischütz) category, but, as her voice matured, she took on Eva in "Meistersinger" as well. Like many other German singers in the post-war era, she tried to get an engagement in the United States. When the Manhattan Opera House started a "Oerman Company", she and other German artists such as Friedrich Plaschke, Elsa Alsen, Friedrich Schorr, Alexander Kipnis and Robert Hutt were engaged. Between 1923 and 1924 this ensemble toured North America, Meta Seinemeyer's Eva being singled out for particular praise. In November 1924 she gave a guest performance in Dresden as Gounod's Marguerite, which led to a permanent engagement. the Dresden years were to prove the most important of her short career. Together with singers like Tino Pattiera, Ivar Andresen and Robert Burg she played a decisive part in the Verdi Renaissance that started in Dresden in the 1920s. Her most important assumptions were Leonore in Franz Werfel's German version of "Forza del Destino" as well as Aida, Desdemona, Tosca, Mimi, Madame Butterfly, and Marguerite. Much acclaimed were also the performance of Giordano's "Andrea Chenier" and Puccini's "Manon Lescaut". Her partner in almost all her roles was the fervently expressive Tino Pattiera. In 1929 Meta Seinemeyer invited to appear at Covent Garden. Her first role there was Sieglinde, later she also sang Eva and Elsa. …
Amazon, iTunes, Spotify & Co.