Max Lorenz - The complete Electrola Recordings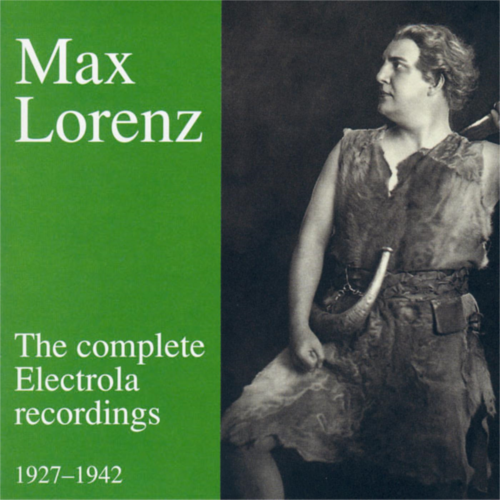 | | |
| --- | --- |
| Artist | Max Lorenz |
| Title | Max Lorenz - The complete Electrola Recordings |
| | |
| Release Date | Tuesday, August 22, 2006 |
| Genre | Classical > Choro |
| | |
| Composers | Richard Wagner, Clemens Schmalstich, Eugen Hildach, Giuseppe Verdi, Georges Bizet, Jacques Fromental Halevy, Wilhelm Kienzl, Weingartner, Ruggiero Leoncavallo, Giacomo Meyerbeer |
| Songwriters | Orchester der Staatsoper Berlin / Max Lorenz, Max Lorenz / Orchester der Staatsoper Berlin, Wiener Philharmoniker / Max Lorenz / Maria Reining, Wiener Philharmoniker / Max Lorenz, Max Lorenz / Orchester der Staatsoper Berlin / Käthe Heidersbach, Orchester der Staatsoper Berlin / Max Lorenz / Else Gentner-Fischer |
| | |
| Copyright | © Preiser Records |
| Country | AUSTRIA |
Update Required
To play the media you will need to either update your browser to a recent version or update your
Flash plugin
.
Promotion Text
Lebendige Vergangenheit
For more than three decades Max Lorenz was a special favourite with the Berlin, Munich and Vienna opera public. Especially also the young opera enthusiasts infüe gallery remained his loyal admirers. Rarely has there been a heroic tenor who combined splendid vocal resources with outstanding histrionic talents and an imposing appearance. Max Lorenz was most prob­ ably the last of the Heldentenors able to summon up one more time the pathos fashionable in times of yore. Because of his towering personality and his convincing acting, however, this pathos was genuine and relevant never antiquated. One of his most memorable roles was Verdi's Otello. Far from any cliche, he emphasised the heroic aspect of the role; he never turned into a raging, set-chewing monster - on the contrary, he retained his dignity and the commanding presence of a warrior. Tue heroic roles, like Radames were infact his true domain - not least because of his majestic stage deportment and his vocal prowess. Alvaro in Verdi's "Forza del Destino", Florestan and Max in "Freischütz" were among, his most successful roles. Yet he was equally impressive in such Strauss roles as Aegisth, Bacchus and, above all, as a seedy, psychopathic''Herod, Max Lorenz also sang all the great Wagner roles, although the multifacetted artist would be shortchanged if one were to call him a Wagner tenor. His Siegfried was imbued with youthful fire and poetry, his Tristan was a monumental characterization, not only vocally but especially also histrionically. Perhaps his most important Wagner role was Tannhäuser, especially the Rome narration, which, in his interpretation, was the veritable culmination point of the role. Apart from Otello it was the role of Tannhäuser that spread his fame far and wide. In October 1956, at the beginning of the Karajan era, the Vienna State Opera staged a new production of Tannhäuser, which - primarily because of the vocally inadequate casting of the eponymous hero - turned out to be an unmitigated disaster. Now Max Lorenz, who had already bidden farewell to the heroic tenor roles, stepped into the breach. He took over and enjoyed an overwhelming triumph - a clear victory of artistic power, of musical and histrionic ingenuity. In the last phase of his career Max Lorenz accepted a number of new roles. For example Palestrina in Hans Pfitzner's "musical legend", on the occasion of the Salzburg Festival 1955 , the Tambour­ major in Alban Berg's "Wozzek", Josef K. in Gottfried von Einem's Kafka- opera "Der Prozeß" and various other modern roles. He also made a slight detour into a lighter musical category by singing the role of Buffalo Bill in the Vienna Volksoper production of the musical "Annie get your gun." Max Lorenz was born on May 10, 1901 in Düsseldorf, studied with Ernst Grenzebach in Berlin and made his debut in 1926 at the Dresden Opera. In 1931 he joined the ensemble of the Berlin State Opera and subsequently sang at the Metropolitan Opera, La Scala Milan, the Opera in Paris, the Teatro Colon in Buenos Aires, the Chicago Opera and many others. The outbreak of the Second World War interrupted his splendid career. After 1945 Max Lorenz sang mainly in the German-language countries.
Amazon, iTunes, Spotify & Co.