Lebendige Vergangenheit - Mathieu Ahlersmeyer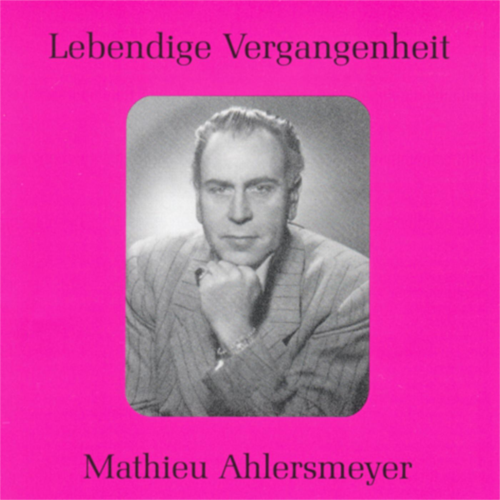 | | |
| --- | --- |
| Artist | Mathieu Ahlersmeyer |
| Title | Lebendige Vergangenheit - Mathieu Ahlersmeyer |
| | |
| Release Date | Monday, August 14, 2006 |
| Genre | Classical > Choro |
| | |
| Composers | Jacques Offenbach, Giuseppe Verdi, Georges Bizet, Ruggiero Leoncavallo, Max von Schillings, Giacomo Puccini |
| Songwriters | Mathieu Ahlersmeyer / Hamburger Funk-Orchester, Mathieu Ahlersmeyer / Sächsische Staatskapelle, Mathieu Ahlersmeyer, Mathieu Ahlersmeyer / Helge Rosvaenge, Hans Beirer / Mathieu Ahlersmeyer / Inge Borkh / Orchester der Städtischen Oper, Berlin / Robert Heger, Mathieu Ahlersmeyer / Orchester des Reichssenders Stuttgart / Orchester des Reichssenders Leipzig, Mathieu Ahlersmeyer / Hildegarde Ranczak, Margherita Perras / Mathieu Ahlersmeyer, Mathieu Ahlersmeyer / Wiener Philharmoniker |
| | |
| Copyright | © Preiser Records |
| Country | AUSTRIA |
Update Required
To play the media you will need to either update your browser to a recent version or update your
Flash plugin
.
Promotion Text
Lebendige Vergangenheit
MATTHIEU AHLERSMEYER 29 June 1896, Cologne – 23 July 1979, Garmisch-Partenkirchen "In the first weeks, my career was hanging by a single thread. During the stage rehearsals without costume, I was so helpless that the manager and artistic director, Dr. Legband, came close to firing me. But when I finally appeared on stage in costume, my acting ability came to life. Ever since, I have had a special 'rehearsal suit' that for me is something like a costume in disguise. Without it, I have no talent at all." Matthieu Ahlersmeyer, who was known as a compelling singing actor, may have been exaggerating unduly in describing the early days of his singing career. But in fact, during the first rehearsals of Le nozze di Figaro in 1950, his apathy is said to have brought Walter Felsenstein to the brink of despair until, donning the costume of Count Almaviva, Ahlersmeyer regained his usual intensity on stage. Ahlersmeyer's singing career began with a delay. Born in 1896, he was an 18-year-old school graduate, and thus at the best age to be sent to the front, when the First World War broke out in 1914. Returning to civilian life four years later, he first became a shopkeeper before beginning vocal studies with the formerly famous heldentenor Karl Fischer-Niemann. In 1928, he launched his career in Mönchengladbach as Wolfram. In 1930 Arthur Bodanzky invited him to come to the Metropolitan Opera in New York as a heldenbariton, where his first role would have been the Flying Dutchman. Ahlersmeyer thought it over and rejected the tempting offer, accepting an engagement at the Kroll Opera in Berlin instead, where he was soon considered the "most valuable discovery". Beginning in 1931 in Hamburg, he developed into one of the most interesting German character baritones, and in 1934 he became one of the leading soloists in the ensemble of the Dresden Staatsoper. Thereafter he appeared on the great German opera stages and made guest appearances in Amsterdam, Paris, London, Nice, Lyon, at the Salzburg Festival and at the Waldoper in Zoppot (now Sopot, Poland). After the war he extended his repertoire to include such heroic roles as Wagner's Hans Sachs and Hindemith's Mathis. He sang in the premiere performances of Die schweigsame Frau by Richard Strauss, Peer Gynt by Werner Egk, Die Hochzeit des Jobs by Joseph Haas and Figaro lässt sich scheiden by Giselher Klebe. The greatest danger for a singer, in Ahlersmeyer's opinion, was to artificially darken the sound of one's natural voice. When he appeared in Vienna for the first time in 1933, singing Rigoletto, the critics were so impressed by his effortless high range that they called him a heldentenor in disguise, but one with a poor middle and low range. In 1939 the reaction to his Wolfram in Zoppot was that he had one of the few baritone voices with real low notes. Throughout his career he remained true to his singing creed, acknowledging that he had – in his own words – a "somewhat strange voice", and thus he was able to sing for almost three decades with little damage to his instrument. We have German radio, which recorded his voice between 1932 and 1963, to thank for the evidence supporting the previous statement. The record industry so conscientiously avoided Ahlersmeyer that we have been left without a single commercial recording by him.
Amazon, iTunes, Spotify & Co.